September 2009 - Shasta Renovation
Frame
September was devoted to working on the frame.
I first separated the frame from the trailer body. The new flooring was tied to the main 2x4 supports and the walls also tied to these 2x4s. With the floor in place the walls and body were reasonably stable. I jacked up the body by the outer 2x4s and jacked up the frame separately. The wheels were removed and the frame lowered onto small wheeled carts. Sneaking the frame from under the body required resetting the body jacks as the frame interfered with them. Less difficult than I'd thought but still took some time.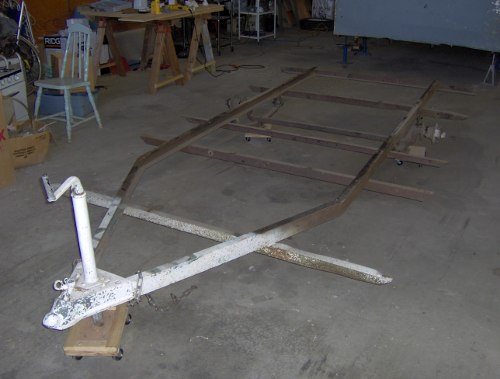 It looked like only the tongue was originally painted. If that's true the rust was not bad for 54 years of use.
The original springs had taken a set and sagged. I'd gone by the local trailer supply store earlier and they said "no problem, we have replacements". Well I took the rolling chassis by to pick up springs and found they didn't. The original springs are 30" and new ones are 26", at least in any reasonable load rating. I needed new springs so switched to 26". This required grinding off the old spring hangers and welding on new ones. A task I didn't anticipate but the results are fine.
The frame had many "dings" from hitting rocks and who knows what. I heated up and straightened the major problem areas. There are still a good number of small dings but it's a lot better than it was. Not concourse quality but very functional.
I had the frame sandblasted. It came back very clean and ready for paint. I brush painted the frame with black POR-15, two coats. Seems to be very tenacious paint, at least it bonded to my skin very well. Glad I wore gloves at least. I spray painted the tongue with primer rather than using the POR-15. This will be painted when the trailer body is painted. I'm hoping it'll be easier to prep the rattle can primer than it would be to prep the POR-15 for another coat. We'll see in a year of two.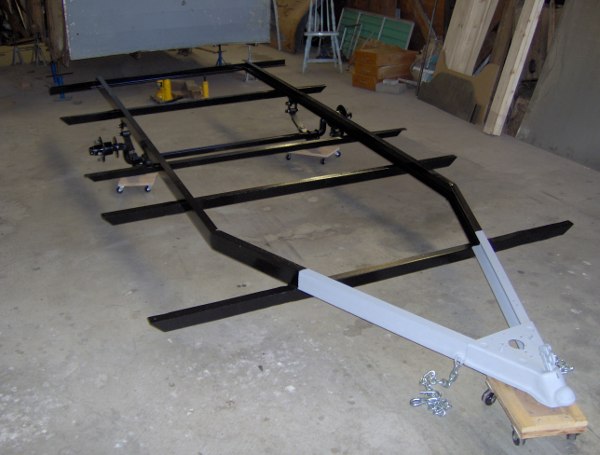 The frame isn't quite installed yet. I need to align it, drill the 2x4s and reinstall the lag bolts holding the flooring to the frame. Hope to get this done before the snow flies.
Next ?
Much more work will probably have to wait until spring. I'd initially thought it would be a summer project but it was bigger than anticipated and other small projects took more time than I'd thought they would.