Fall 2011 - Shasta Renovation
Not a lot of progress since the last report. We've mainly worked on the interior cabinets. Those that didn't require rebuilding or modification were sanded and re-finished. No pictures and haven't put any back into the trailer, but they do look nice. This seemed to take a lot of effort, even if not much to show.
Kitchen:
I finished the main structure of the kitchen cabinet. It was modified to accomodate the new stove and furnace. The changes can be seen below, the unfinished sections are new. I added sheetmetal to enclose the stove and furnace areas and separate them from the storage space. I know things get stuffed into every corner and shift during travel. I thought it a good idea to keep this "stuff" away from hot surfaces.
A plywood countertop was put on. The picture below shows a trial fitting of the appliances and sink. I splurged and bought a flush mounting sink, it just seemed like the right thing to do.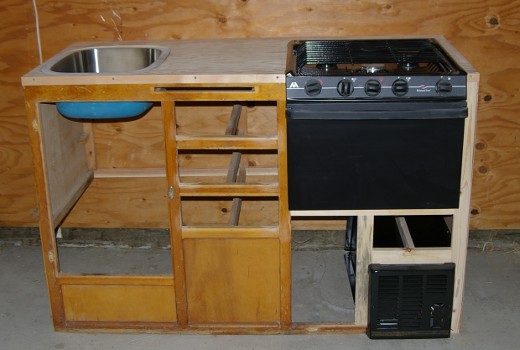 A counter top which pretty well matches the floor was glued down and trimmed. The two pictures below show the results. Still need to put the drawers in and doors back on. The two on the right side, one drawer and one door, are new sizes and will have to be re-made. I'll likely tackel these once the trailer is back together. I do believe I'll be one drawer handle short. Hopefully I can find one that matches when I need it.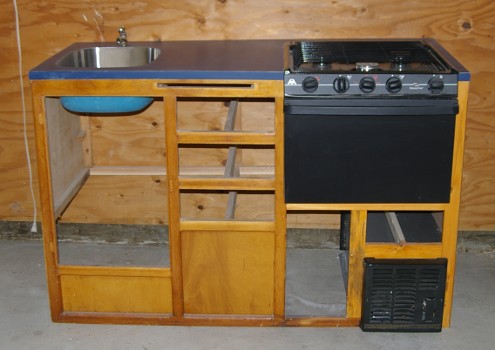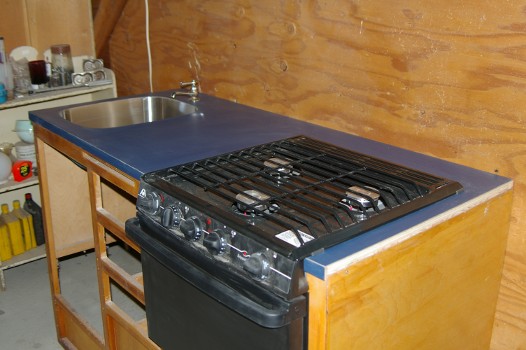 That's about it till it warms up next spring. We're starting to get anxious to finish and start enjoying using Shasta rather than just enjoying fixing her up.