Dora - New Stove
We fought with the original two burner stove for a couple of years. It worked but not overly well. The two burners had individual grates so it was hard to stably set stuff on it. It required matches (and we've had no luck with stove lighters). And just not very good quality. The stove cover helped but a new stove was on the horizon.
The big question was to get a range with an oven or another cooktop. The no brainer is a range since Denise loves to cook and is very good at it. But that takes away the only two kitchen drawers. After a couple of years of consideration the drawers won and we decided to get a better cooktop.
We had a Wedgewood Vision range in Shasta and it worked marvesously. I tried to find a cooktop like that but Wedgewood/Attwood has updated their lineup and the Vision isn't available. So I decided to go with the latest model. The newer model, CA-35, is an Attwood with 3 sealed burners. The updates include sealed burners, heavy-duty grates, and a higher price.
I was able to install the new cooktop without messing up the counter top. At the same time I replaced the plastic sink and faucet with stainless. Cutting boards for the new sink and new stove finish off the installation.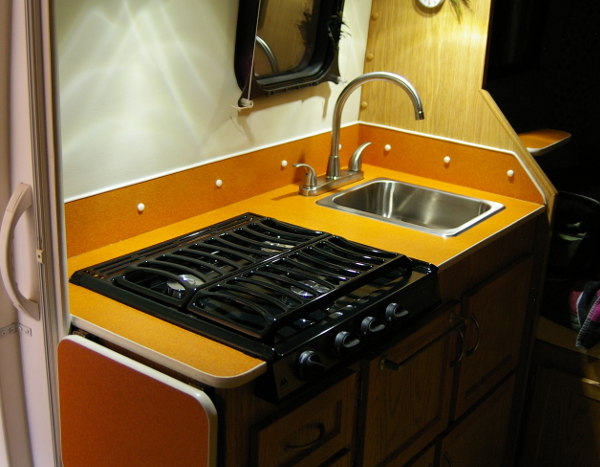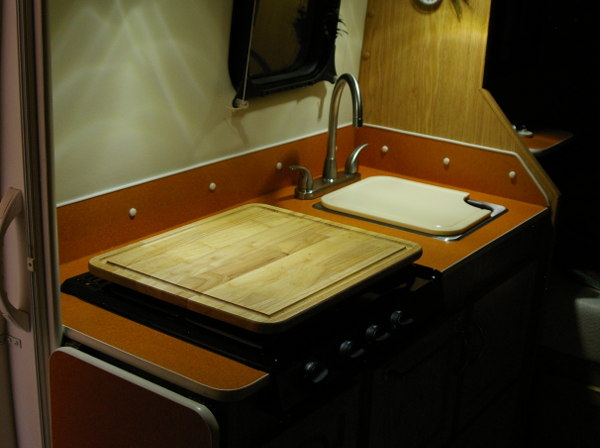 We used the new stove, and sink, during a month long trip to Southern Utah. There were a few problems. The top of the stove came off travelling one rough patch of road. This was partly my fault in not seating it in well. Since then I've put a screw to positively hold it in place. This isn't the whole cooktop but the upper portion that is removed to get to the burners and gas connection. Anyway, seating it better and adding the screw should solve that problem.
Another problem is with the "heavy duty grates" of the new cooktop. There are two cast grates used, each held on with two rubber grommets. We had them come off while traveling and bounce around the trailer several times. Wire ties were tried to hold them together to little effect. Bad design for an RV stove. I pulled the wire grate from Shasta's stove and tried it on the new one. It fit! So I ordered a replacement old style grate to use in Dora. We haven't tried it on the road but I expect it'll solve the problem.
The new stove is a definite improvement over the stock two burner drop in. It could have gone smoother but we're working the bugs out. The new stainless sink and faucet are a real improvement.