Escaped Doodles
Winter 2022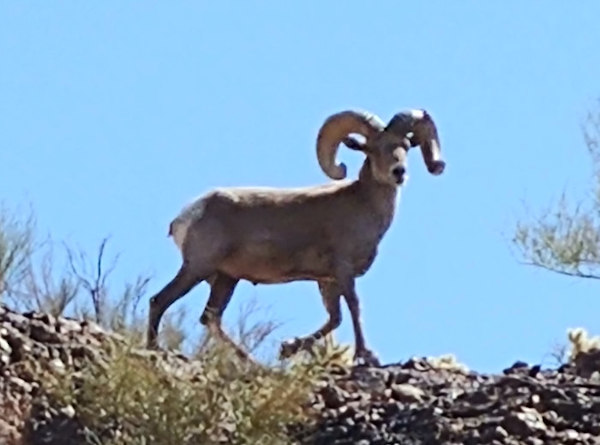 Well, it's been awhile. Sassy was repaired but it took two months which cancelled our fall 2021 travels. Seems like a long time to fix a hole in the fiberglass, but it was a big hole. The insurance company, Foremost, was very good about covering the cost which approached $10K. Our agent at Foremost thought that 2 months was less than average these days. I don't have the expertise to judge, but two months was frustrating. Northern Arizona RV Collision did do an outstanding repair job and I would recommend them highly. They are in Prescott Valley.
The accident with Sassy poked through and interior cabinet, so some replacement wall board was needed. Hugh went back and forth between getting original, very expensive, replacements from Bigfoot or using wall paper on 1/8" plywood. Finally, when he saw how far Sassy was disassembled (so no chance of replacing the panels later) he decided to get OEM replacements. Well, Bigfoot, after stating the panels were only available from them, refused to sell them to us. They wanted us to waive any liability for shipping damage! This seemed foolish when we had no control over packaging or shipping. Back to wallpaper on plywood. But Shannon, in the Bigfoot Parts Department, went out of her way to work out a way to have two panels drop shipped from the manufacturer in Washington State. Turned out that shipping was considerably less than shipping from Canada. Bigfoot has a good reputation but this left "a bad taste in my mouth" (except for Shannon).
Hugh purchased a new tank for the water heater in Sassy. Couldn't find a replacement water heater so just replaced the tank (which was obtainable). It's worked well since. Now we have a new and growing list of repair and mods still needed.
We spent the winter in Brenda, AZ. The Pandemic was still a concern so we stayed away from organized indoor activities. We found some others to go off-roading (Teryx4 side by side) with so did a number of local trips. Hugh spent time putting together his machine shop and Denise worked on lapidary. Hugh was sick February and March with a bad cold/flu, then a kidney infection which put a damper on the second half of the winter.
Here are some of the pictures we snapped through the winter. The first is from a trip to the Ray Hoover Monument and "Dog Pass" west of Brenda. Fairly easy trip to this point, then the road drops off a "cliff". You can see the road coming out below. The picture of the bighorn above was taken here.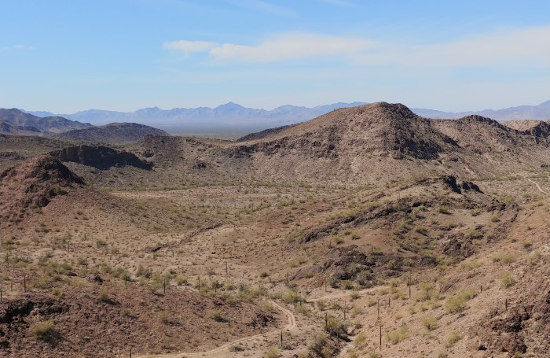 Another trip north of Brenda led us to "Deer Valley". It truely is out in the desert!
A short run south from Brenda led to The Republic and Shamrock Mines There are mines all over the place around Brenda with every hill having multiple claims. The canyon above the Shamrock Mine (last pic) has a some petroghlyphs but no pics of them this time.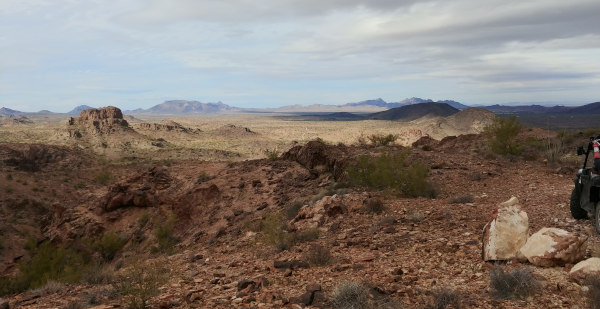 A popular destination is Dripping Springs southwest of Brenda. The route passes Apache Chief's mine where one of the old shacks has a collection of "stuff". People have brought for display skiis, a typewritter, microwave, and many, many other necessities of modern life. A very interesting "museum" of "junk". A must see. Dripping Springs is a little further and is a permanent water hole inside a cave. All around it are many petroglyphs. We suspect water in the desert is reason to write about it in stone.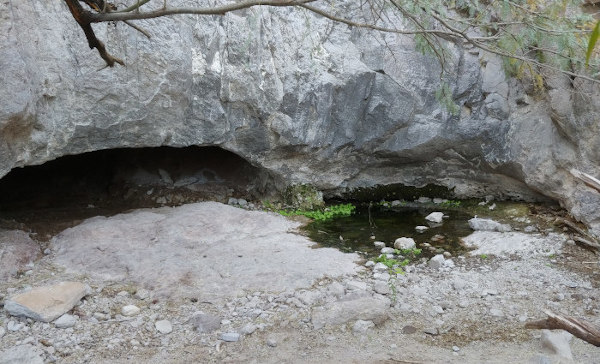 Further south than Republic and Shamrock is the "Blue Wall", a prospect that shows a vein of crisacolla. It's a blue rock, similar to turquois but not as valuable. Very near this is "Top of the World". Quite a steep ATV "road" up a narrow ridge to the top with a great view. Sorry, again no pics.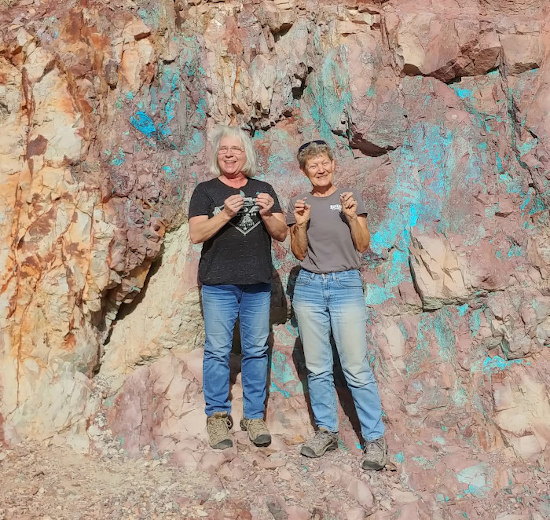 Right at Brenda, and all over the area, is good for rock hounding. We found the first critter below up a local canyon. The critter on the right is unknown but looks friendly enough.
We returned to Prescott Valley the first of April 2022. Didn't do much to get out, though took one hike on Mingus Mountain called the Wood Chute trail. Found this cute little horned toad. Also some nice views east towards Cottonwood.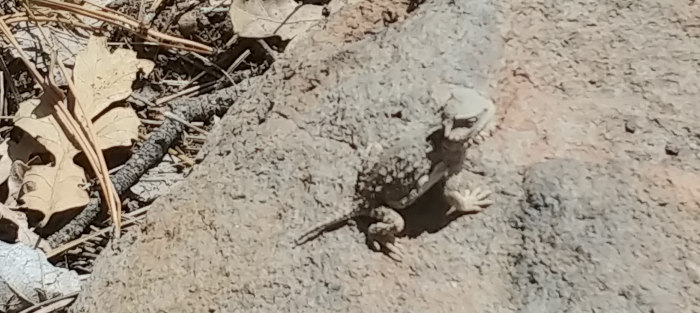 Medical appointments, etc., delayed our spring travels till the first of May. But back on the road again.