Escaped Doodles
June 1, 2022 - Finally Traveling Again

It was May 10 before we got back on the road. The plan was to spend time in northeast Arizona, specifically the White Mountains. We've been through the area but haven't spend much time. With fuel prices what they currently are (some $5.50/gal diesel) we planned to stay closer to Prescott Valley and spend a week or two each stop. This would be a lot less driving than we have historically done. By fall the fuel price will be less, or we'll be more used to it, and plan a longer outing.
So, we headed east, through Payson, to a spot at Canyon Point CG. It's a National Forest camp on the Mogollon Rim east of Payson. After settling we drove around and checked out other CG in the area but liked Canyon Point best. About half the CG is "first come first serve" (FFS) so once you have a site in that section you can stay up to 14 days. We stayed a week, mostly walking around the CG and sight seeing locally. One longer hike to a view over the Mogollon Rim.
Canyon Point CG was not crowded. There were FFS sites available every night, even during the weekend, however it was before Memorial Day.
We stayed one night at Ponderosa RV Resort in Lakeside, AZ for laundry and groceries. Hard to find an RV spot in Lakeside or Pinetop probably due to long term rentals. This one was OK for overnight but would not stay there again by choice.
From Lakeside we motored to Rolf Hoyer CG very near Greer, AZ. This is another National Forest CG with FFS sites. We had no trouble finding a site. The area and CG are nice so we stayed almost two weeks, through Memorial Day weekend.
We hiked around the CG area and wandered the area. There are several lakes just across the highway from Hoyer. Also a nice creek/river just past Greer. There was a trail up the canyon but we didn't hike it.
Several nice hikes around Greer but we were mostly lazy (or old). There's a small canyon at the upper edge of the CG that we explored a couple of times. Butler Canyon was a short loop up from Greer.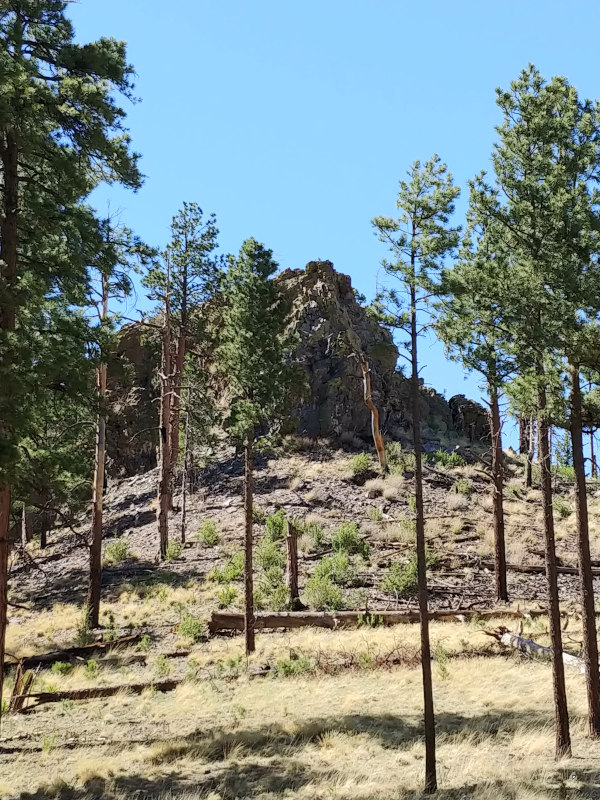 Drove over the mountain to Winn CG and Big Lake. Both looked nice and it may be our next jump. We drove back through Eager and Springerville. Some nice views going down into those towns.
And we did jump to Winn CG on May 31. We drove north from Greer and went the long way to avoid the washboard dusty short cut over the mountain. Winn is a nice Forest Service CG up in the White Mountains somewhat north of Big Lake. More rustic than Canyon Pt, Hoyer or Big Lake but very nice. However, it's over 9000' which did not suit Denise. Even with treatment for altitude it was too high for her. So, although nice it was unworkable so we only stayed one night.
The White Mountains are nice but not as scenic as we'd anticipated. But well worth the effort of visiting.
It's great to be back traveling again.
P.S. There was a lunar eclipse we were able to see. Hard to get a good picture without a tripod though.