Escaped Doodles
July 1, 2022 - Eastern Arizona
Some days are just bad, bad from the start. We'd planned to spend a couple of weeks at Winn and Big Lake CGs. But Denise had trouble the first day at Winn so we decided to move to a lower elevation. The only campgrounds within the area with FFS sites appeared to be in the Black River Canyon. In this canyon there are 5 or 6 smaller CGs. We drove past Big Lake southeast towards these. The turn taking us to the south end of the canyon was missed somehow and we ended up on a nice paved road (249) to Alpine. Meanwhile Denise is feeling poorly including a bad headache. We, unfortunately, found the road to the Black River Canyon (276) going south. This road was a good gravel road but with a serious washboard. We've had problems with washboard roads and our previous Escape trailer. So the rate of travel on this road was very slow. If you go fast enough washboard roads start to smooth out, safety be damned. But with the trailer you can't tell how badly it's being bounced, thus the very slow speed. We limped along about half an hour (3 miles) when it became apparent this was a bad choice for Denise. We turned around and went back the way we came, another agonizing half hour.
Makes us wonder if we should down size to a slide in camper for Larry. Would make it a lot easier to get off road for small CG and boondocking. But Sassy is so comfortable once set-up. Something to consider in the future.
Now what?? We decided to try and find an overnight spot at Luna Lake CG outside Alpine. It's a National Forest CG with no advertiser FFS sites. But, we found they do have a few FFS sites and we were able to grab one. We stayed about a week.
Hugh took a day and drove, without the trailer, through the Black River Canyon. He went south from Alpine and west on Routes 26 and 24 to the south end of the canyon. A longer route to the area but far less washboard road. The CGs are small and less developed that larger NF camps. That's fine with us but it makes it harder to pick a site we fit in. The canyon and river are very nice and it would be a good place to spend some time. Just getting to it is a problem for us though. Hugh drove through the canyon and north to Route 249, the way we would have come it. We were about half way to the first CG when we came from the north. The hill out of the canyon though is steep and even worse washboard. Doable but not good for our trailer. Saw these girls along the way.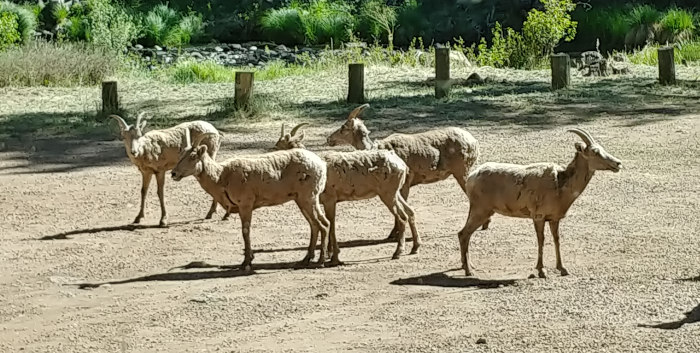 Not much doing besides this Black River Canyon loop. Just a chance to rest and let Denise recover.
This detour from Winn and Big Lake put a hole in our very loose schedule for the trip. We decided not to go further, like Utah or Colorado, since time wasn't in our favor, and the trip was to stay in eastern Arizona. We found, by luck, a camp site at Lyman State Park for a week. This is north of Springerville/Eager. The water is way down in the reservoir, as with most in Arizona.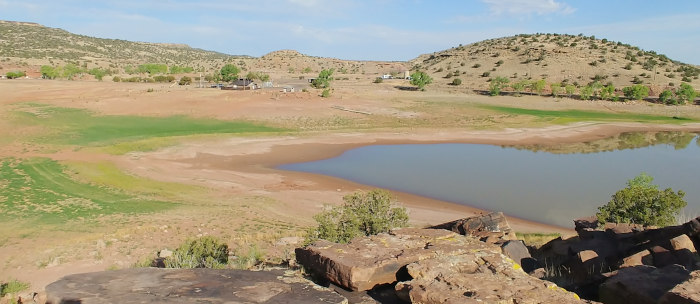 And this is in the White Mountains where much of their moisture in winter snow? If that hold then it's exceedingly low for spring.
Lyman is nice campground but quite open. Each site has a "Casita" so one can sit out of the sun and to give some wind protection.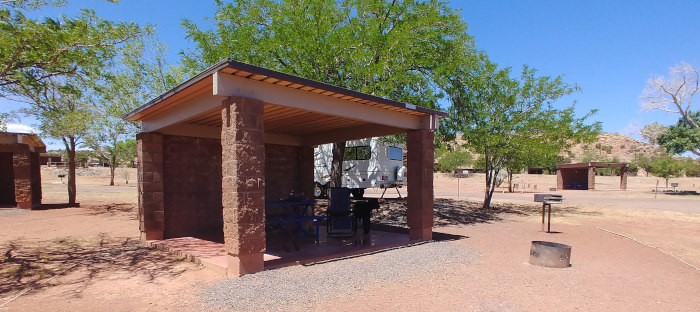 It was hot and windy while we were there. We did have electricity so the air conditioner got a workout. One hike we did a couple of times was the Petroglyph Trail around a small hill that extends out into the lake. True to its name there were petroglyphs.
The weekend we were there there was a "Buses on the Beach" gathering. This turned out to be a rally of VW camper buses. We hoped it would be like a vintage trailer rally where there are times to look at all the trailers inside and out with everyone enthused to show off their trailer. But the bus rally didn't have open times so we saw little inside. People were nice but not set up as we'd expected.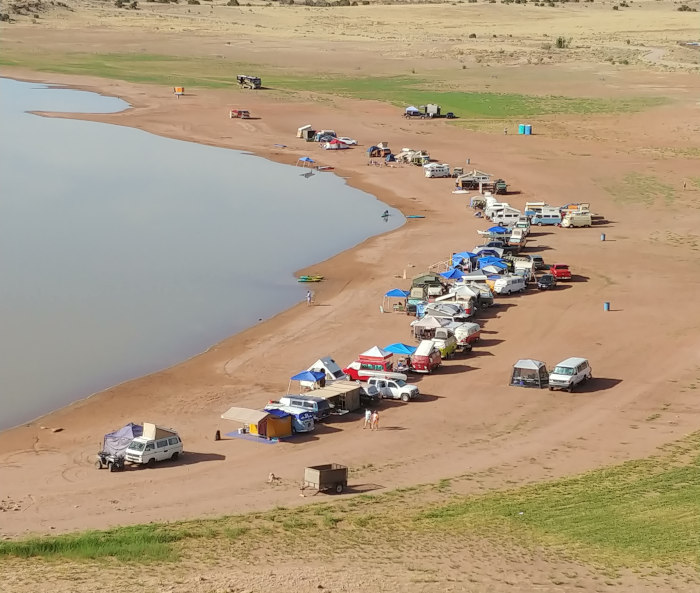 From Lyman Lake we started to wander back west. The first stop was at Fools Hollow State Park, pretty much inside the town of Show Low. We snagged two nights so we could shop for food and do laundry. Our site was on the top of a bluff/canyon overlooking the lake. It was real nice.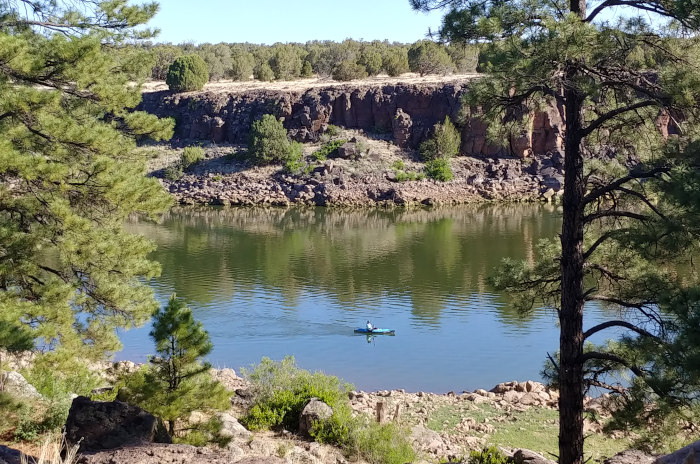 Very crowded though. We were lucky to snag two nights.
Then back to Canyon Point for a week. We do like this CG, it's away from most activities making it a little quieter. But it was much busier than a month ago. We came in on a Wednesday and many of the FFS sites were occupied, all the reserved sites were full. We found a nice site but not a premier one. Unlike last time it did fill up over the weekend.
All the same stuff just, warmer with more people. Last trip we hiked to "The Sink Hole" but had the dogs with us so didn't hike into it. This time we did. It's probably less than a quarter mile across and sinks a couple of hundred feet. Very lush and green. We expected a pond at the bottom but did not find one. Hard to get good pictures but here ya go.
After Canyon Point we headed to Prescott Valley with one stop at Zane Grey RV Village in Camp Verde. One night just to clean out the tanks well.
Looks like we'll be in Prescott Valley till after Labor Day. It is crowded traveling summer as we anticipated, but should calm down after Labor Day. We'll likely wander home to Box Elder and continue on to visit Denise's brother in Kenora, Ontario. But that's looking a ways ahead.
This trip wasn't as spectacular as we thought it would be. Nice though to explore this area of Arizona. I suspect we'll be back.
Safe Travels.