Escaped Doodles
July 15, 2021 - Back to Prescott Valley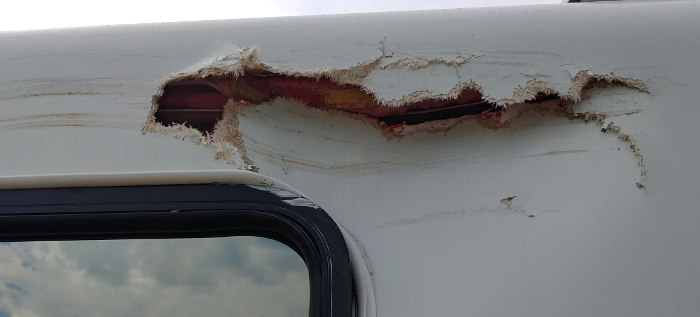 After leaving Yaak River we headed straight, pretty much, for Prescott Valley. Well, still on secondary roads and leaning towards roads we hadn't been on before. It took us 10 days to get from Montana to Arizona, a blistering pace for us.
From Yaak River we took Hwy 56 south to Hwy 200. 56 was new to us but we'd bicycled 200 some 25 years ago. Decided this rather than through Kalispelle and Hwy 83. We haven't driven 83 but taking 200 was quite a bit faster. (We'll be back for Hwy 83.) Driving 200 was interesting, more for what we didn't remember than for what we did. We found the cabin we sat out a 3 day rainstorm in but the reseraunt had recently burned and the whole place closed. The roads were narrower and worse for biking than we remember. Maybe we're more paranoid now. A few towns we remembered and they haven't changed that much. The traffic and crowds were much worse after 25 years. We passed through Missoula and into the Bitterroot Valley. Hwy 93 sourth from Missoula was likewise much busier. We stopped in Hamilton at Anglers Roost for the night.
Anglers Roost is a nice small CG on the Bittetroot River. Very fly fishing oriented with guided float trip starting there. In the morning Hugh ran the corner of Sassy into an overhanging roof. What a clutz.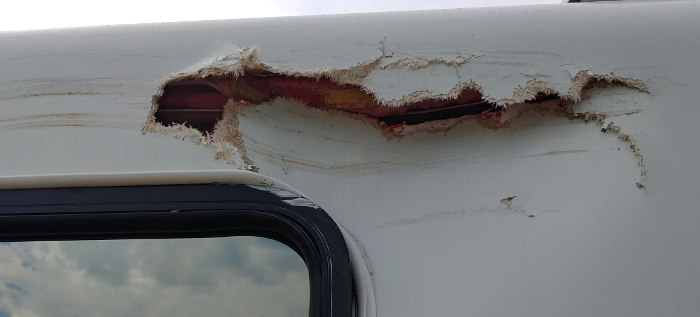 We did what we could and taped up the hole with an entire roll of duct tape. It held for the trip to Arizona.
Then on to Idaho Falls where we spent the night in Cabella's parking lot. It did look like there was camping along Hwy 28 which would be good for future overnights. Calella's was noisey with flood lights on all night. But it worked out OK. From Idaho Falls we followed Hwy 26 along Palisades Reservoir retracing part of our route north. Turned onto Hwy 89 to pick up Hwy 191 south. Very nice country. Close to Jackson Hole though and seemed busy. But it thinned out quickly as we moved south on 191 and then 189. We spent one night at Fontenelle Creek CG. Not much there but desert and a reservoir which could explain why it was mostly empty. There were open range horses and cattle. All in all a good overnight stay.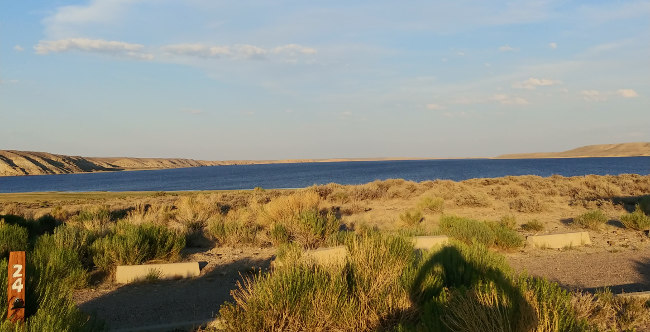 We made our way south to Green River, WY and Hwy 530 to the Marina at Manilla. We stopped here on our way north finding they had some non-reservable sites. We thought coming in early on Friday would get us an electrical site to run the AC. All those were gone but found a site without any hookups. The antelope were still there and got a picture of a resident ospre family.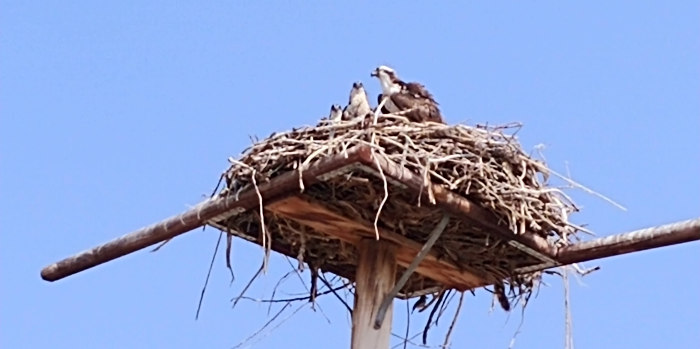 Saw a good number of ospre on this trip, but not too many pictures. Hard to miss an ospre nest though, a jumble of sticks. Spent two days in Manilla, though the weekend. One night each at State Parks in Fruita and Ridgeway, CO. Met up with some of our old neighbors from Oregon who now live in Ridgeway. Finally one night in Cortez, CO and another in Holbrook, AZ before a final run to Prescott Valley. We stayed at the same RV Park in Holbrook on our first trip though Ariozona. We remember because there was sleet, snow and 60mph winds. This stay didn't have those winds. The drive through Flagstaff had some pretty impressive rain and wind though. The monsoon is in force this year in Arizona. Sure need the rain.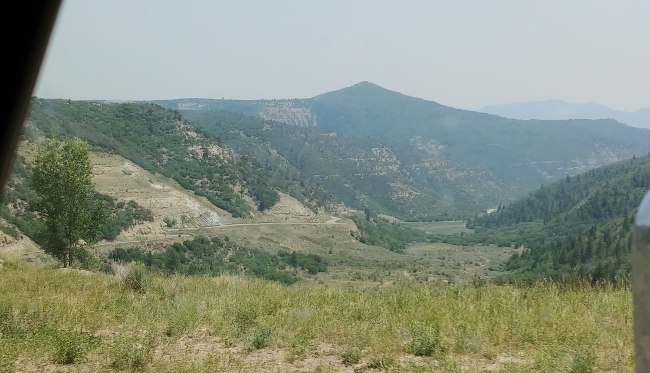 So we'll take some time to have the trailer fixed. Obviously the big hole in the side and cabinets damaged at the same time. But also the waterheater started to leak. Decided to replace it rather than just trying to replace the tank. There seem to be suppy line problems as the waterheater I need is out of stock everywhere. Finally the propane regulator was doing strange things and needs replacement. Plus a number of other small never ending tasks.
We may be ready for the road first part of September. If so we may try to see some of western Colorado in September/October or until the weather drives us back south.
All in all a good trip. It was good to get away and travel "after" the Pandemic. However, it seems there's another wave of Covid building. So, all plans are tentative. We hope your summer is going well.