Escaped Doodles
July 5, 2021 - Livin' up North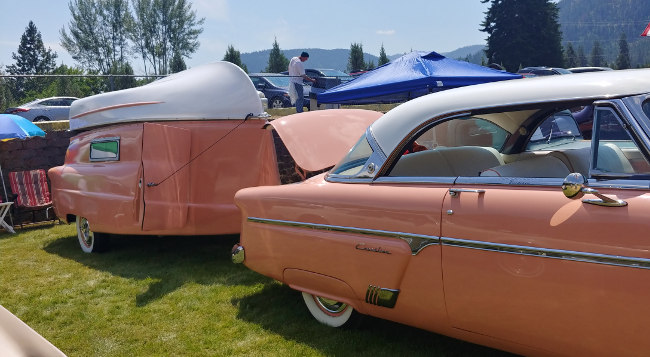 We spent the last half of June in way northern Washington and way northern Montana. Almost all our time was in two campgrounds, Sullivan Lake and Yaak River. Good to slow down.
We found a nice campground at Sullivan Lake, off Hwy 31 some 10 miles from the Canadian boarder. Very close to Idaho but still in Washington. There was a "beach" at the lake and the kids got to go swimming. Not a great beach but they liked it. There is also a grass strip air strip adjacent to the CG. It wasn't heavily used but did have some activity, all small planes. A few flew in and camped on the airstrip.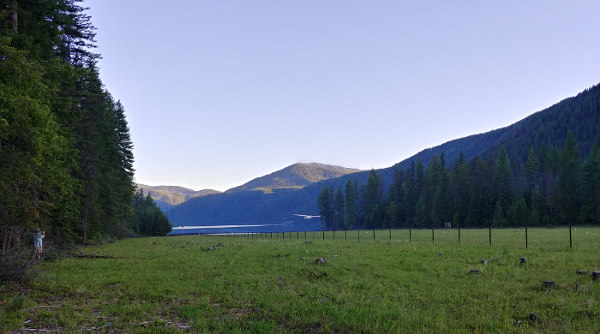 Our road map shows the Roosevelt Grove of Ancient Cedars just over the boarder in Idaho. It looked like a good destination for a day trip being only some 15 miles as the crow flies. So we drove out of the campground and headed east. The road was easy to follow, the most traveled branches, but became rougher and narrower as we climbed. And it was a steep climb up to the summit of Pass Creek Pass. Good views. Then down the other side to the Grove. The Lower Grove is at the parking lot with a very short walk to Granite Falls.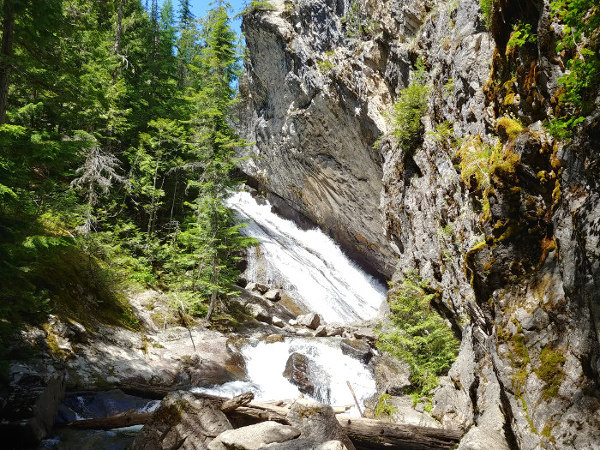 About a mile hike to the Upper Grove. Very impressive old growth Cedars. Not as large as the redwood on the coast but well worth the trip.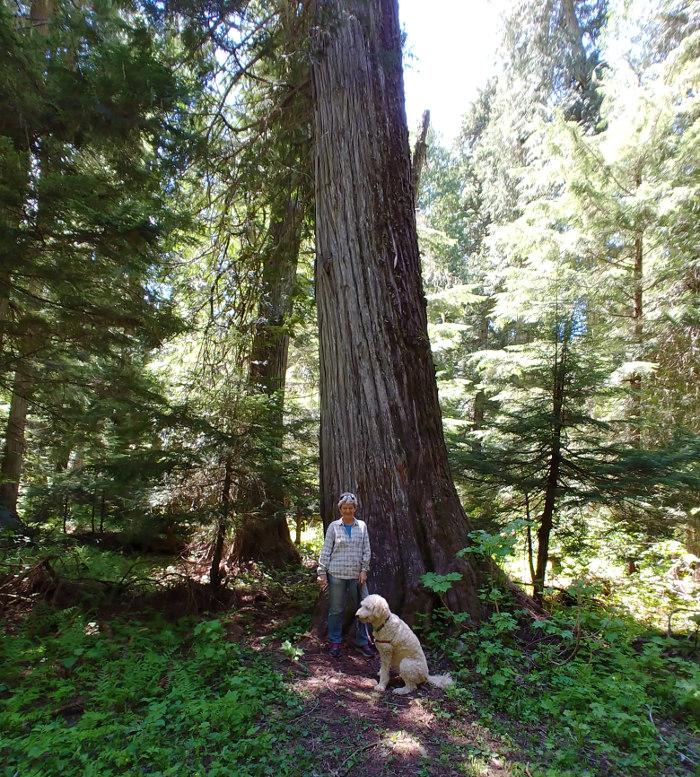 Denise was resistant to the idea of backtracking. So we drove back by Priest Lake. The National Forest road along it, much better maintained that the road over Pass Creek, goes near the lake but has few views of it (darn trees). Then south through the town of Priest Lake, along Hwy 20 to Hwy 31, and north back to Sullivan Lake. The drive back was much longer in distance but I'm not sure which was faster. A good adventure.
We noticed there was a Sasquatch Festival over the weekend in Metaline Falls, just down the road from the CG. Since our trailer is a Bigfoot we had to go see.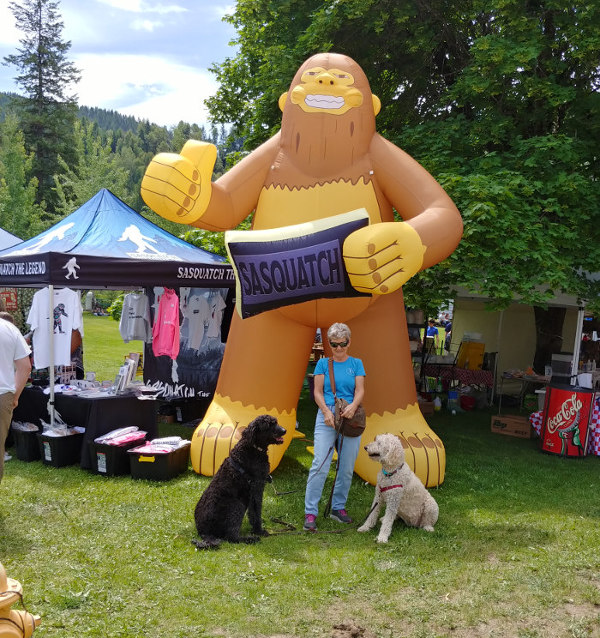 It was the first year for the festival. It was small taking up some two blocks of the downtown. We bought some T-shirts and ate too much fair food. A real change of pace, a good time.
Around June 20th we pulled up stakes and headed for Montana. We tried to stay at a RV Park we'd stayed at before just south of Bonners Ferry but they were full, even mid-week. So found an overnight spot in Sand Point. Then on to the the Yaak River CG. It is just over the Montana boarder, maybe 3 miles from Idaho as the crow flies. We found a nice site for one night, then moved to a great site for the remainder of our stay. Stayed there till July 6. The idea was, besides a great CG, not having to find a site near Fourth of July. We were surprised that there were site available each night though the holiday. Busy but not full. Maybe it's remote enough to see little use, but it was a great destination CG. We're baffled.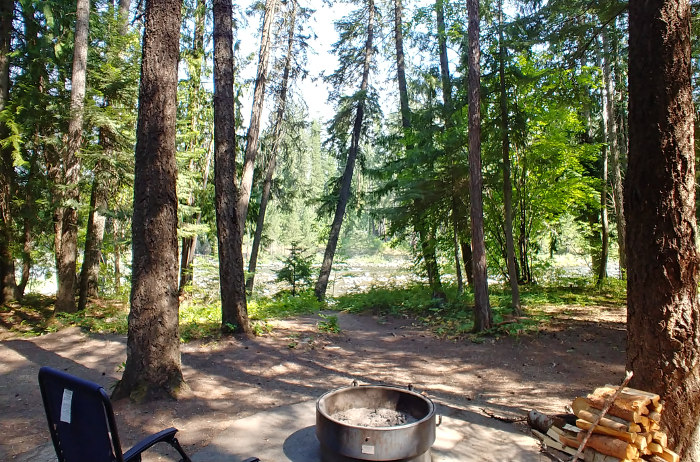 The Yaak River CG was great. We had easy access to the Yaak River and our nearly private swimming hole. It's where the Yaak River flows into the Kootenai River. The Yaak River was warmer. We were in a heat wave the second week, temperatures over 100F pushing 110F. Not what we expected in Montana. We were at a lower elevation but still... The Yaak River came in handy and we found out our generator will power the Bigfoot's AC.
We bought a National Forest map and picked out a great hike. The China Rim looked to be a longer drive up to the trailhead but a levelish hike along an open rim with views forever. Well, the road to the trailhead did go up but was on poor bumpy roads. Roads great for Brutus but not Larry. A long and tortuous climb. Once we got to the trailhead it was obvious no-one had hiked here for some time. We think a trail maintenance crew went though this year but that was it. It was steep with thick small trees along the trail, no views. When we got to the "end" of the trail it gave us some nice views. We continued on taking another route down, also narrow but slightly better road. Overgrown to the point of scraping Larry on both sides at once. We'd recommend giving this one a pass.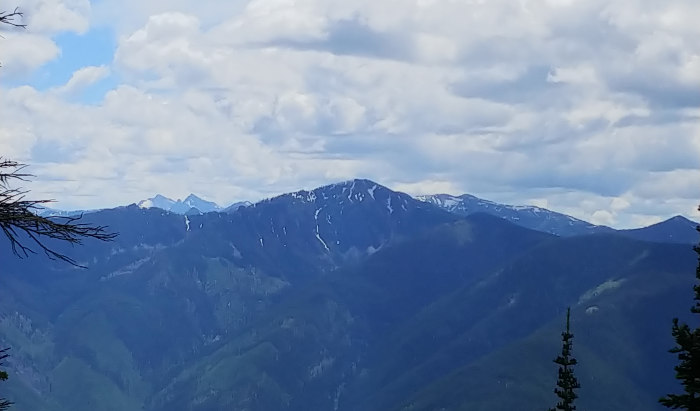 On one hot day we did a driving tour up NF92 to Yaak then back South Fork Rd through Libby. Nice drive and got to check out the CGs along the way. (Note: None of them large enough to easily accomodate the Bigfoot.) Stopped at Yaak Falls, not great for pictures but nice. Also found the Upper and Lower Falls, we think on the West Fork of the Yaak. Less flow but better for pictures.
In the campground we found this fellow (Pileated woodpecker) pounding on the downed log. He was very engrossed in the task. A rare sighting.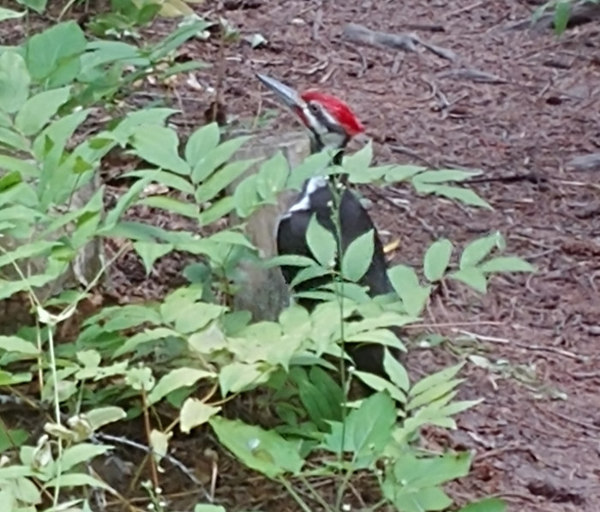 Another great day trip was to the Ross Ancient Cedars down Hwy 56. Very nice old growth cedar grove. We hiked up Ross Creek past the grove a mile or so. It was evident there were more giants cedars which had been burned some time ago. The map showed a water fall along the road into the grove, but for the life of us we could not find it.
Then for Fourth of July we made the short treck into Troy, MT for their celebration. Well, mainly for the car show.
It's been a good stay but time to head back to Prescott Valley. The plan was to be there around the first of July so by that schedule we're late. But there really is no schedule. The hot weather is getting to us though, and with the drought and hot weather we suspect there will again be fires and smoke in the northwest. Also, it is crowded out here during the summer. We've been lucky finding campgrounds so no problems, but all the towns and stores are overly crowded. We're thinking that laying up July and August is go good idea. But life is good and it's great we can be out here traveling.

P.S. When we traveled into downtown Troy Denise remembered the town from a Amtrak trip we took years ago. We also visited Kootenai Falls and noted we'd been there before, a sports car trip to Vermont. We've been everywhere man.