Escaped Doodles
June 15, 2021 - Movin' on Up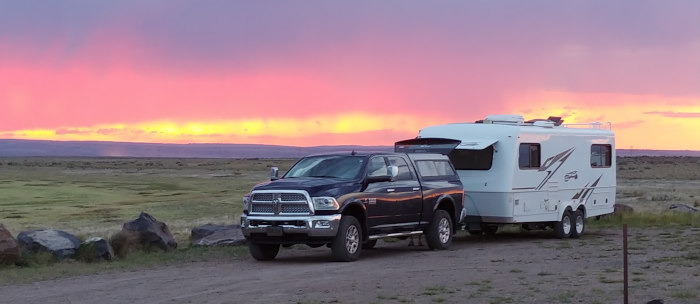 Movin' up the states going north. However, one goal of this trip was to visit Klamath Falls, our old long time home, to visit and to pick up some lapidary equipment. So from Craters of the Moon it was a straight shot to Sourthern Oregon.
One stop over in Mountain Home RV Park. This is a G7 park, owned by the same folks that own Desert Gold, and we've stayed here before. It's a nice park with trees and grass. Since our last visit it's been expanded considerably, but still busy. Then one night at Chickahominy Reservoir just past Burns. As many times as we've traveled this highway it's the first time we've stopped here. Not much there and the reservoir is down, but free and a good overnight stop. Also nice sunset.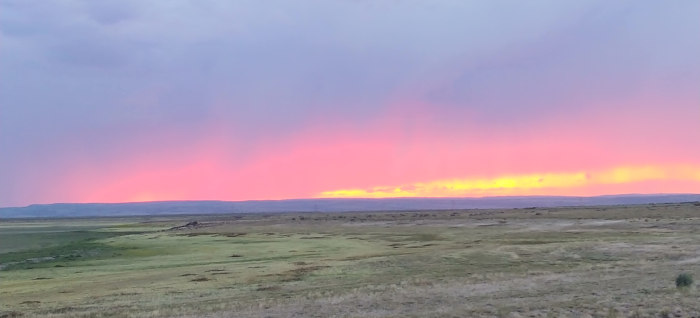 Then on to Klamath Falls for a week. We stayed at a PacifiCorp campground in Keno. We were going to stay at Topsy CG, where we started this adventure from, but it was busy even on a weekday. We later heard the rumor that it's a draw for homeless. Fact or not, we ended up at PacifiCorp. More expensive at $20/night with no hookups, but a lot less than the KOA in Klamath Falls. It is a nice area right on the Klamath River.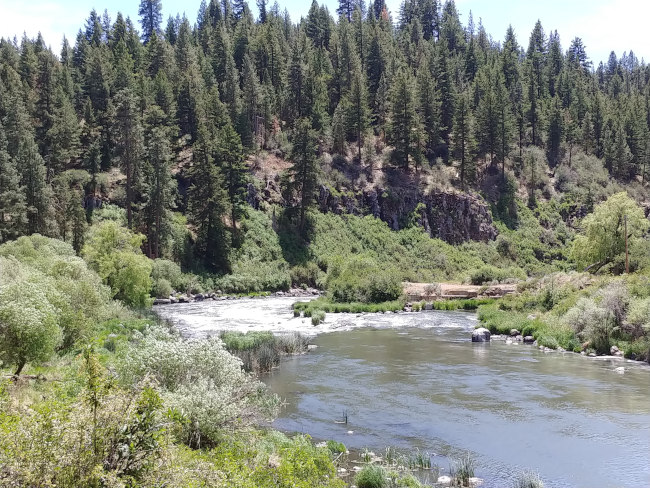 During the visit there was a small Doodle reunion. A get together with Ruby, Cooper, Rhythm (Ruby's son) and Lilly (Ruby's grand-daughter). Left to right we have Lilly, Rhythm, Cooper & Ruby.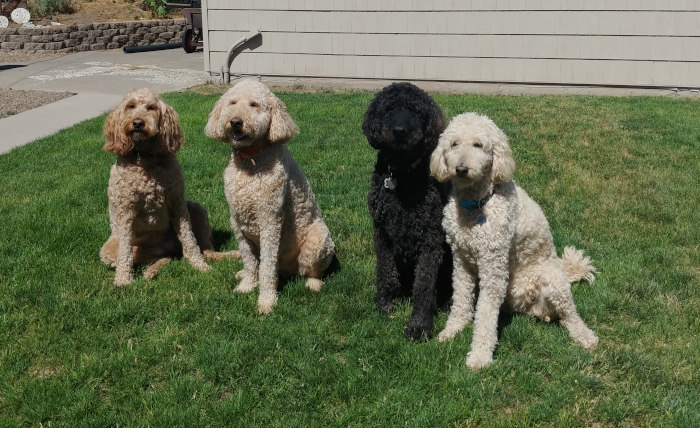 After Klamath Falls we headed north towards the northeastern corner of Washington. Hadn't been there so wanted to go see. Routed up Hwy 97 & 26 rather than back through Lakeview as Hwy 395 between Lakeview and Burns was bad road. An overnight at the Fairgrounds in Redmond and another in a Forest Service CG off Hwy 395 near Ukiah. We followed a few smaller highways after Pendleton which took us along the Columbia River past tri-cities (Richland, Pasco, Kennewick).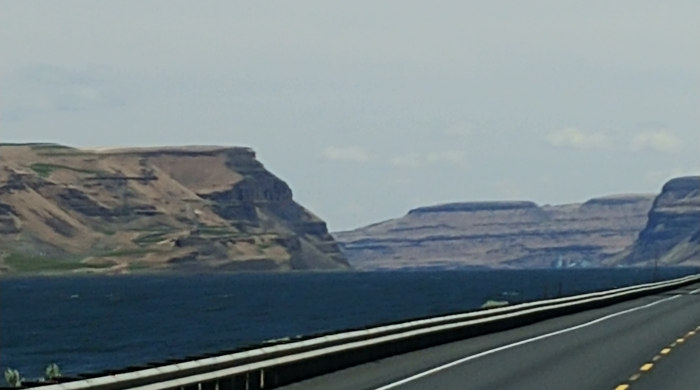 Continuing our blistering pace north we stayed one night in Soap Lake. Soap Lake is an interesting town which apparently was a resort town many years ago. The draw was the healing waters of the lake. Not as much of a resort now but the lake is still there. The water has a slick soapy feel to it.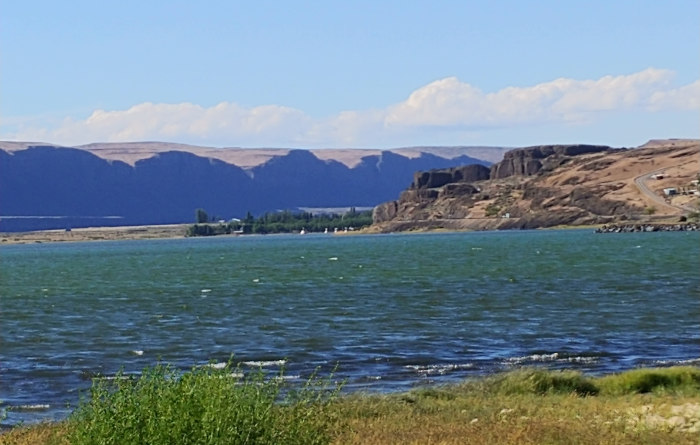 Continuing north following dotted highways on the map (scenic route) we went by Grand Coulee Dam.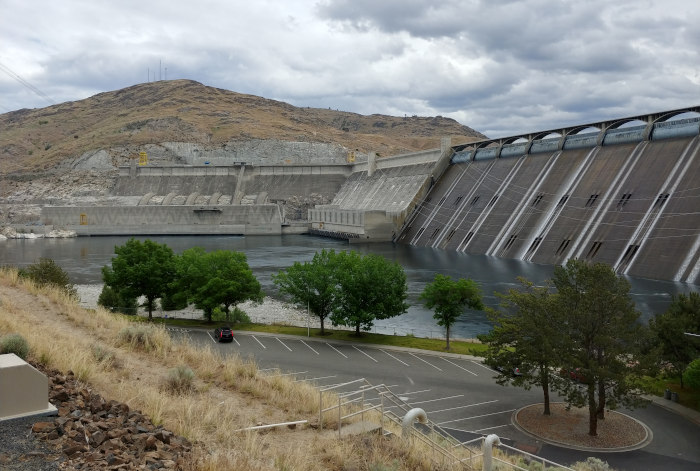 And continuing north on scenic routes we passed through the Colville Indian Reservation to Omak. We stayed though the weekend (June 11 & 12) at the Omak Fairgrounds. Again avoiding searching for CG on the weekend. Nice CG with full hookups. No host on site and all camping done through online reservation (which we made a couple of days before) but I suspect you could make them the same day. It wasn't too busy all the time we were there. It seems to be set up for a big rodeo, Omak Stampede in August. We saw the track for the Suicide Horse Race. It drops off a very steep hill, across a creek and into the farigrounds arena. It does look to be a suicide run.
Finally we arrived in northeast Washington and came to rest at Bonaparte Lake CG. A nice national forest CG on, believe it or not, Bonaparte Lake. First come first serve (no reservations) and we stayed three nights. We hiked around the lake one day and Denise hiked the Pipsissewa trail, from the lake up to the ridge overlooking the lake.
It's been a good trip so far but a lot of travel. We hope to slow down a little but who knows. The campgrounds haven't been too full as yet but it may be because school in Washington isn't out yet. The RV Parks seem to be busier than the NF CG. Maybe all the newly purchased RV are going to RV Parks. We are avoiding the National Parks and areas around them. We understand those, National Parks, are just nuts with many requiring a reservation just to enter. But for us so far so good, we're still learning.