Escaped Doodles
Sept. 1, 2019 - Road Trip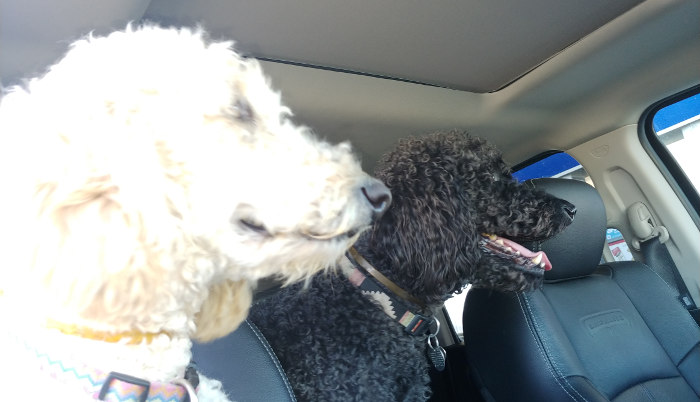 We left you hanging in Klamath Falls last episode while we headed off to Spokane to look at new trailers. The two weeks since has turned into a Road Trip. Way too much driving, and the saga follows.
We made it to Spokane in time to meet our salesman at Click-it RV Sales. We made stops at Burns, OR; Plymouth, WA; and finally Riverside SP, Spokane, WA. This episode includes pictures taken out the window on the fly. This stage includes the Abert Rim outside Lakeview, OR. Also the Columbia River twice as it curves back on itself. Strange, for us, to cross the Columbia and not cross from/to Oregon/Washington but it happens up here.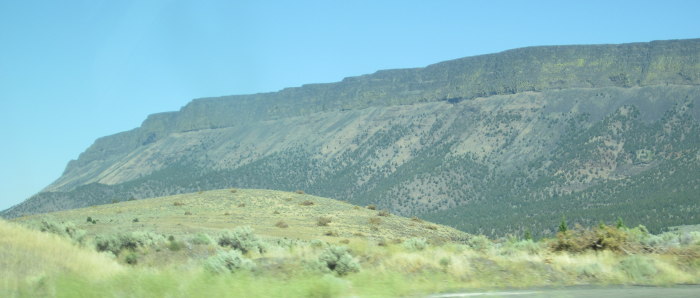 Riverside State Park is right in Spokane. It is a nice park, particularly for access to Spokane, with a nice river and scenery. However, being in Spokane it is busy, but recommended for a visit to Spokane.
We met with Ken at Click-it RV after a trip to REI and CostCo. We were able to view two Bigfoot trailers, a 21RB and a 25RQ. The 21RB is a 21' rear bedroom, front dinette trailer. The 25RQ is a 25' trailer with a rear walk around queen bed and a front dinette.
Bigfoots are fiberglass trailers known for their quality. They have proven to hold up well and hold their value. They are the only large fiberglass trailers available. Well, there is the Escape 21 but we've never liked the layout of that trailer. The Bigfoots are true four season trailers. They have a double wall construction with insulation, thermal windows, and furnace heat is circulated around the enclosed tanks (they don't freeze). But they are notably heavier and more expensive than the Escapes.
For us either Bigfoot has more room than Dora, particularly kitchen space and they have an oven. But overall there is more storage space, bigger refrigerator, more space, dry bath. Don't get us wrong, we still love Dora and she is great for short trips of a few months. But for full time we needed something a little bigger. We really like the 25RQ for living in and decided to get one. We left Click-in and decided to look for a newer used 25RQ. We'd look for a few months and if nothing came around we'd order one. The wait list is around 6 months.
About this time Denise remembered Karen had emailed her while we were casually looking for a 21' Bigfoot. She had a 25RQ for sale. Denise said we're really looking for a 21' not thinking too much about it. But, remembered when we decided to get a 25RQ. These are a rare find, particularly used newer models. This was a 2018 model. The pictures looked great so we contacted Karen. To our surprise it was still available. Sent her a small down payment to hold it and started the drive to Los Angeles. More Road Trip.
On down the road. We saw this large solar array outside Pendleton, OR. More and more solar and wind popping up all over. Maybe there is hope.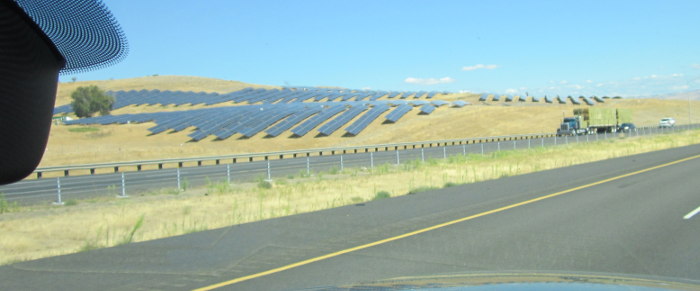 Stayed overnight at Cactus Pete's RV in Jackpot (cha-ching) Nevada. Our realtor in Prescott has the nick name Cactus Pete. We sent him a pic.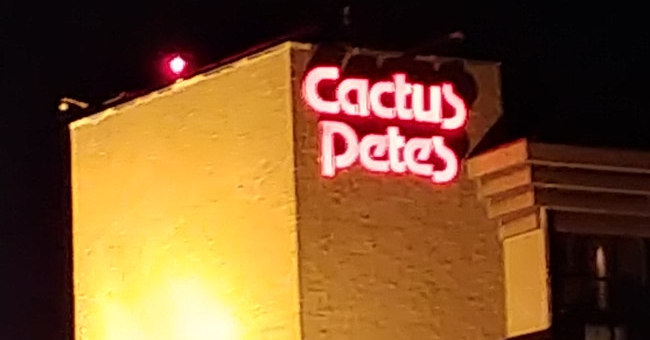 A lot of roads like this across Nevada. You also get a look at the back side of Great Basin National Park. Even has a little bit of show left.
One night in Cathedral Gorge SP. We like this park, not grand but very nice for a stop over or longer. But it started to get hot around here. It's going to get a lot hotter. And a welcome to Arizona sign. We didn't catch too many of these welcome signs but here is one. I think for most of the others we were zoned out.
We made it to Brenda, AZ and rented our usual spot for a week. Dropped Dora off, packed the minimum for a couple of days, and took off for Santa Clarita. One overnight in Brenda then zoom.
On the route to Santa Clarita we went by 29 Palms where it was 103deg. Seemed way to hot, but just wait. Then past all the wind turbines near Tehachapi. Hugh remembers the first turbines going in here in the late 1970s.
We met up with Karen where the Bigfoot was stored. It was well kept and came with a lot of additions we weren't expecting. So we took it on the spot. Stops at a couple of banks, hitched up and back on the road. Lots of driving.
What can we say. We do like the new Bigfoot which we've tentatively named Sassy (Sasquash). She will make a great home for some years to come.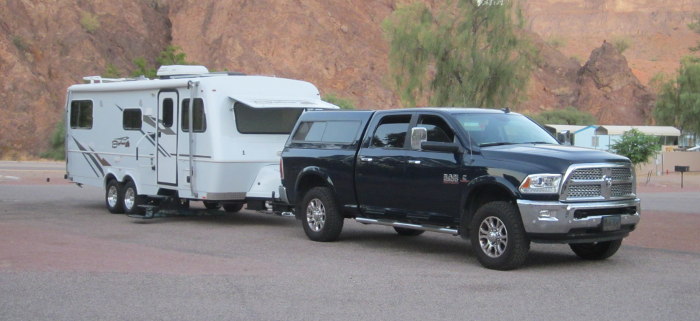 The very first thing we did upon leaving Santa Clarita with a new trailer was to climb over the Grapevine on I5 north. It pulled very well and Larry had power to spare. Live is good. On the way back to Brenda we stopped in Bakersfield, and River Island (South of Havasu). The whole area, including Brenda, is in the 110 degree, but it's a dry heat, range. Cools down to 85 or 90 overnight. This is not what we meant by "chasing the weather". We meant good weather. So we quickly moved all our worldly possessions from Dora to Sassy, with final organization to come later, and decided on a hasty retreat from the heat, likely Flagstaff and on to the North Rim. A great plan but where to exactly? We called every RV Park we could find, figuring Forest Service CG would be full. Well, it is Saturday of Labor Day weekend and all of southern Arizona has gone north. You know, 'cuz its 110 deg. We could find nothing so we're sitting it out in Brenda till Monday when we'll shoot north. At least we have good A/C and a pool for late evenings.
God it's hot, but we have a new home. Hope your life is going as well.