Escaped Doodles
Sept. 15, 2019 - North Rim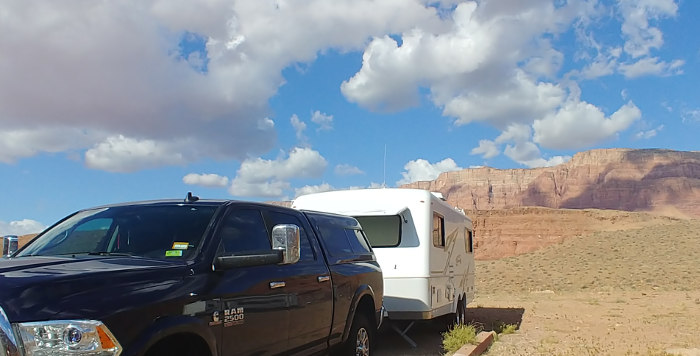 We left Brenda Monday, Labor Day. It was still way too hot so good to get out of there. Headed for Flagstaff.
Dumped tanks on Sassy (the new Bigfoot Trailer) on the way out. The black tank would not dump, thought it was the valve. Too hot to fuss with so we just headed north. It was very busy on I17, but everyone was going the other way, back to Phoenix. Glad we're not in that traffic jam, and not going back to that heat, and not going to a city, and....

We stayed at Woody Mt CG in Flagstaff. Needed a full hookup to straighten out the black tank problems. The black still would not drain. So, after a few go arounds on the Internet Hugh figured out how to get at the black valve. On the Bigfoot, the tanks are enclosed and heated so they don't freeze, but this means you can't see the valves directly. There is a panel that comes off to get at the black valve. After some caulk removal and a lot of screws the panel came off revealing the black valve. It is remotely operated via a cable and everyone though the trouble was in this cable. Well, Hugh got into it far enough to verify the valve was probably functioning. On to plan two. He found a small nozzle to go onto the garden hose (clean out/auxilary hose). Pushed this up the sewer outlet and shot some water towards the black valve catching the backflow in a bucket. Found the hose would push up to the valve, then when the valve was opened the hose would go further. Thus the valve works. SO, left the valve open, pushed the hose/nozzle through, and opened the faucet. This is dangerous without an empty tank, if the blockage lets go it will dump a large volume of "fluid" all at once. Started to get junk out through to the sewer outlet. Did this for some time until we were convinced the blockage was gone. Closed the valve, filled the tank using a clean out wand, and pulled the black valve. It flowed well, the blockage was gone. Ended up with many buckets of "fluid" dumped by hand down the sewer and about half a bucket of solid. Put the access panel back in place and started to feel better.
After three nights in Flagstaff working on plumbing we moved north a few miles to Bonito CG. This is a great Forest Service CG just a few miles north. It was nice to have good weather so we mostly relaxed and tried to recover from the last 2-3 weeks. Finally forced the awning out. We tried before but couldn't figure out why it wouldn't open. Finally decided we weren't missing anything and used more force. It seems to be out of adjustment or slightly bent. Nice awning though. When we get back to Brenda, and the small machine shop, Hugh'll build a spacer that should fix most of the problems.
Finally renewing the adventure, we decided to see the North Rim of the Grand Canyon. We were close on a prior trip, but the road was closed by snow in April. A stop was anticipated in Page, AZ for groceries and washing. But all the RV Parks were full. So we dumped at one of them ($4) and found a laundromat right next to Safeway. A couple of hours later we were on our way to Lees Ferry. Took the chance of an opening there figuring it was boondocking if that fell though. The road from Page to Lees Ferry drops off a cliff, off Antelope Mesa, with great views of the Colorado River and Vermilion Cliffs.

We did stay overnight at Lees Ferry. It wasn't too busy and easy to get a site (and a lot less expensive than in Page). We'd forgotten how scenic is is around Lees Ferry. We'd have stayed a couple of days but it was again too hot.
We settled into a FS CG at Jacob Lake, right where the road to the North Rim (Hwy 67) takes off from Hwy 89A. Nice campground with non-reservable sites. Stayed six nights all together. And we made it to the North Rim. Spent two separate days touring the Rim. Very scenic.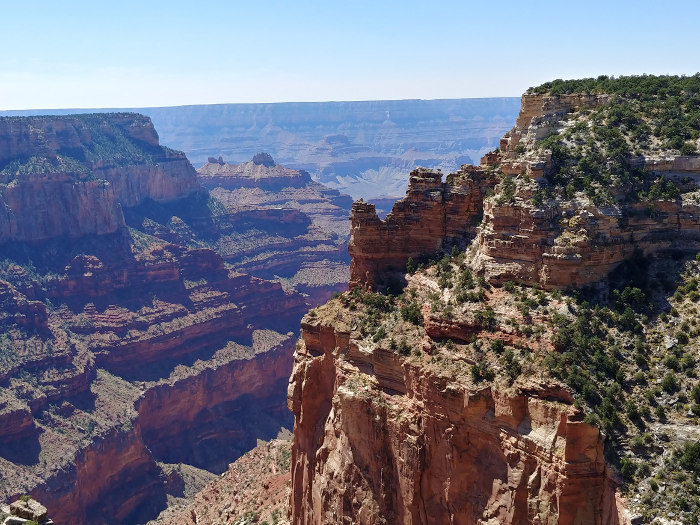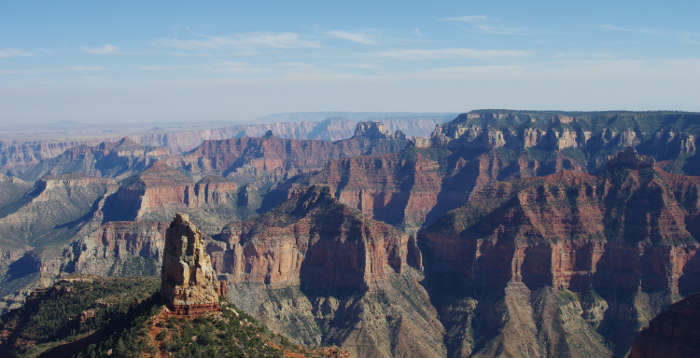 Just inside the Park is a meadow said to have a herd of buffalo. We didn't see them on the way in the first day, or at all the second day, but they were there coming out the first day. They are big. Leaving the Park on the second day we saw a flock of turkeys (different than a flock of tourists). Took a quick picture out the window.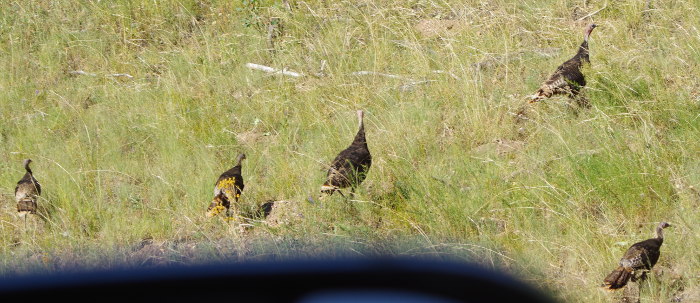 We also did a hike up Jacob Canyon not far from Jacob Lake. It was a relative bust. The trail petered out after about a mile and the canyon is overgrown with not too steep sides. The dogs were real happy to go though (after two trips to a National Park where they could barely get out of the car).
We've concluded that the plateau leading up to the Grand Canyon isn't that interesting. We could be very wrong but this one experience and maps led to this initial impression. With Grand Staircase-Escalante just around the corner it'd have to be pretty nice to compare.
We're headed for Kanab, UT tomorrow. A day or two there then hope to go a little ways out Hwy 98 towards Page. If all goes well we'll boondock a while on the south edge of GSE (Grand Staircase-Escalante) and do a couple of hikes off Cottonwood Canyon.
Till the next installment, have a great day.