Escaped Doodles
August 17, 2019 - Return to Klamath Falls

It was a quick trip from Grand Junction to Klamath Falls. We made stops in Nephi, Elko, and Denio. We've driven these roads before so not many stops for scenery. We did make a rest stop at San Rafael Swell, west of Green River. A north-south uplift appearing for many miles.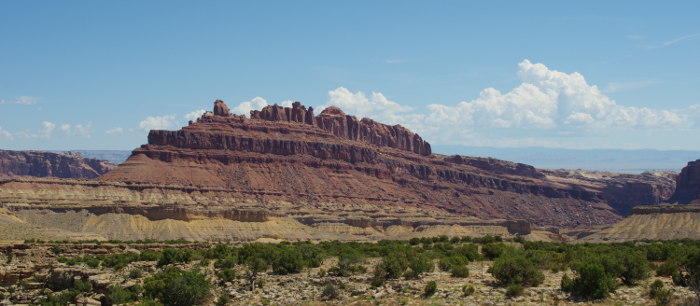 The picture is from the top of the swell, it's much more dramatic than can be shown in a picture though. In Denio we found a rattlesnake in the campground. This one was about 2' long.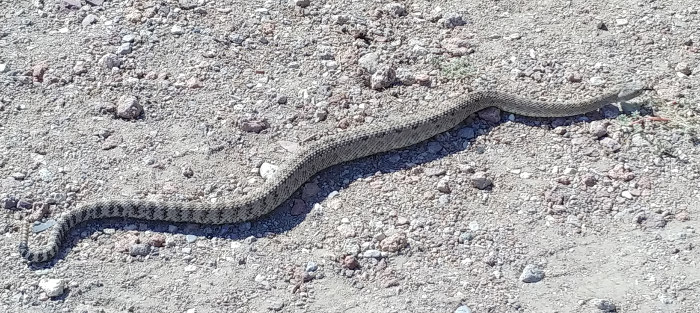 We saw two rattlesnakes run over by cars in the Topsy CG. That's three in one week! Before this we've seen maybe 5 in all our time camping. Must be a population explosion.
We stayed again at Topsy CG about 20 miles from Klamath Falls, near Keno. It's a BLM CG and costs us, with senior card, $3.50/night. It's a lot nicer than the KOA in town for $50+. We stayed there about 10 days. There was a lightning caused fire in the area, maybe 20 miles away. Many helicopters going over for observation and/or bucket drops.
Hugh had access to his metal shop and built a support for Brutus' (Teryx) spare tire. He thought hanging the tire cantilevered from the receiver would cause trouble bouncing over off-road trails. We'll see when we get back to Brenda if it fits or not.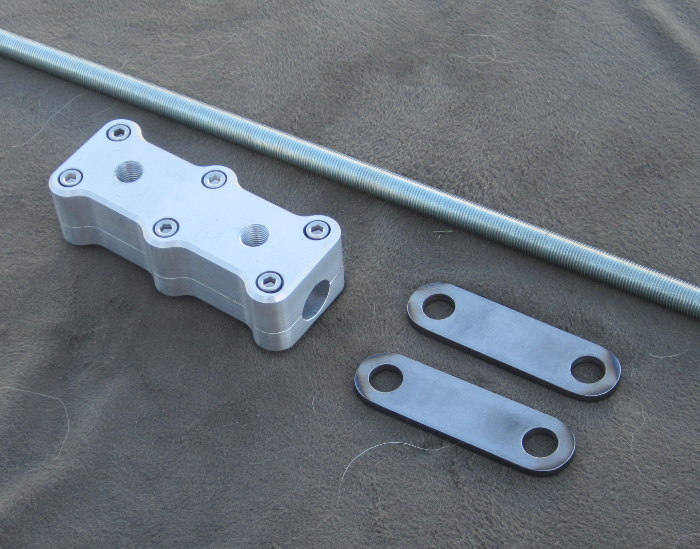 The country around Klamath Falls is still beautiful. Here are two pics of Klamath Lake from Moore Park.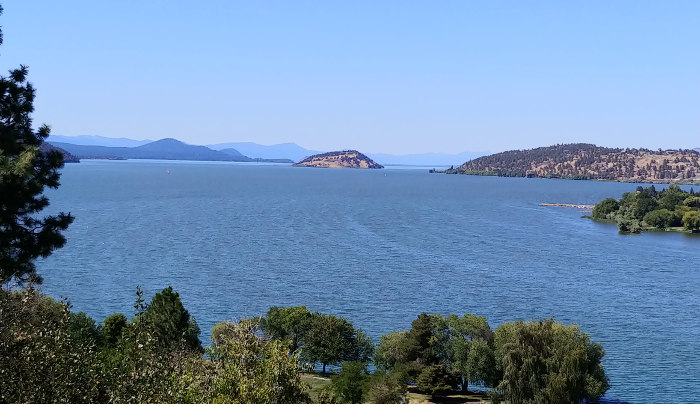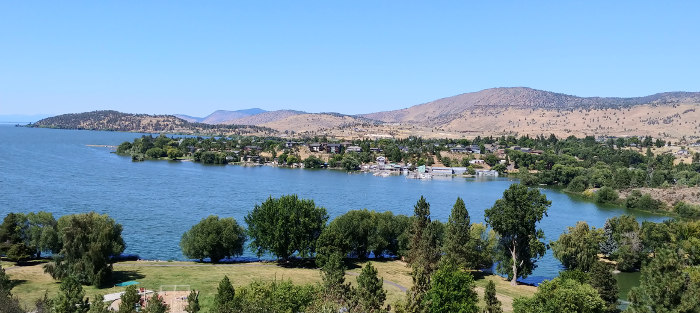 Visited with friends, had Larry serviced, new tires for Larry along with the dentist, eye doctor, etc. Learned that, especially if you have a RAM, don't go to Klamath Falls Lithia for service. It was a busy time, although no pictures or much of interest for a journal. We got a lot done.
Moved to KOA and went to Hugh's 50th high school reunion. It was like all reunions and he talked to many people he went to high school with. Just can't figure out where all the old people came from. Here are some random pics of the expected Saturday buffet and the girls who organized the event. Good time all around.
They just finished a $50 million renovation of the old high school. Saturday afternoon, as part of the reunion, we were offered a tour of the "new" building. The renovation was complete, none of us could see any of the old school inside. The halls are even different. The outside was kept and still looks like the old high school. Very nicely done but we're glad we've moved and don't have to pay for it.
After a year in our Escape 19 we're thinking of a larger trailer for full time. Dora is a little small for this. But we still want to get into small CGs, like national forest, so not a lot larger. Maybe a Bigfoot 21' or 25'. Nice well built fiberglass trailers with some advantages over the Escape. We'll likely start a search to look at these trailers when we leave Klamath Falls. Like tomorrow.