Escaped Doodles
July 1, 2019 - Back to New Mexico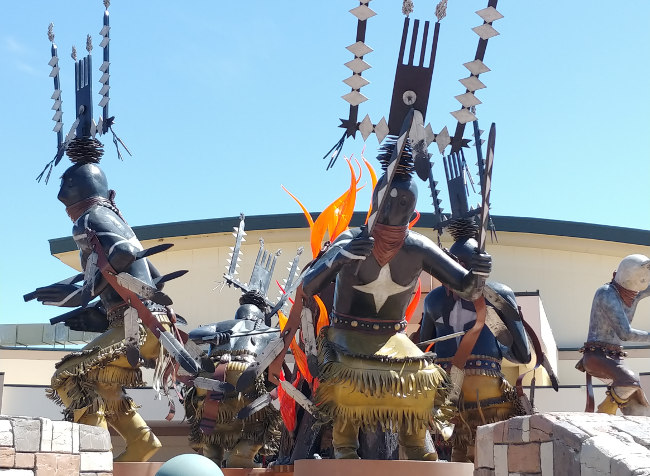 Zoom! First a quick trip from Indiana back to New Mexico.
It was still very wet. We were rained upon, heavily, several times. And yes the fields are still mostly flooded.
Rained a lot at Ballard's RV in Missouri. Several sites in the park were flooded.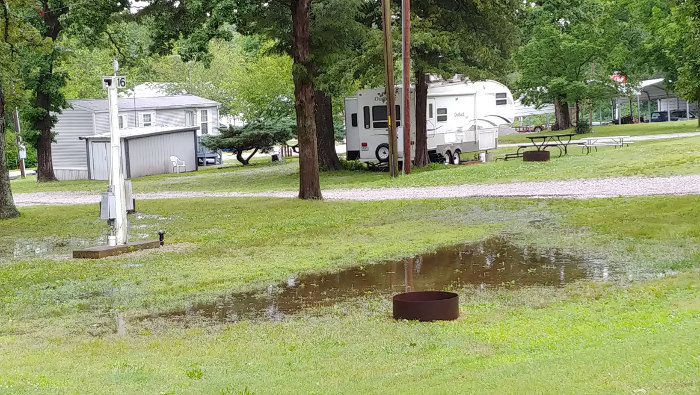 Like the trip out, it was very quick with little time for pics. Here's one of St. Louis from Larry.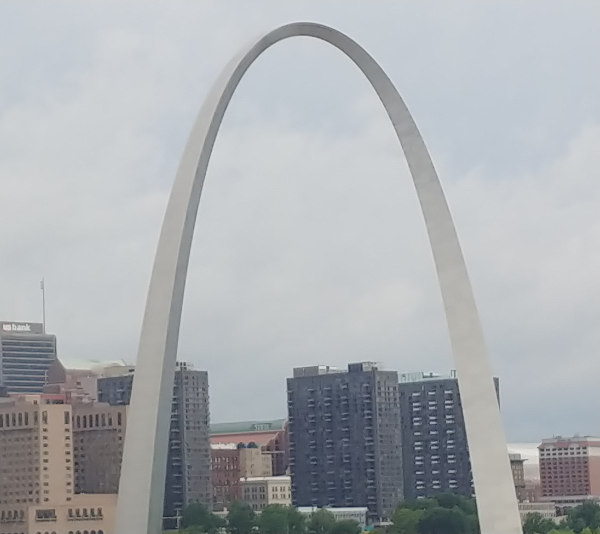 We also saw a large number of windmill farms all the way across. Hugh worked on these at the start, in the late 1970s. Amazing how the industry has taken off in the last 15-20 years.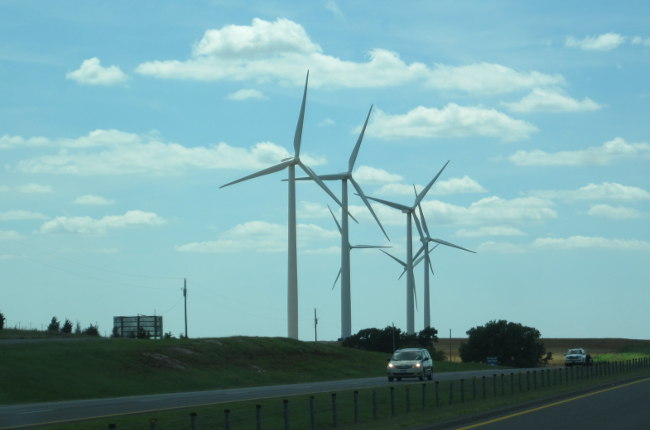 Overnight stop at Elk Lake in Oklahoma. It's started to dry out and give us some nice weather. Five RV sites all on the lake, and free.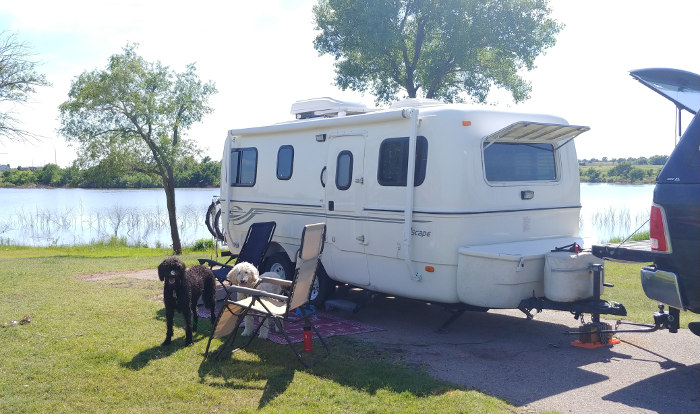 At Elk Lake they had an amphitheater. Probably not used for that purpose anymore as the swallows have taken it over. Likely haven't seen this many swallows in one place before.
When we went through Prescott last time Hugh saw his new dermatologist. He's been seeing his old doc in Oregon once every 6 months to burn (liquid nitrogen) off precancerous (actinic keratosis) "bumps" on face and arms. Been going on some 20 years. But the new doc decided he should use this chemo-cream (5% Fluorouracil Topical Cream). We understand it messes with new cell growth (DNA/RNA stuff) and since cancerous leaning cells reproduce faster than normal cells it'll mostly kill them. But not exclusively. Daily for 30 days, and here he is at the end, June 17. (It has pretty well healed up post treatment, by July 1.)
Finally back into New Mexico for the continuation of our summer adventure. Made it back to Cloudcroft June 19. We stayed about a week here, at Saddle CG and then Pines CG. Both very nice Forest Service camps. It looks like we're up in the mountains somewhere, but the flat in the distance is the White Sands Missile Range. An oasis of trees much like the sky islands in Arizona.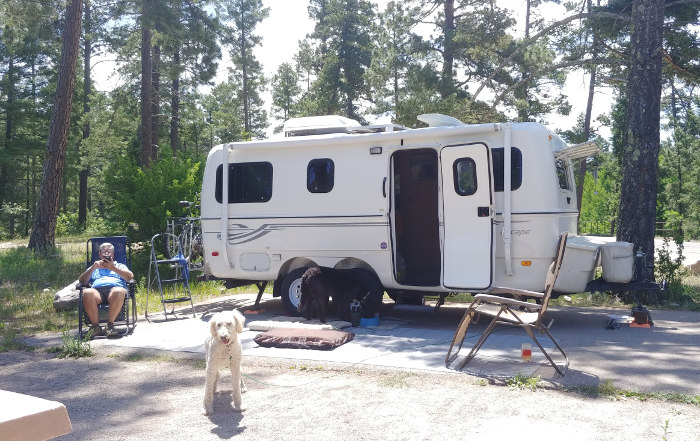 We were both run down from the quick trip east and back, but Denise wasn't recovering well. We finally realized the elevation is about 9000' and Denise was having some trouble last summer in the Snowy Mountains (Wyoming) above about 8500'. We'd planned two days at an RV Park in Ruidoso to pick up packages. Once we realized this elevation problem we went there, about 7000', early. Denise started to feel better right away. We'll have to watch elevations more closely.
Ruidoso is a nice medium sized mountain town. Quite touristy with a walkable downtown, lots of art and jewelry. But a lack of standard stores, like home supply which Hugh was looking for (Dora plumbing). Was told at the RV Park that Rudosio Downs is the center of quarter horse racing. Drove by the track and it is impressive but didn't stop for the races. We saw this enormous basket in Ruidoso, probably some 6' across. Amazing until we realized it is an old satellite dish painted up to look like a basket.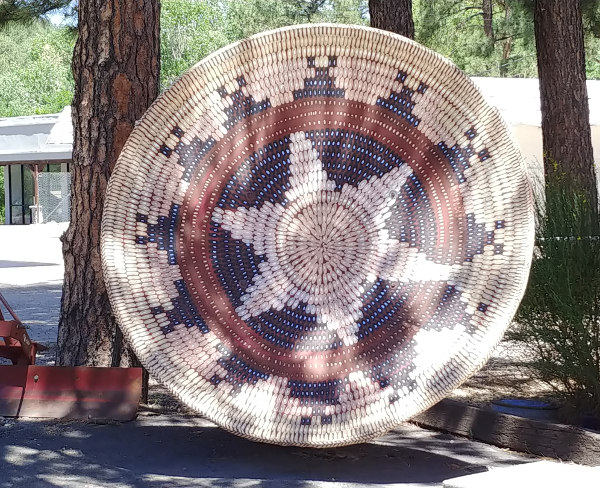 Just outside Ruidoso, on the Mescallero Apache Reservation, they have the Inn of the Mountain Gods Hotel/Casino. Nice grounds and right on a small lake. (Pic of Mountain Gods at top of page.) We ran into a family reunion where Cooper, and Ruby, got a lot of luvin. Didn't get a good picture of the shirts to see which family, but they said it was a reunion.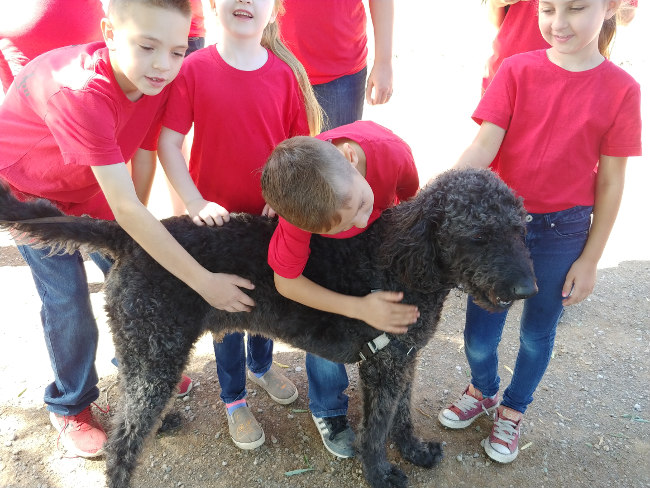 After Ruidoso we headed to Cave Canyon, a BLM CG between Capitan and Lincoln. Seems like a good place to hide for the Fourth of July, and it's free.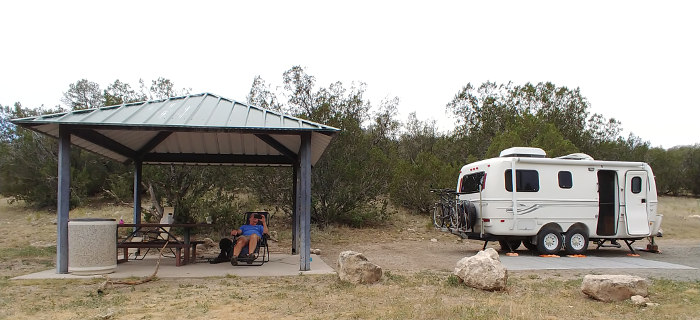 The plan is to head west, Datil and Pie Town (yum) then north before coming back east to Santa Fe and Taos. Have to decide if this is the time to visit Acoma Pueblo and/or Choco Canyon. Might be better to stop in the fall on the way to or from Toledo, OH.
But we're back on the New Mexico summer tour. Stay tuned.