Escaped Doodles
July 15, 2019 - Into the Mountains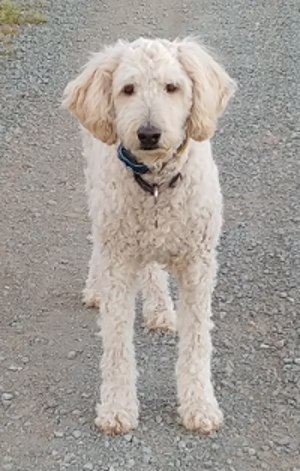 We spent a quiet Fourth of July weekend at Ft. Stanton Cave CG. It's small, only 5 sites, without much to do. There was only one other couple camped there over the weekend. And no fireworks. Just what we needed.
There is a cave at the campground, but it's not accessible. Fence with barb wire and four locks on the gate. We found some information on line and it is a large cave, some 13 miles in total length. Very nice formations and saw they (researchers) have found some unique critters. We understand they closed it to prevent "white nose" disease.
There is a petroglyth trail near Ruidoso which we hiked. Long rough road to the parking lot and then a loop trail some 2 miles. We guessed left and found petroglyph rock at the end of our hike, some 100 yards from parking. It was a good hike. During a later visit to Ft. Stanton we saw a short video of the area. They eluded to the ruin below as being a bordello of the past. Not sure we believe this but it's a good story.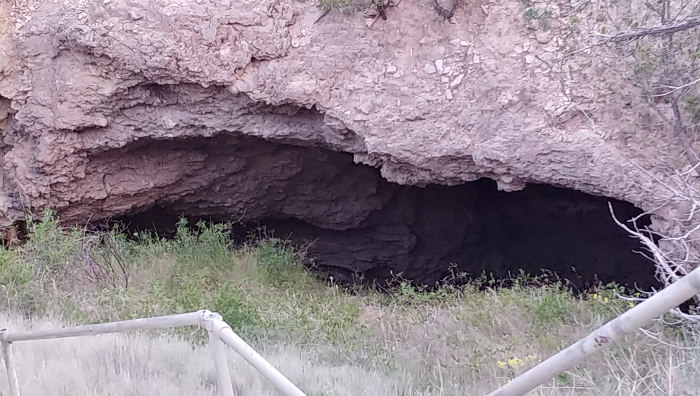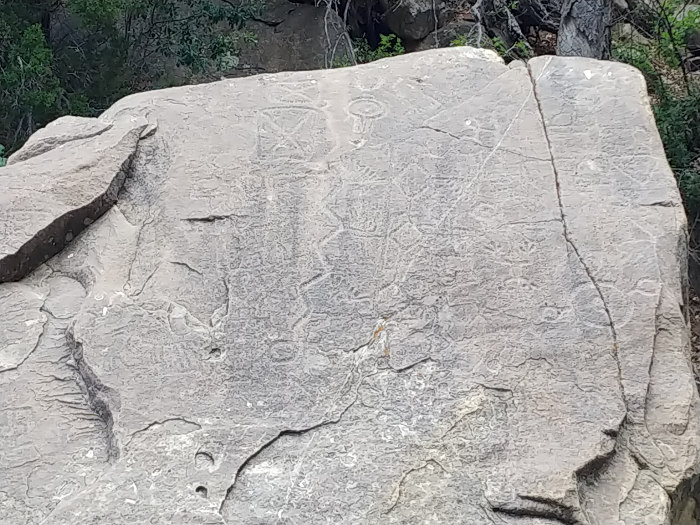 Fort Stanton was an interesting place and we spend a morning looking around. It started as a frontier fort during the indian wars. Then turned into a hospital for TB recovery. New treatments were developed here with good success. We wonder if it was the treatments or the dry desert climate though. It served as a POW camp for a few German soldiers during WWII, among other things. Walking though the buildings you can see the various remodeling and additions.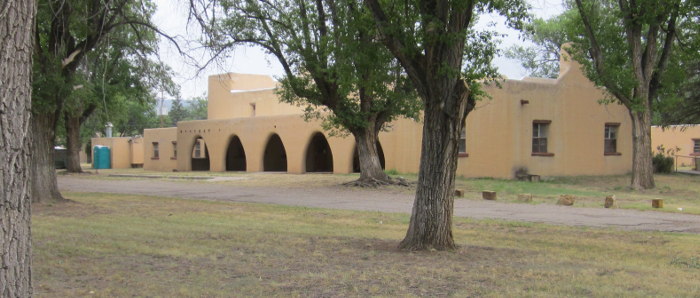 en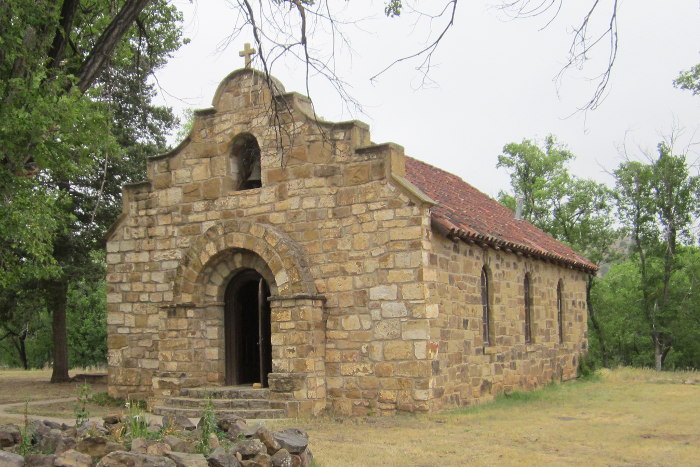 After the Fourth we headed west. We heard of a cafe in San Antonio (NM) whos chef beat Bobby Flay in a cook off. The cafe was closed for renovations (bummer) but we found there was another one also on the "New Mexico Green Chile Cheesburger Trail". We stopped and of course had green chile cheese burgers at the Owl Bar & Cafe. They were good old fashion burgers and green chiles do give them a kick.
A couple of hour touring the Very Large Array (VLA) which is an array of radio telescope. Interesting, but they wouldn't let us in the control room to re-point the array.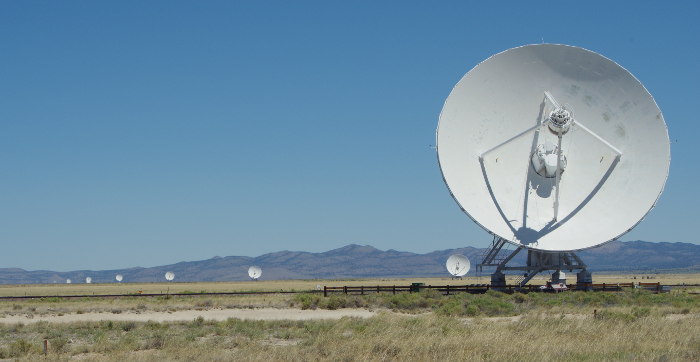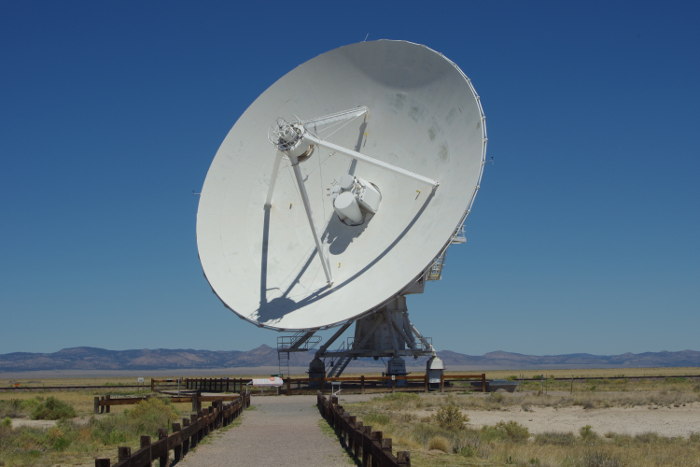 Hugh was looking forward to Pie Town, but it was a bust. The pie shop we understood to be the best was only open three days a week, not the day we were there. Stopped at another but the pies didn't look all that inviting. Being discouraged we went on.
Two nights at El Morro NM. Scenic sandstone cliffs with a long history of European explorers and settlers. A nice trail goes over the top of the cliffs looping back to the visitors center. Up means UP.
Antsinna, an Anasazi (Ancestral Puebloan) village, is on top of the cliffs. A long ways to carry water but great views.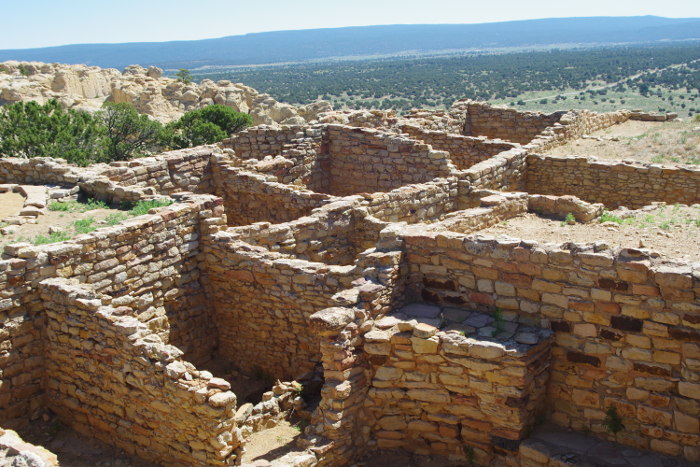 There is a box canyon that nearly breaks through the cliffs. It would be difficult to get out of this box without some real climbing, probably not possible with a horse. But beautiful views from the top.
And the reason for all the historical activity is a permanent source of water. Quite a pool of fresh water, but it was blocked off with a split rail fence. The kids couldn't even get their paws wet. But that's why El Morro was on many historic trails through here.
The sandstone is easy to carve giving rise to much graffiti. A great deal of it old enough to not be considered graffiti. Some initials from Spanish Conquistadors up to modern times. Of course the really old petrogliphs are Anasazi or indian and don't have dates. It was a good visit.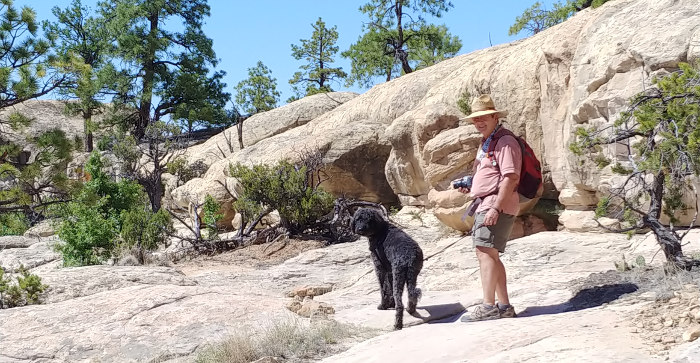 Then north to Bluewater SP just off I40 for the weekend. Around Thursday we try to find a place for the weekend, at least in the summer. The campgrounds are crowded and many times it's hard to find a spot for the weekend. If we get into a non-reservable, "walk in site", Thursday or Friday we have a place for Saturday and Sunday. So we ended up at Bluewater SP. There is a lake but not real inviting for swimming, us or the dogs. The outlet from the reservoir goes through a canyon which we hiked into. It was supposed to be a loop hike but the river crossing on the first trail was too wet. So we hiked out and back in the other end of the loop. Here the trail was very wet and gooshy so we didn't get very far that way either.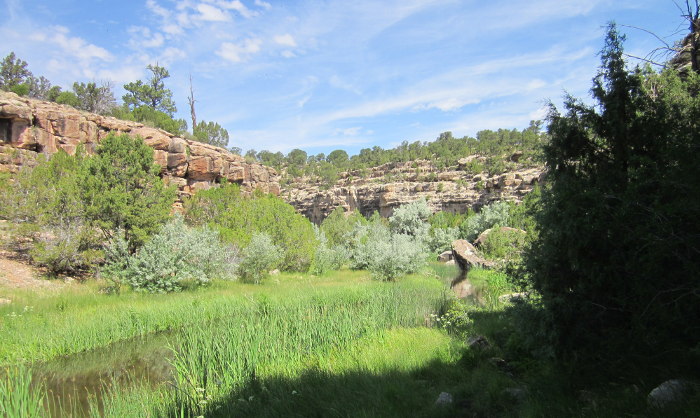 One night stop in Albuquerque. We dislike cities but needed to do some shopping. The RV Park displayed a few vintage trailers. We're suckers for vintage trailers so here are some pics.
From Albuquerque we took the back road (550 and 4) north towards Santa Fe. We had some trouble finding a campsite, and this was mid-week. The state park had a few poor sites but the whole park didn't have a good feel to it. We were surprised to find all the national forest camps in the area were reservation only. They usually, and should, have at least a few non-reservable, first come first serve, sites. We finally stayed at Jemez Falls, a national forest CG. Night by night but better than no place.
The new cooling unit didn't solve our problems with the refrigerator. Outside temps approaching 90-95F it tends to over heat it. In Albuquerque it got to 100F outside and the 'fridge made it up to 60F. At least the freezer keeps things frozen. Not much we can do. Hugh can't find a compressor fridge that will fit without loosing a few inches of storage above it which Denise won't go for. We're thinking of a chest like refrigerator to go in the back of Larry in place of, or with, Yeti. Gets expensive with the 'fridge, solar, solar controller and battery monitor. I guess we should strive harder to stay where the highs are 70 to 85F. But that's easier said than done.
But we're still stumbling along. Hope all is well with you.