Escaped Doodles
June 15, 2019 - Quick Trip East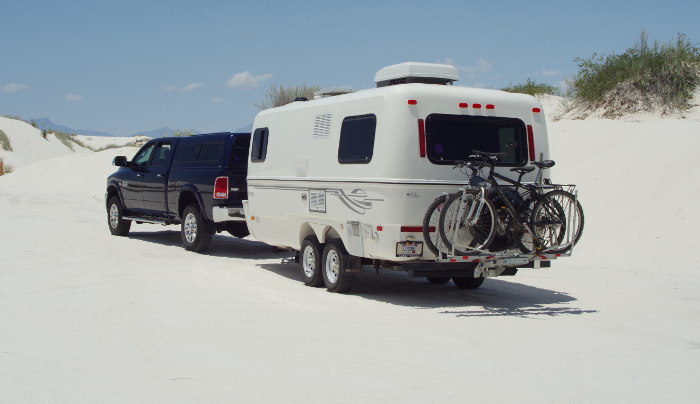 After leaving Rockhound State Park we made the trek to Las Cruces for two days at the Hacienda RV Resort. We had some packages sent ahead, Amazon, to be picked up along the way. This works well, pick an RV Park that will accept packages, make reservation a week or so ahead, and have packages sent there. So we did.
It's become hot though. Starting at Rockhound and continuing in Las Cruces it's getting too hot. We knew it would be in southern New Mexico but were hoping to get through Carlsbad and Roswell before it hit. Our refrigerator is giving us problems, not atypical for a absorption RV 'fridge but seemingly worse than previously. Denise hates to be throwing out food that's gone bad. It is one downside to making reservations and having packages set, you can't escape the weather during that time. This refrigerator problem will prove important in just a few days.
Spent an afternoon in old town Las Cruces. Not a large area but some nice tourist shops and restaurants. A Mexican restaurant was recommended to us here. We tried to go for dinner but it was closed, in fact all Mexican restaurants were closed on Sunday. Bummer.
With packages in hand we headed to the cooler high country. Along the way we drove through White Sands National Monument. The scene looks like snow, but it's really sand.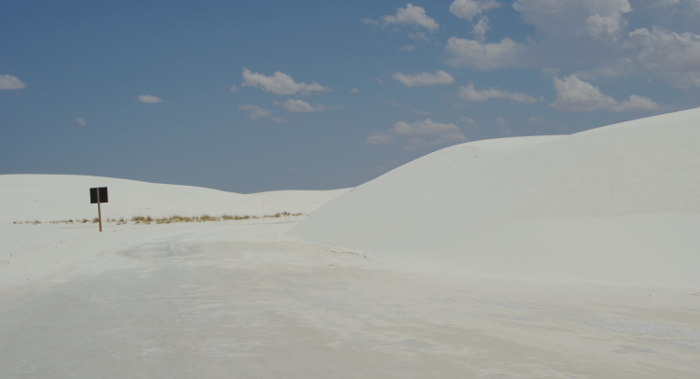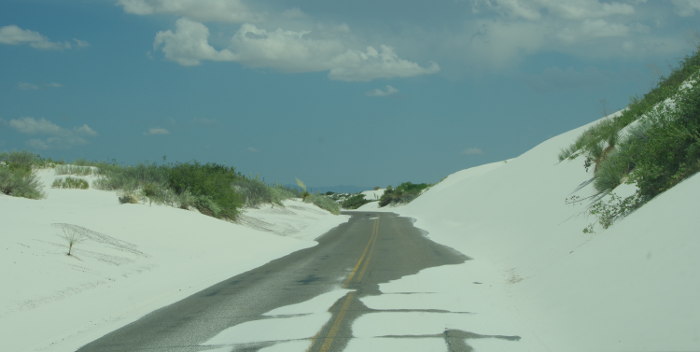 From White Sands and Alamagordo we went UP to Cloudcroft. The elevation is 8600' so much cooler than Alamagordo and other low areas. Settled in to Saddle CG, a nice Forest Service camp near Cloudcroft. The area is forested with real trees, i.e. would be at home in Oregon. Figured to spend a few days, at least, hiking so didn't take any pictures that night. But...
Our RV absorption refrigerator has given us trouble since we obtained Dora. It's OK until it gets hot out. Above about 85 or 90F it struggles and seems to have gotten worse over the years, or our memory has. Denise gave up and said we must do something. There are two ways to improve 'fridge performance 1) put in an "Amish" cooling unit or 2) replace it with a "Danfoss" compressor 'fridge. Rumor has it that the "Amish" units improve performance noticeably. Is that enough? A compressor 'fridge would solve the problem but would need at least one additional solar panel. Overall more complex (risky) and expensive.
Hugh could not find a compressor 'fridge that fit in place of the old one without some cabinet work. Also, the solar panel we have is unknown so matching it, to use one solar controller, would be tricky. For option two the whole absorption cooling unit is replaced. The cooling unit is all the machinery that cools, the whole 'fridge minus the controls and insulated box. We decided to pursue the new cooling unit first, less expensive, less work and has a good chance of working. If it's not adequate we'll find a compression 'fridge and modify as needed.
Hugh started emailing with David Force at the RV Cooling Unit Warehouse who, via their website, has an "Amish" cooling unit for our Dometic RM2510. Well, not a new unit but one re-manuactured from an old one. Oh, but ours has three retaining holes to bolt in place. Very rare and basically unobtainable! "But you can send in your unit to be rebuilt" and added "turn around at the factory is about 3 days". Three days is not bad at all but a week shipping each way means we're without a 'fridge for going on three weeks, not acceptable. But 3 day turn around? How about if we brought the 'fridge to you and had it rebuilt? "Sure." Schedule? "Don't know, contact the factory in Shipshewana, IN." We did and they were very helpful saying they could rebuild it within 3-4 days, anytime, don't need an appointment. OK, so we started driving east.
North to Colorado then I-70 to points east. Hit a intense thunderstorm around Kansas but made it through. Kansas, Missouri, Illinois and finally Indiana. The mid-west is flooded. The rivers are all full and the fields mostly have standing water. Stock up on food 'cuz it may be in short supply this winter.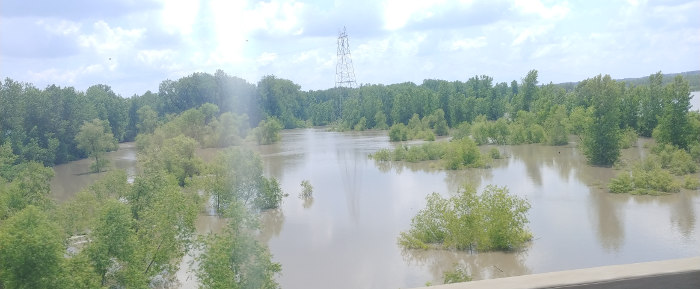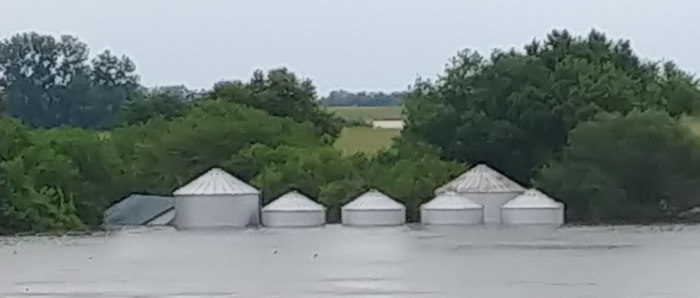 It was a quick trip so few pictures. Here's one of Kanasas City from the moving truck.
We made it to Shipshewana June 9 and dropped off the 'fridge Monday AM at Pines RV Refrigeration. (They only work wholesale so call RV Cooling Unit Warehouse to get started.) They helped us lift the 'fridge out of Dora 'cuz we can't lift it ourselves.
Northern Indiana, around Elkhart, is the center for the RV industry. The Amish, I understand, use absorption refrigerators in their homes. That's how they got involved building cooling units. Shipshewana is a center for the Amish. Very tidy farms and a good number of buggies on the road. The two combined led them to re-building RV cooling units.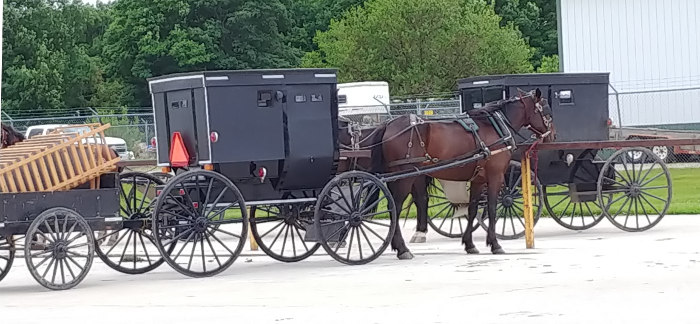 Shipshewana is known for their enormous flee market. Reminded us of Quartzsite. I'm sure it started with the Amish selling their creations, but now it's predominantly flee market and Chinese goods. We spent an afternoon looking around. There are also several Amish oriented markets with good quality and pricing on meats and cheeses. Still the mid-west though, so hard to get fresh fruits and vegetables. And almost impossible to get organics and gluten free products.
Ruben from Pines RV Refrigeration called Tuesday afternoon to say our 'fridge was ready. Wow, less than 36 hour turn around, great service. We went by Wednesday morning and had them help lift it back into Dora. Back to the campground to finish to hooking it up. It works but we need some hot weather to see how well.
While in Indiana Hugh put in the new water pump, one of the packages received in Prescott. We'd also had problems with the inverter, so a pure sine wave inverter was purchased and shipped to Las Cruces. The old inverter used to work but seemed to have quit. Surprise and disappointment that the new inverter didn't work either! In Las Cruces it was noted that charging voltages were very high, like 16.5 or 17v. This is high enough to boil the batteries, which had been a recent problem. It was also discovered that this high a voltage is over spec for the inverters! Some testing, mainly covering the solar panel and checking voltage, showed that the problem was in the solar controller. Both inverters worked with the solar covered. A new solar controller was ordered and shipped to Shipshewana. Hugh installed the new solar controller, while in Shipshewana. He also installed the new inverter which is better and higher power than the old one. (We now have a spare.) Those two problem seem to be solved. (So it was an intermittent inverter problem, only fails when the sun shines.)
We'd paid for our RV space till Friday so we stayed and took Thursday to visit the RV Museum in Elkhart. The first pic is a '54 Shasta trailer very similar to our '55. We liked ours better as it had more windows around the front dinette. But it looked and felt very familiar to our beloved Shasta.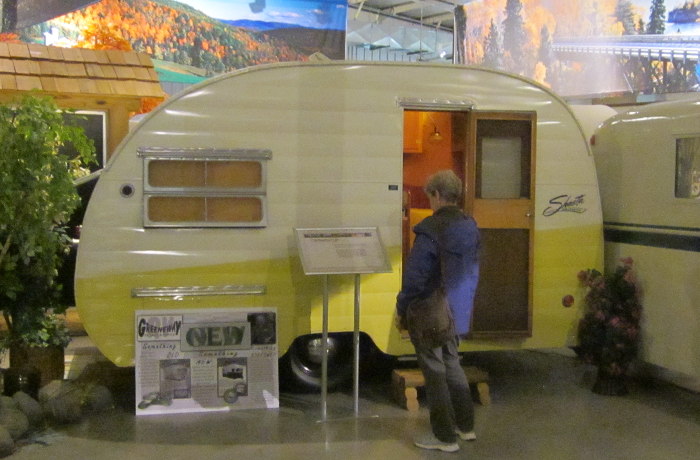 A few others of this vintage. The Spartan is classed a mobile home but I think we've seen a few at vintage rallies.
This is the smallest Airstream I've ever seen, likely the smallest ever made. The placard says it was a prototype for the European market but never went into production.
There were a number of earlier RVs. They tended to be nearly custom built with, usually, very nice cabinetry.
Finally a 1980s GMC motor coach. A very nice production unit likely ahead of its time. There was a rally of GMC coaches at the campground in Shipshewana while we were there. Yes, there are some still on the road.
We headed back Friday June 15 but took time from driving to visit the "Auburn Cord Duesenberg Automobile Museum" in Auburn IN. Way too many really cool vintage autos to show, but here are a few almost at random.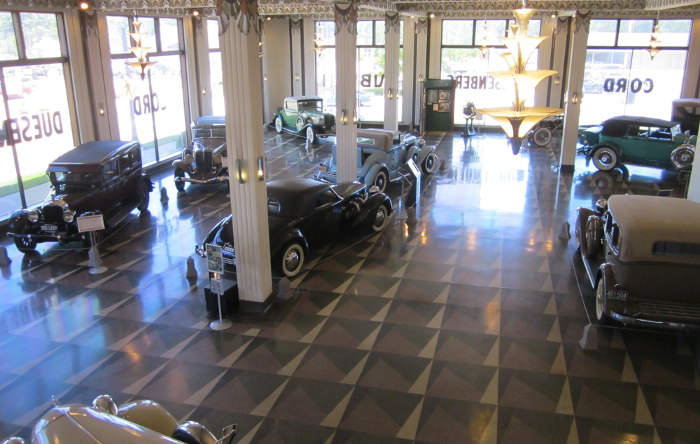 Just our luck, there was a Pierce Arrow touring group going through while we were there. So, there were a good number of Pierce Arrows in the parking lot, not seen everyday.
The quick trip east has so far been at a much faster pace than we like or are used to. In addition the weather has been very wet and muggy. If it wasn't raining it was warm and muggy. We're thankful that it wasn't hot, which would be even worse. Now in Fort Wayne ready to start the trek back to New Mexico and continue our summer tour of that state.
To be continued.