Escaped Doodles
May 19, 2019 - Prescott, AZ : Preparations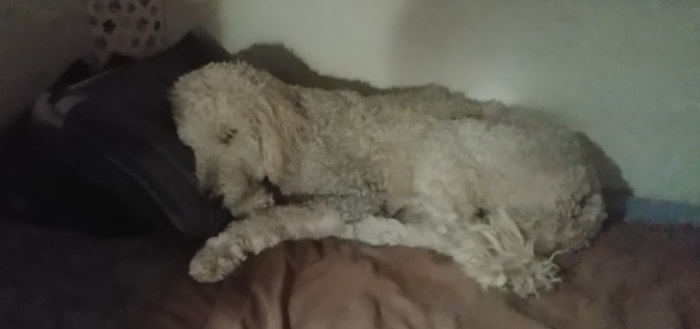 Traveling is hard on the little girl.
We stayed at Clear Creek CG (Camp Verdi) for a week. It is a nice campground with a creek (called Clear Creek by golly) running very near. The dogs loved it since they got to go swimming several times, although this leads to tired and wet dogs.
One day we took a drive up/down to Fossil Creek between Camp Verdi and Strawberry. Likely closer to Strawberry but easier access through Camp Verdi. There are (reportedly) a number of good swimming holes along the river but we didn't see any from the road. Didn't have the time to hike in and look. Pretty drive though.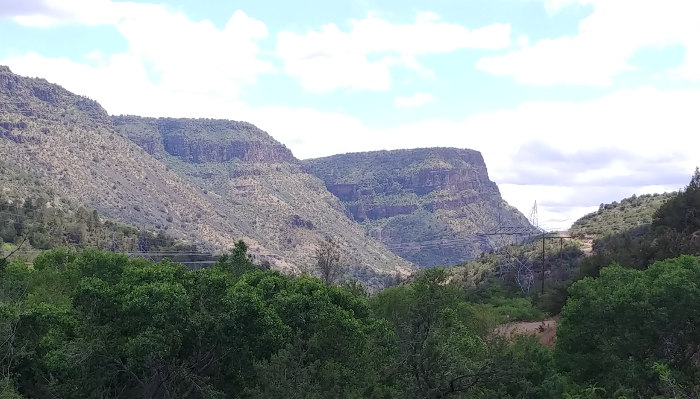 We drove to the Verdi River, a few miles from Clear Creek and Camp Verdi. At the end of the road we saw some caves across the river. There were people walking around there and it looked interesting. Couldn't get across the river without having wet dogs, so we didn't attempt a crossing.
It looked like we could get to the caves on dirt roads from the other side. We made a half hearted attempt but didn't get close. There are some flumes on the road to the river that we also looked for. We found them but didn't hike in to them.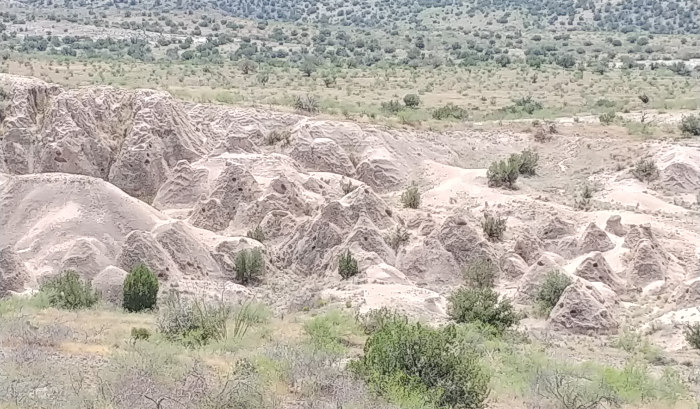 After Camp Verdi we made the "long" trek to Payson. Stayed nearly a week at Horizon Mesa CG. It's a nice Forest Service camp on the north edge of Payson. Took one outing to Shoofly indian village ruins not too far north of Payson. The structures haven't fared as well as those at say Hovenweep. Could be due to the construction, the weather, or other. The walls were just piles of rocks. We did find a good number of pot sherds though, (yes, yes, we did leave them as we found them).
Connected with Mike and Carla who live in Payson (and Brenda) who took us out rock hounding. The first stop was a geode site. Not high quality geodes but they sure were plentiful. Did pick up some nice Arizona Pin-striping on the new truck (bummer).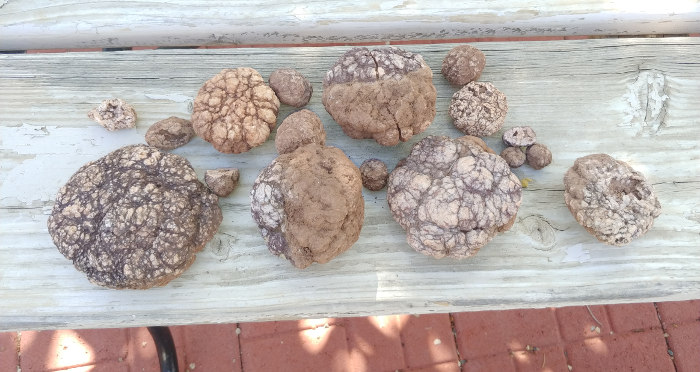 Also stopped by a crystal site but didn't find any crystals worth keeping. Did end up on an high point overlooking Payson. Nice views. Were just following Mike so could never find any of these places again.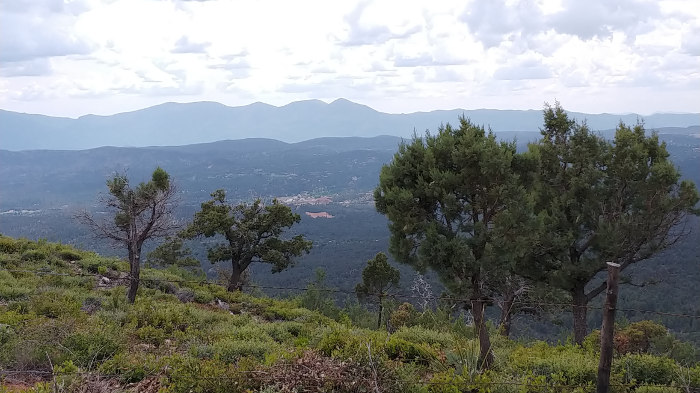 Then spent another day with Mike and Carla visiting the Payson and Zane Gray Museums in Payson. Good tours. Pretty sure Zane Gray also spent time in Oregon on the Rouge River, he must have gotten around.
May 12 found us in Prescott, well really the north side of Dewey, at the Orchard Ranch RV Resort. It's a nice place close to Prescott. We spent a week with doctors appointment and re-supplying. They have some great stores like Sprouts and CostCo. Met up with our Realtor, Pete Williams, for coffee. He's spent some time in New Mexico so we got some additional info on touring there. All in all a nice but busy week.
It's now off to New Mexico for the summer. Still cool so we'll be able to start in the south and crisscross our way north. It'll be great to be traveling free again.
Safe Travels.