Escaped Doodles
April 28, 2019 - Brenda, AZ : Bye Bye Brenda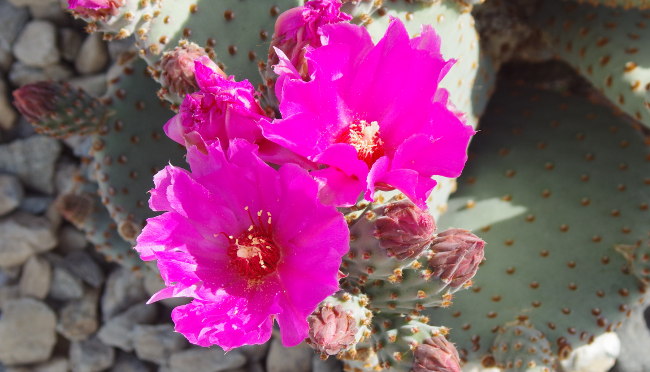 Just like being in a beach community at the end of the season. One by one the windows are boarded up and a household leaves. It really is just like that. Towards the end of March people start to shut down their park models, or load up their fifth-wheel, and hit the road. It peaks around the first of April, no fooling, and by mid-April everyone is gone. If you are the last one to leave, there is no-one to say goodbye!
Before we left we did get side curtains for Brutus. These so we can take the dogs out. With the flat deck and the screens we're making progress. Still a few difficulties to work out, but progress. We'll pick up this effort in the fall.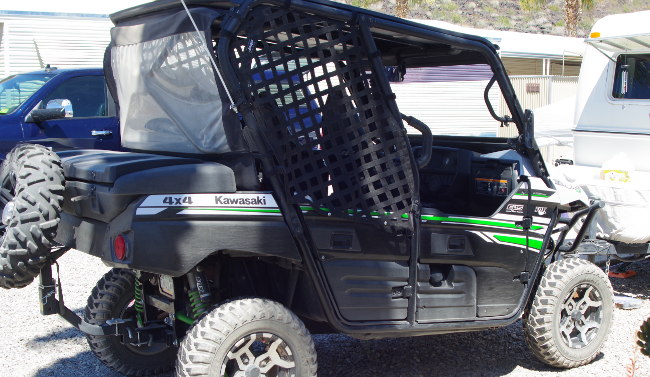 We also had some trouble with the stand-offs holding the curtains in Dora. The plastic ones were starting to crack and fail. So one project for the winter was to made some from aluminum. Finally completed this and have confidence these will hold up.
Tim & Julie stopped by while traveling from their home in Washington. We put the rear seats back in Brutus and started on a 4x4 ride with them. Mike and Roy also came along. Headed for Dripping Springs but Mike had trouble with his rig, fan failure and overheating. So it was a very short outing.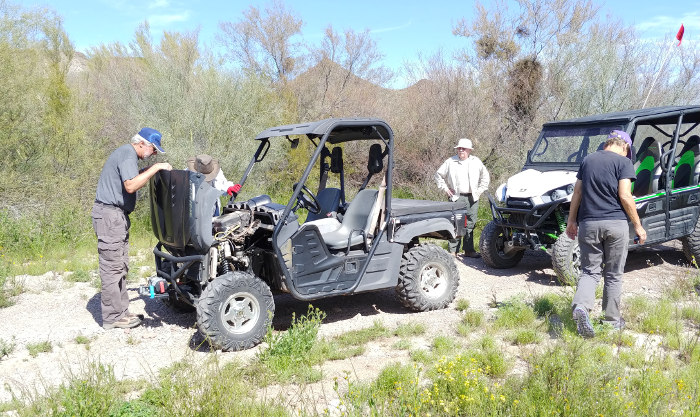 It's the time for rattlesnakes, they come out with hotter weather. Haven't seen any this year but did see this large non-poisonous snake in the RV Park. Also had this hawk bring a small critter/feast to the top of the WiFi antenna in our backyard.
One final off-road trip by ourselves to Shamrock Mine. The main draw for us was the petroglyphs. They are at the top of a short canyon.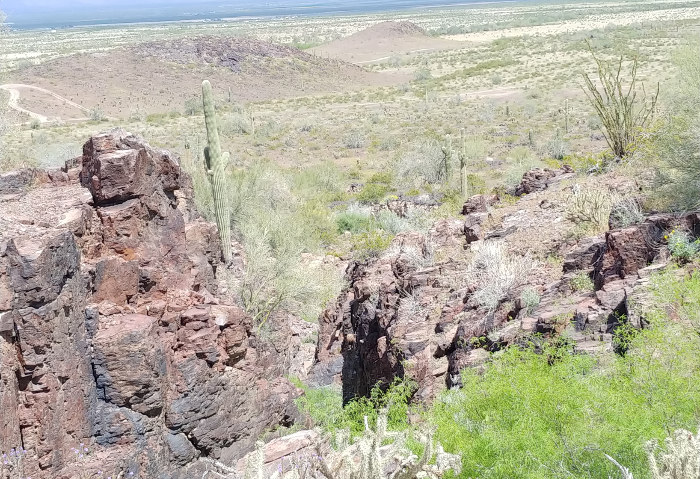 The flowers have been amazing this year. Here's a whole page of them.
Denise has been doing wire-wrap. A combination of purchased rocks from Quartzsite, found rocks, and those given to her.
The day before we left Brenda Hugh lost his Kindle, or had it stolen. A disaster. It is hard to receive Amazon orders on the road. You don't know what carrier will be used so general delivery doesn't work. Routing through Box Elder, and our PMB, would take too long. So we decided to route through Surprise, a suburb of Phoenix, and have a new Kindle sent to a friend of Denise there. So, April 22 we left Brenda and went to Lake Pleasant north of Phoenix for three days. Then a two day visit with Sue at Sunflower RV in Surprise. Good visit and we were able to pick up the Kindle. The last few days in Brenda, and all the time at Lake Pleasant and Surprise, the weather was getting hot. Time to head north (or up), at least a ways.
Ruby and Cooper really liked Lake Pleasant. It is a large lake on the outskirts of Phoenix. We were there during the week but you could see how busy it gets on weekends.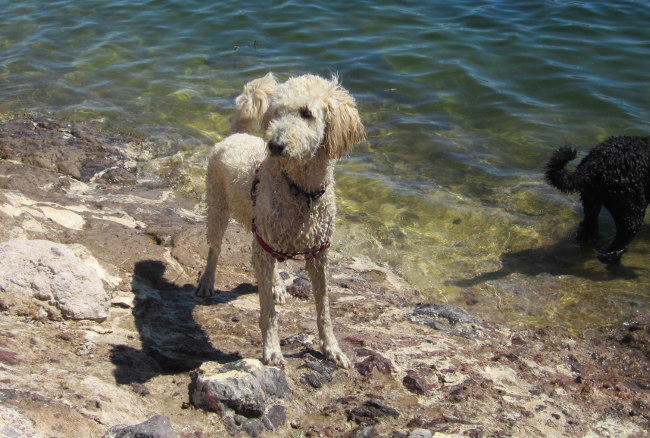 Finally, zoom, we made it out of metro Phoenix April 28. We traveled all the way to Clear Creek CG outside Camp Verde, about 100 miles north. It is up at 3500' so it is a little cooler. A cold front went through early this week so we stopped here, a good compromise between hot (Phoenix, Brenda, etc) and cooler (Prescott, Payson, Flagstaff, etc). We plan to be here through Cinco de Mayo. We hear it's very busy, so good to have a campsite early.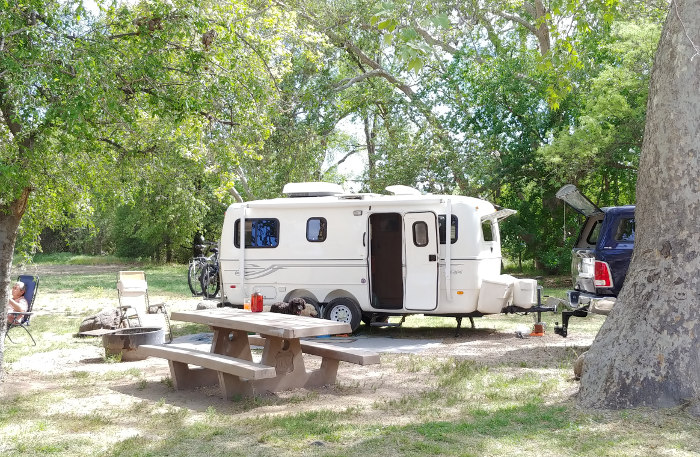 We are back on the road. It feels good to be free to roam again (like we were tied down, ha).