Escaped Doodles
Nov. 30, 2018 - Brenda, AZ : Arrival

We were in Klamath Falls the first week of November for doctor appointments, etc. It was COLD. The lows were in the upper 20s when we arrived. It slowly cooled during the week until the low was 11F. That's way too cold and we were freezing our plumbing. The water hose froze but we expected that. The tanks are bulky enough to be OK and the interior plumbing doesn't freeze if the heats up and the cabinets are open. With the drain valves open they were OK. However, there's an exposed pipe from the fresh water tank into the trailer. After it froze the first time we added insulation. This worked until it got down below 15F. When it's that cold it freezes without heat tape. We just kept a gallon of water inside for morning use. But it was COLD.
We escaped Friday Nov. 9. First night to Sparks, NV where it was enough warmer to not freeze. Second night we made it to Beatty, NV. Beatty's elevation is 3300', low enough and south enough to be a little warmer. Driving through Goldfield we were on the lookout for "The International Car Forest of the Last Church". We were on a mission so didn't stop but did spot it to the east on the south end of town.
Then finally to Boulder Beach CG outside Las Vegas where it was warm enough to relax a little. Then a final push to Brenda, AZ on Nov. 12.
We have a site at Desert Gold RV Resort in Brenda (15mi east of Quartszite) for the winter. We spent winter 2017-18 here last year. It's a nice park out in the desert, lots of space around.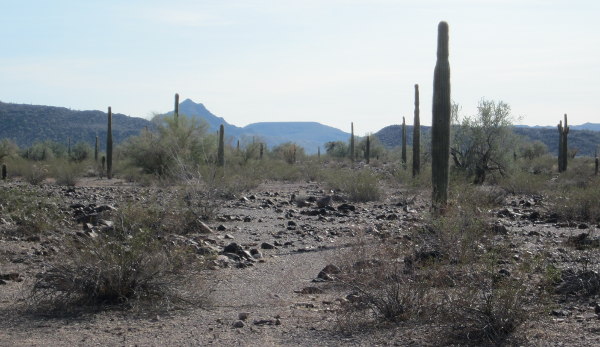 Lot's of activities, a pool and spa, paved roads with nice large sites. We don't play but there is a golf course out back:
We hear drives generally hit a rock somewhere in the "fairway" and ricochet in random directions. We think putting involves landing the ball in the "sand" "cup" at the base of each flag. Full 18 "holes" though.
One interesting site, within a quarter mile of the park, is this petroglyph:
We figure it must be pointing to the gap in the hills. That leads to a lower flat desert. Maybe it was a lake at the time. Interesting.
We're getting set up: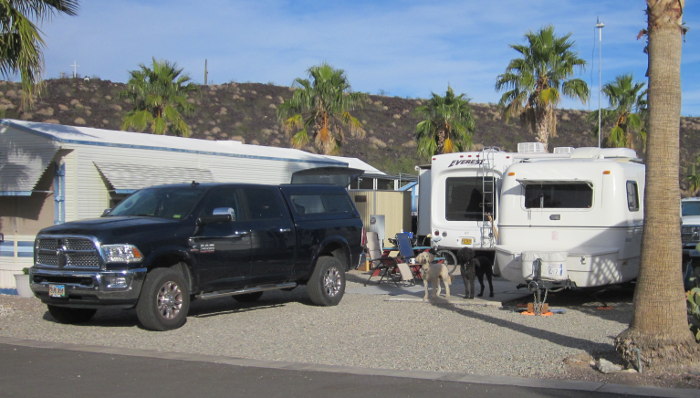 And meeting some of the natives.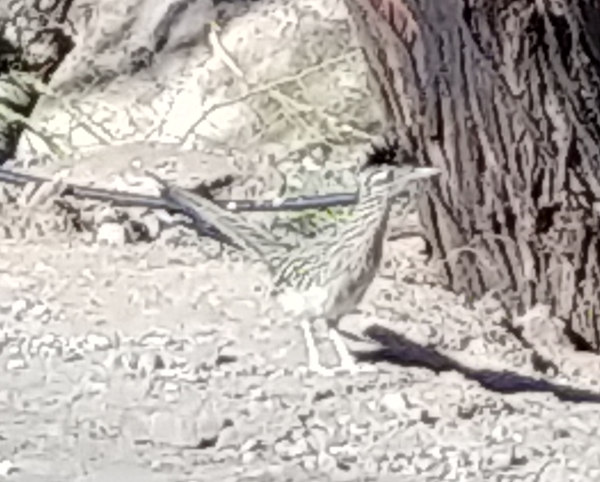 Hugh pickup a bad cold and came down sick in Beatty. He's just getting back on his feet. Denise picked it up about a week later and also just getting back on her feet. She coughed enough to throw her back out and a trip to the chiropractor in Blyth. It's been nasty. So, though we've been here for several weeks we're just settling in without much excitement yet.
We hope to do some traveling this winter, a week here and there. The first trip will be to Yuma the first of December for an oil change/check up on Larry (the new truck) and to look around.
Living the Dream.