Escaped Doodles
Dec. 27, 2018 - Brenda, AZ : Christmas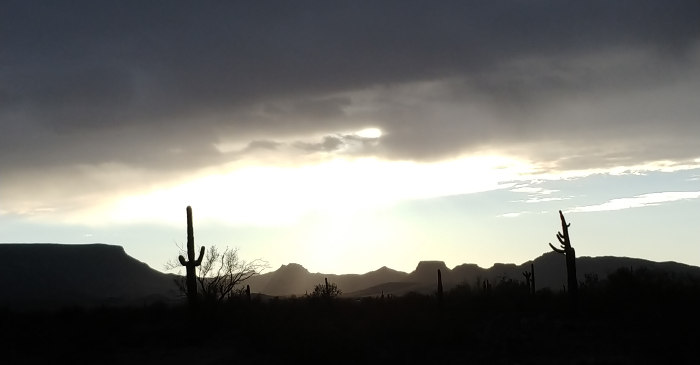 Merry Christmas. We had a very quiet Christmas in our trailer, here in Brenda. We did decorate with a few lights and our Christmas tree.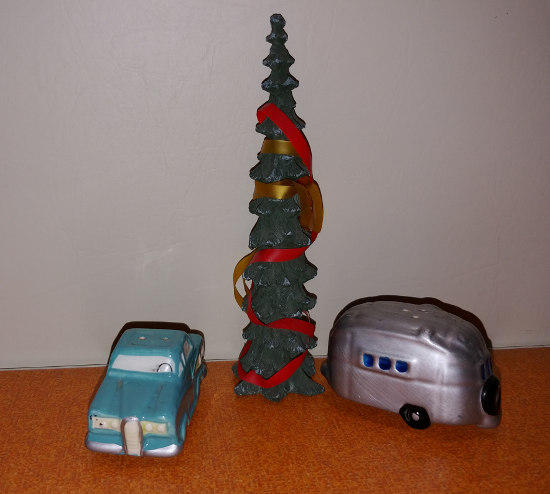 Can't go too wild with the storage space we have. But the spirit is apparent.
We're now living in Season Five. With low temps in the 40s and highs in the 60s it is not winter. Likewise too cool to be summer. That leaves fall and spring. The temps are believable for either, but doesn't feel right. For one thing it's way too sunny to be spring or fall. The days are way too short to be spring. Not fall, the leaves aren't turning colors. In fact there are very few leaves, mostly palm trees and saguaro cactus. Did I mention the shinny clear sunny days? So we declare it Season Five, and it is good.
We did have one good rain storm in December which dumped about an inch of rain. Flash floods in the area and stuff like that. It's been a little more humid for the last couple of weeks. Go figure.
Hugh's done some work on the trailer since we got here. The molding inside is a oak looking stick on plastic over real wood. Some of this was starting to look worn and/or damaged. So while in Klamath he cut and sanded some molding strips from solid oak. We brought these with us figuring we'd fit and finish them here in Brenda. So we did this on the worst areas. It does look a lot better but wouldn't show up well in a picture. We'll re-do other molding as needed, but for now it's OK.
Also, the fiberglass on the front storage box was fixed. If you remember Hugh cracked it turning too hard (jackknife) backing out of a tight driveway in Colorado. He ground the cracks out going nearly through the cover thickness.
The cracks were filled in with four or five layers of fiberglass and epoxy resin. Sanded and filled in with resin (gel coat). The gel coat needed a filler so it didn't flow or sag before it set. Even with a good amount of white pigment the filler made the last coat very gray. Other than the color the repair went well. Might shoot it with white paint or, more likely, leave it alone. It should be sealed and hold up.
We have recovered from our November sickness, but it carried over into the December a week or so. Then Cooper came down with a stomach ailment. Off to the Vet but they couldn't find much (besides the money in our pocket). The Vet thought it may be early kidney problems and we're looking into past blood work etc. Would hate to have special diets for both Ruby and Cooper. May need another refrigerator.
Not many outings besides local hikes in the desert. One we did take was to find some petroglyphs outside Salome. Drove there and looked and looked using our new Christmas spotting scope.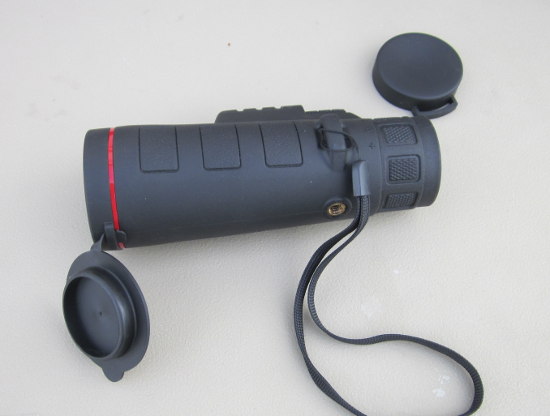 (It's about 8" long and perfect for carrying in a pack into the wilderness. Been thinking of getting for for a couple of years.)After 10-15 minutes looking across the canyon Denise looked on our side finding them some 50 ft away. Surprise.
This did not take long enough for a days outing, so we decided to find the prison ruins outside Salome. It supposed to be off Tank Pass Rd outside town. We found the road but it was too narrow for Larry. On the way we saw signs for Indian Springs, another petroglyph site. We found this road also, but it too was too narrow for Larry. Bummer.
We did take a trip down to check out Yuma. It is some 6-8 degrees warmer than Quartzsite which would be quite welcome in the winter. Also shopping, mainly food, is a lot easier there than from Brenda. So we decided to check it out. Searching the Internet we found 83 RV "Resorts" in the Yuma area. Something for everyone, a meca. We thinned it down to half a dozen that looked nice for us, mostly in Foothills. So we went and had a look. A few looked very nice. However, Yuma is a large busy town and this was before the winter season really started. The traffic and RR noise was noticeable in all the parks we visited. We decided it was too noisy and busy for us. So back to the cold country around Quatrzsite.
The area around Quartzsite is very off-road oriented. Many, if not most, people here have a side-by-side. Many Polaris RZR or similar. We find ourselves without a good off road vehicle for the first time in many many years. Larry (RAM 2500) is capable but so damn big. With most of the trails sized for RZRs a jeep is a little large and Larry is massive to the point of being unusable. We've been kicking around the idea of getting one, but hate the idea of finding, and paying for, storage during the summer (spring and fall). Also, the need for a trailer to move it to and from trails and storage. Then there's figuring out how to bring the kids along (Cooper & Ruby). Finally, after spending all the effort to thin down and simplify it seems wrong to again start collecting such things. Another ongoing saga.
It is nice to settle for a time. But it may be too much to spend all winter in one place, Brenda. Nice to have all the activities and not deal day to day with planning, packing and driving. We also get to know the people in our "neighborhood" which is nice. Much easier to get packages and mail when we're fixed. But the allure of the open road is strong. No solution yet.
So, we're thinking of refinements to our new lifestyle. Quite happy with the decision to go full-time for a number of years, but always working for improvements.
So, we wish you all a Happy 2019.