Escaped Doodles
April 1, 2020 - Interesting Times
"May you live in interesting times." An old Chineese curse. Well, actually from Britain, but still a curse.

What a difference a month can make. We're now hunkered down in Prescott Valley waiting to see what happens with the Covid-19 Pandemic. It hasn't overrun Arizona as yet, but the numbers show it ramping up. What the?
I'm glad you asked. It all starts as a normal month in Brenda. The weather warming up and the days more pleasant. Busy though, it started with Desert Gold's "Crazy Days" which happens yearly in early March. We weren't as involved this year as last. Events included in, and out, of park poker runs, vendor displays, cake walk, blindfolded golf cart race, slow bicycle "race", etc. We did watch the slow bicycles.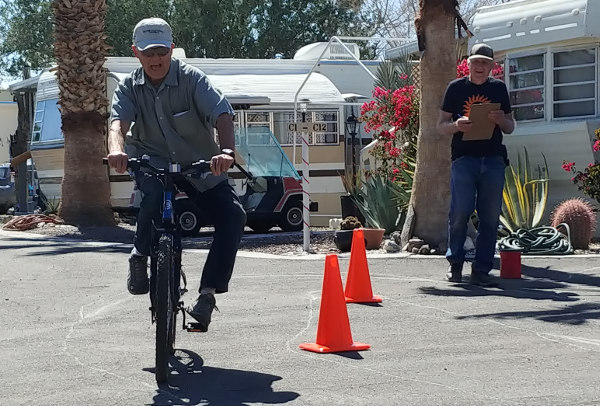 We found that, with roadrunners, if you feed them they will come. Larry, just down the street, has a "pet" roadrunner.
We started preparing to leave Brenda for the summer. The plan was to first touch base in PV for doctors appointments. Then a quick trip to Oregon, without Sassy (Bigfoot), to bring all (really not that much but all we have there) down to PV. Finally a couple of months, or all summer, traveling in Oregon, Idaho, Montana, etc. A simple plan.
Hugh healed over the month from the Photo Dynamic Treatment on his arms. Like this at the start of March, which looked terrible to us. Even prompted a trip to PV for a check up where they said "looking good".
By the first of April they are back to normal. So a month plus but now good to go.
We did buy a refrigerator for the house while in PV. Went looking for a simple 'fridge without fancy dispensers on the door. Found one we liked and it was on sale (although they could be on permanent sale). "Nope, that one isn't in stock." When can you get one for us? "Let me check....sorry we can no longer get that model." Well, can you sell us the floor model? You know the one on display that you can no longer get. But do note it has a dented handle. "Let me check....OK, $300 off sale price and can deliver tomorrow." Sold. You can see the $300 dent in the picture.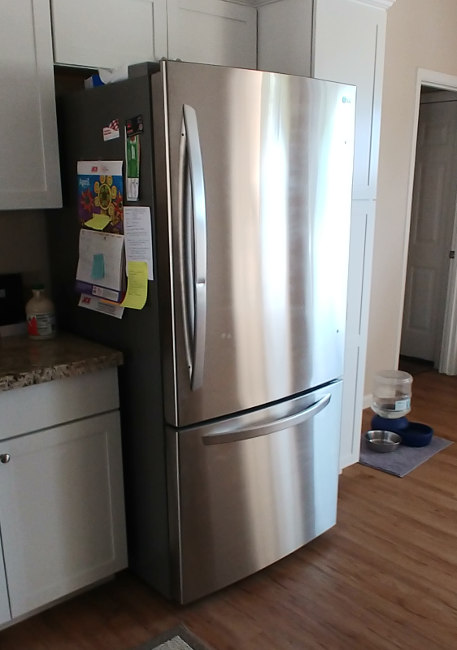 The giant hummingbird, that we named Flicker, has visited our feeder a few times.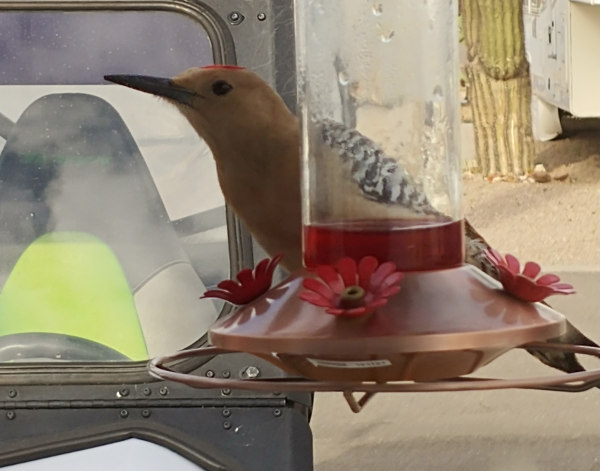 We made a second trip to PV for one of Denise's medical appointment. It started to look like we'd be holed up somewhere for the Pandemic. The logical place was the house in PV. We knew we eventually needed a washer and dryer so we picked out a set on this trip. Scheduled delivery for March 19 which we planed a day trip to PV for. Needed these eventually but it may also be important to avoid laundromats soon.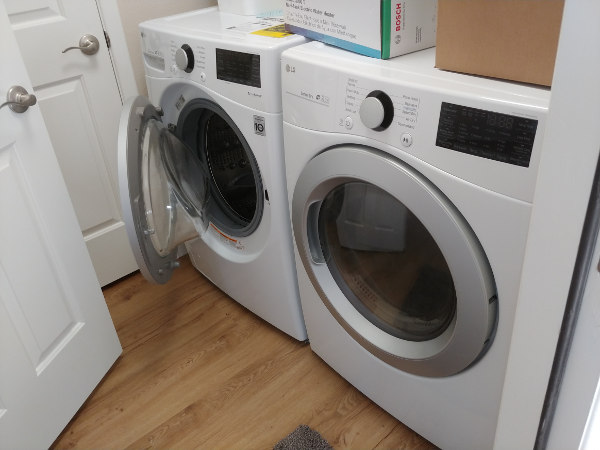 We decided to get a tandem axle utility trailer to bring machime tools down from Oregon. After that trip it will be a trailer to move Brutus (the side by side) around and other general use. After Internet research, Hugh made a one day trip to Phoenix to look at two options. Then on this trip to PV he considered a couple more. Decided to get one from Phoenix, so detoured through there and picked it up on the way back to Brenda.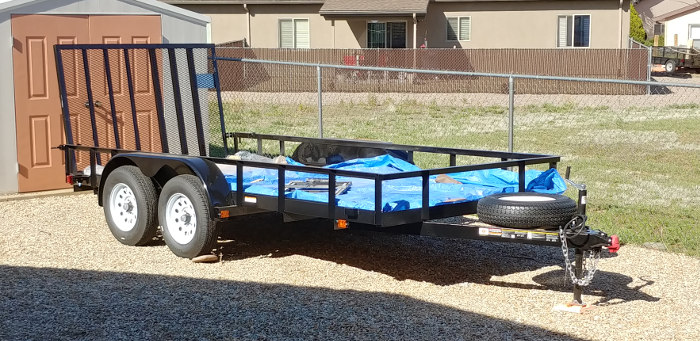 Well, it started to look like the Pandemic would be taking over. We decided to bug out leaving Brenda on Tuesday the 17th for PV. It was a rush as snow was prediced for the 18th and we needed to be to PV by the 19th. The trip went well but we likely overloaded Sassy with the extra stuff we brought. SO, she went off the the shop for suspension work. Here's a pic of the hills in PV after we arrived.
The Argentine Cactus was again blooming as we left Brenda.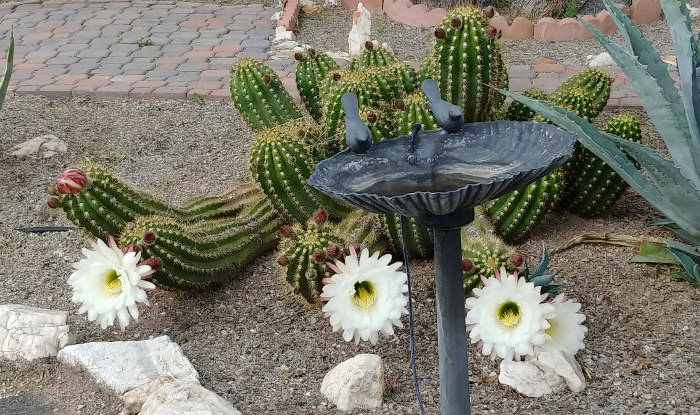 One more trip to Brenda to bring Brutus up to PV. Better for him and the Util Trailer to be in PV for the summer than in the heat of Brenda. Also picked up Sassy from the shop.
Our last shopping trip was for a couch and a simple dining room set. Denise had her eye on a specific store that was going out of business, and with the Pandemic, had some very good prices. Delivery within two days.
And our new bed frame from Amazon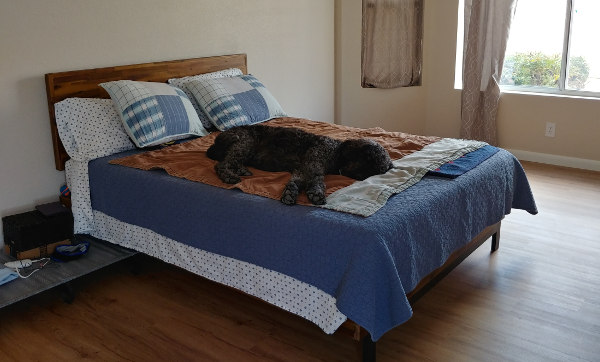 Now we're pretty well set up in PV for the duration. We've written the April trip to Oregon off the schedule, hopefully get there June or July. Oregon has been under a "Stay at Home" order for some time and Arizona went under the same order this week. We've been avoiding face to face shopping since we bugged out to PV. This is making Amazon very happy. We did purchase a reverse osmosis system to fit under the kitchen sink. The water in PV is good, almost good enough for tea. The plan is to take this to Brenda winters. Should be easier than buying water there.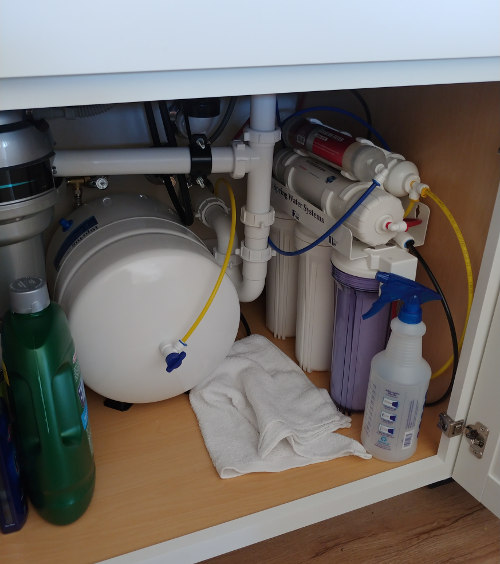 We found a delivery service called InstaCart who will shop for and deliver food for a reasonable price. Used this once so far and it worked well. Also the Farmers Market in PV set up a drive thru food pickup. You call in your order Tuesday/Wednesday and then pick it up on Saturday. Certainly hope these continue operating and don't get overwhelmed.
We're both pretty run down but starting to settle into a new routine. We can still walk/hike and ride our bikes. Just walking around the neighborhood we saw a pack of havelinas. Different wildlife that we're used to. Here's a mother and little one.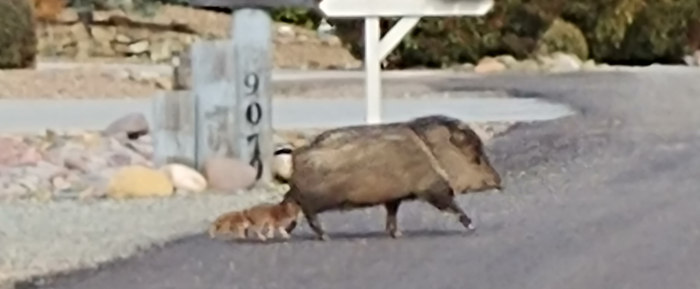 The Prescott area is amazing for both hiking and biking. PV is fairly flat with draws/gorges. Hard to see looking over the area, as below, but very noticable on a bicycle. Also a pic the other direction towards Prescott and the Granite Dels.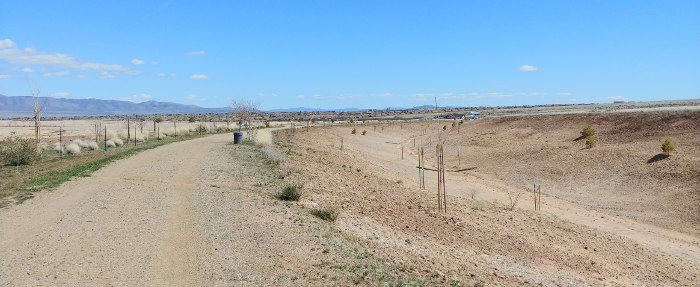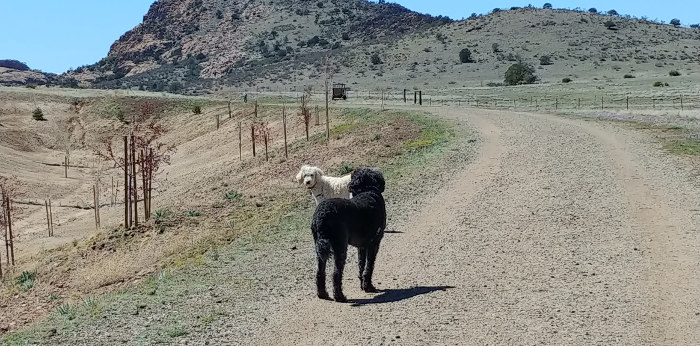 But for hiking, the areas closer to Prescott are more amazing. Watson Lake, below and at the top of the page has some amazing granite outcroppings. We hope to be hiking these areas over the next couple of months. Not such a bad gig.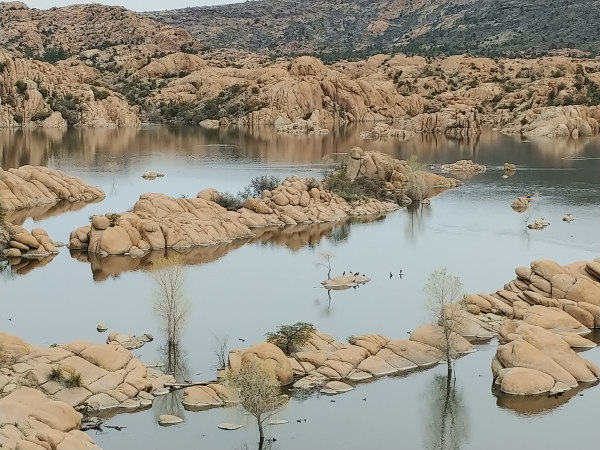 We hope you're holed up in a safe and pleasant place.

More Than Ever : 8645