Escaped Doodles
Mar. 1, 2020 - Brenda Life goes On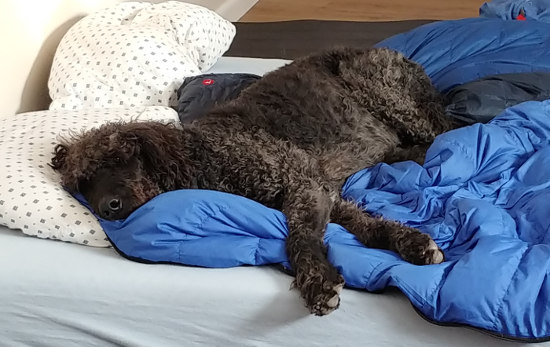 Wow, another month gone. Zoom.
We closed on our new house as expected. The day we closed we woke up to 4-5" of snow. A real surprise as we haven't seen snow in over a year. Surprise!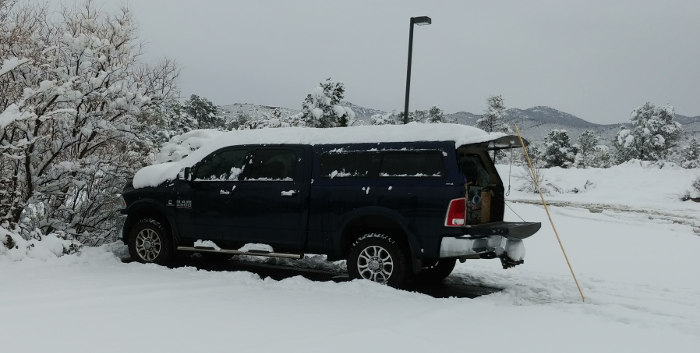 We moved in and spent the night after closing on the new house. Well, if you call a couple of camping chairs and camping mats moved in.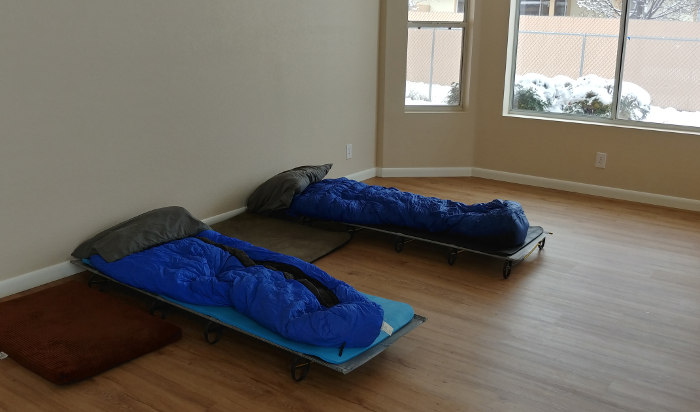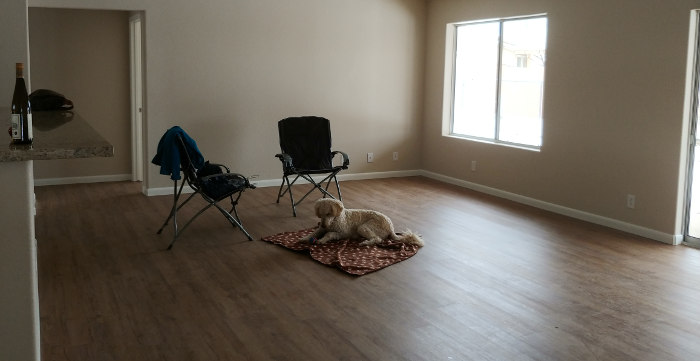 We went up for a week or so the last week of February. First order of business was to get a proper mattress (those camping mats aren't as comfortable as they used to be). We twice had neighbors stop by and welcome us to the neighborhood. A very good omen. Both Ruby and Cooper are incredibly bummed that we left the giant house with a backyard. "The best place ever" they say. Don't know how long the recovery will be, but hopefully will not be repeated every time we leave PV.
The main reason for this trip was Hugh getting a PDT (photo-dynamic treatment) done to his arms by the dermotologist. By the end of the month, 4-5 days, he looked like this. Seems normal from what we're told. We'll see how it goes from here.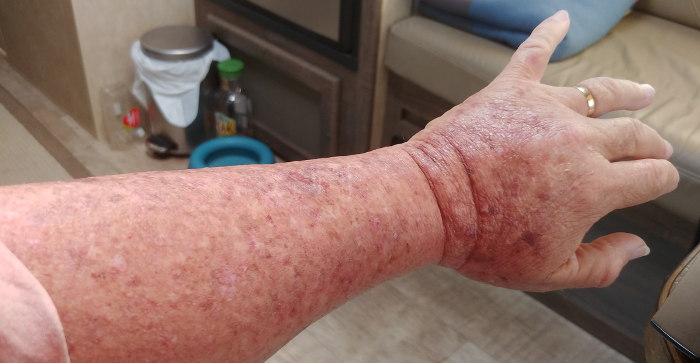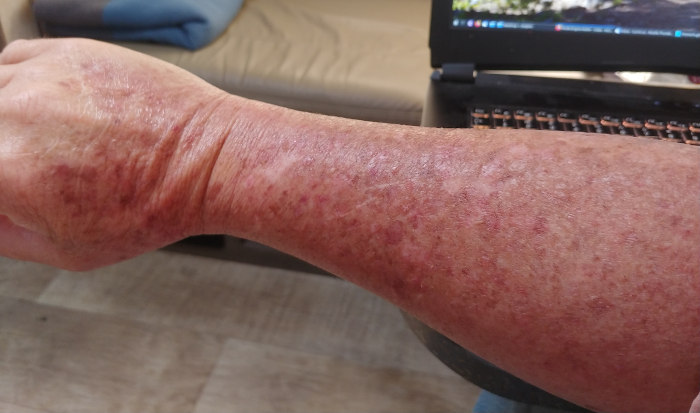 We got out for a couple of 4x4 outings, but not nearly as many as we'd like. We have to work on this.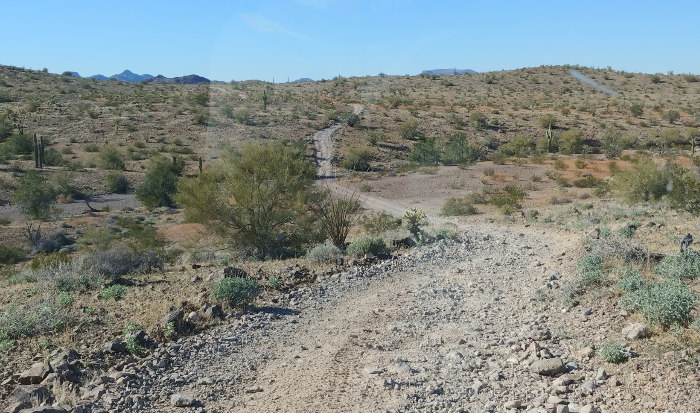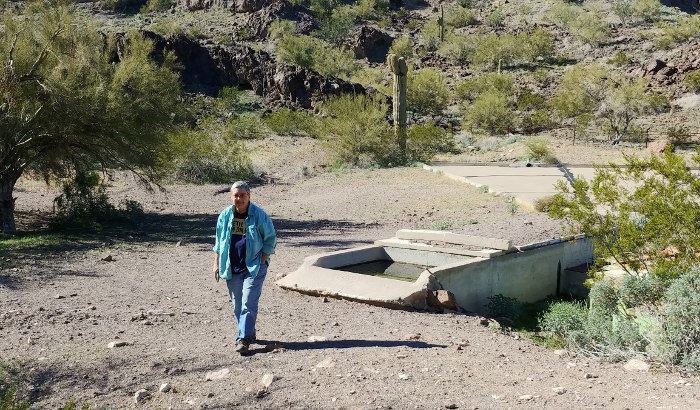 Otherwise Hugh's made some progress installing WiFi-Ranger, WeBoost, SiriusXM and MiFi (hot spot) into Sassy. He moved the stereo to the left with a new wood panel making room for a USB plug and switches. The SiriusXM and MiFi are mounted above the stereo. He still has to mount the outside antennas, Sirius doesn't work too well at present without an outside antenna. Details, details.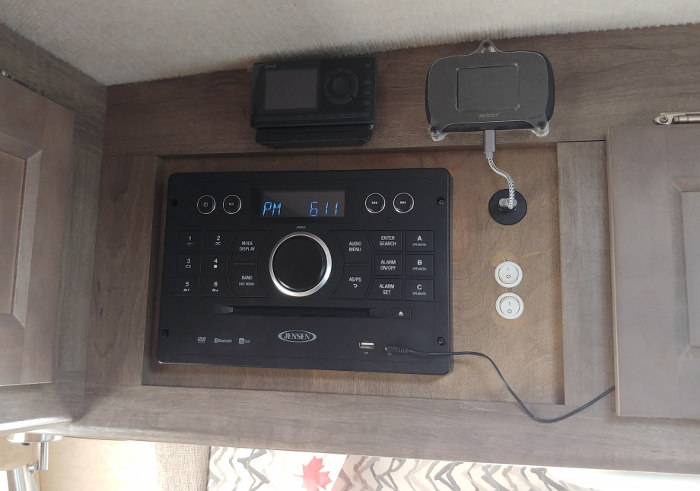 A pretty quiet month. We're now figuring out how to move all our stuff from Oregon down to Prescott Valley. Another kind of adventure.
Don't know where we'll be this summer. Had planned to travel up the Oregon Coast visiting Tom & Sue, Tim & Julie and maybe Harry & Janet along the way. Then travel over to Idaho and Montana. Might modify the schedule to spend summer in PV (Prescott Valley) and Fall in Idaho/Montana.
OR, the Corona Beer Virus could throw a monkey wrench in the plans. We might self quarantine in PV and/or Brenda. Who knows, travel may be restricted. It's really unknown for all of us, so stay tuned.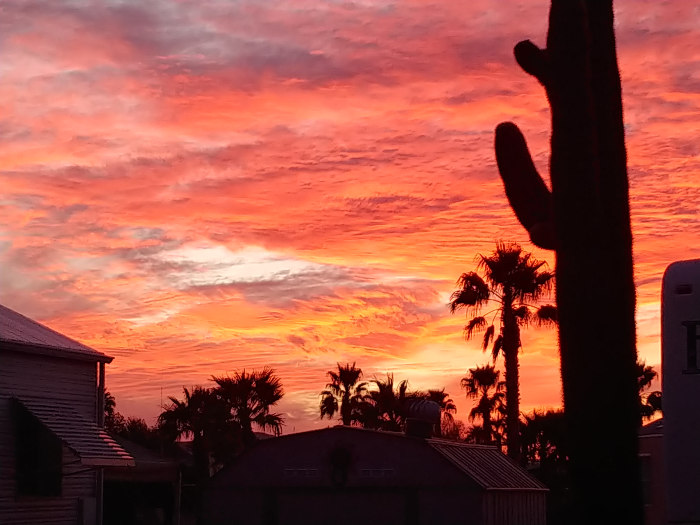 8645