Escaped Doodles
September 1, 2018 - Snowy Range, Wyoming

We shot back to Rapid City from the Bighorns for a day. Were able to pick up the Larry's (the RAM) title from Oregon and re-register it in South Dakota. Also switched our insurance from Oregon to South Dakota. All pretty straight forward but still took all day. Finally off towards the Medicine Bow NF in southern Wyoming.
We stayed one night, about half way, at Guernsey State Park. We came from the north via Hwy 270. This brought us in the "back way" and along the reservoir. Several CG along there but we ended up at a CG on the south west side. We had a very nice place right on the lake.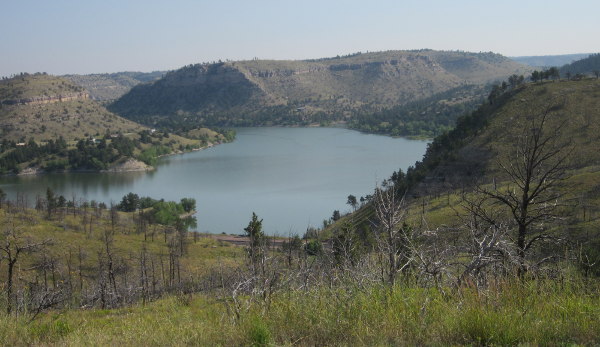 We spent about three weeks in the Snowy Range of Medicine Bow NF. About a week at Ryan Park CG, on the west side of the Snowy Range. Here we met up with Mike and Doris whom we met in Box Elder. Then two weeks at Brush Creek CG, also on the west side. The two camp grounds are about a mile apart, but 4 or 5 miles by road. Ryan Creek takes reservations while Brush Creek doesn't. This allowed us to stay through Labor Day, and nice to be assured of a place for this three day weekend. We liked Brush Creek better, it had a better feel and a creek running right by our camp.
Even a few nice sunsets from Brush Creek CG.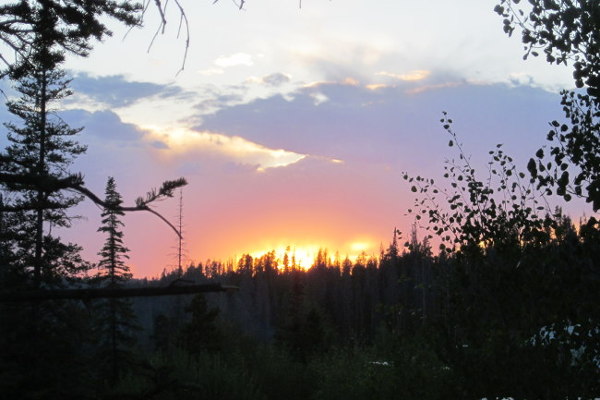 Brush Creek was pretty empty during the week, at times only the host and us. We even saw another moose, right in the camp ground.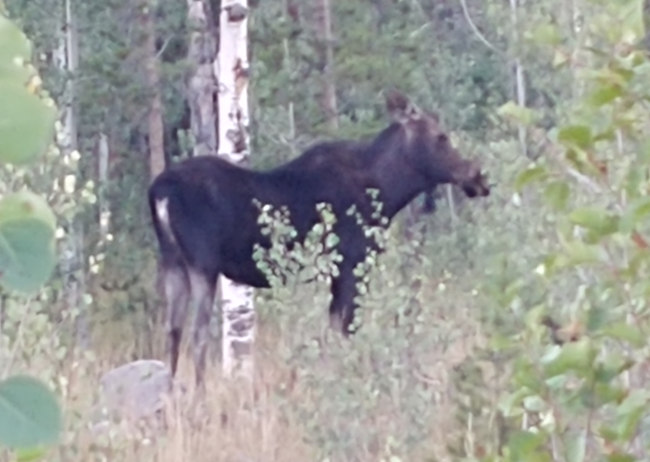 Another plus is the free hot pools with showers in Saratoga. Saratoga is some 30 miles from camp, a nice addition if you're in the area.
The Snowy Range is spectacular but not covering a large area, at least the really spectacular area. There are a good number of trails starting from the top of the range off Hwy 130. This cuts down on the elevation gain, but the trails are above 10,000'. We did a hike from Mirror Lake up past Lookout Lake. This is under the shear cliffs of the Snowys. The rocks are either marble or quartz (I'm no geologist but they are very white). Very nice hike, breath taking in more ways than one.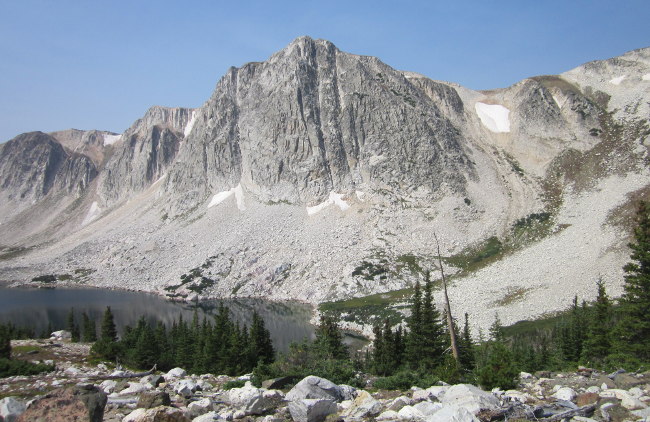 Another hike was around Silver Lake. Not up above tree line so not as spectacular, but still nice. In the first picture you can see a "wild" animal whom we've named Cooper. The second picture below shows how smoky it was. We had smoke most of the summer, in South Dakota, the Bighorns, and first two weeks in the Snowy Range. Some days better and some worse, but usually some smoke.
The elevation was bothering Denise so one clear day Hugh took Cooper and did a hike out of Lewis Lake trailhead. They had a great hike past South Gap Lake and on to North Gap Lake.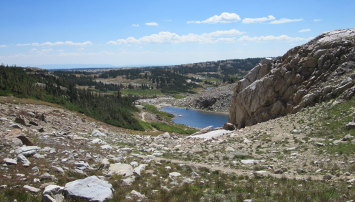 The first picture below is across South Gap Lake looking at the gap between north and south. The second is just over this gap looking at North Gap Lake. The third picture is looking across North Gap Lake at the Shelf Lakes. They didn't hike that far but it sure looks like a pretty area.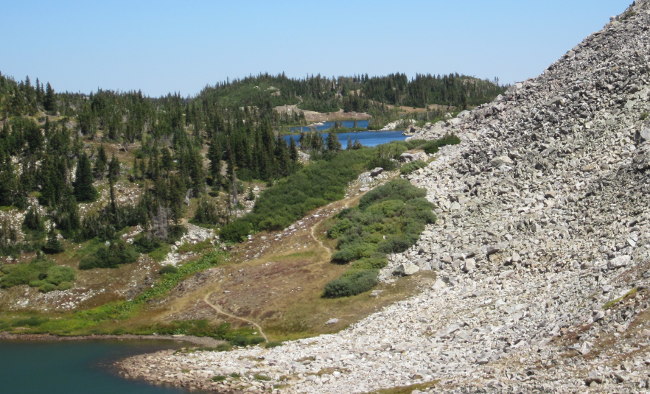 It's been a nice stay in the Snowy Range, but time to move on. We need to re-supply so we'll head to Fort Collins. They have a CostCo, a Sprouts, a Trader Joe's and other required outfitters. Then westward bound, maybe to Flaming Gorge. But plans are always tentative.