Escaped Doodles
August 14, 2018 - Bighorn Mts., Wyoming

We still have a few things to clear up in South Dakota. But we took off to the Bighorn Mountains to avoid Sturgis during Bike Week. We've heard the whole Black Hills area gets crazy that week. It runs, this year, August 3-12 so we left for the Bighorns August 1.
The Bighorn Mountains are a range, out in the flats, mid-way between Yellowstone and the Black Hills, some 250 miles from Rapid City. Very nice place to spend some time. We went through Buffalo WY and up Hwy 16. There are a few Forest Service CGs about 15 miles out of Buffalo. We wandered into Tie Hack CG and found an un- reservable site. It was such a nice site we stayed there 13 days.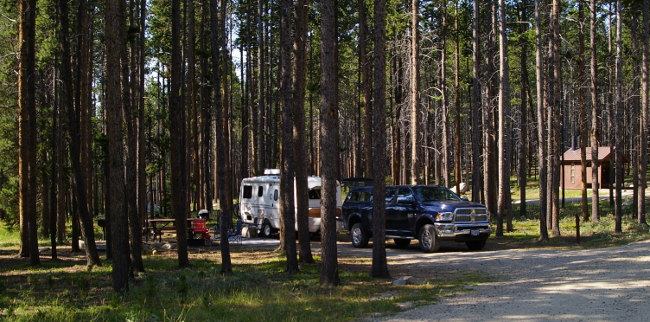 The Tie Hack CG is down in a pine forest, small tall trees and lots of them. Granite formations all over.
Some 1/4 mile from the CG was a little used ATV trail. Great for walks both directions. We did a lot of relaxing and taking short walks near the CG.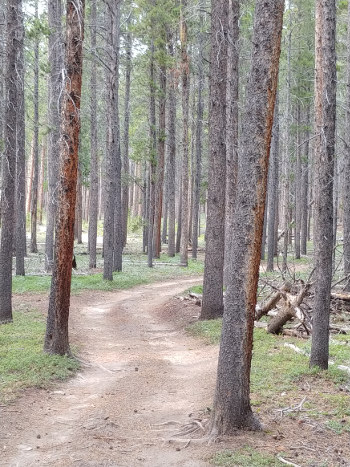 Denise came close to a moose very close to the CG. She did get a cell phone picture.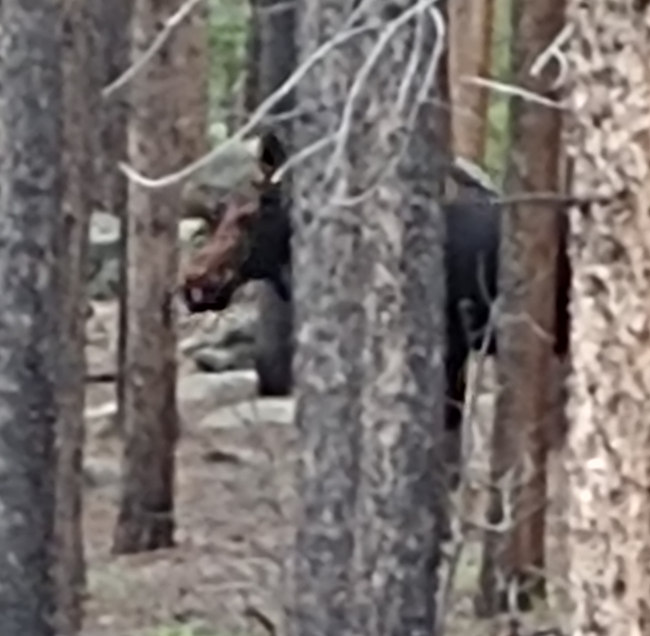 There were also deer right in the CG.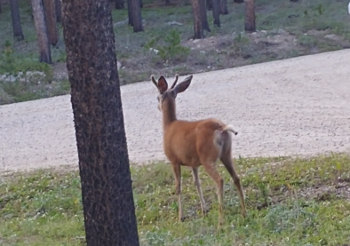 The Tie Hack reservoir is a few miles from the CG. Didn't spend much time there but took the dogs down for a swim once or twice.
We took a day drive down Crazy Woman Canyon. It's a fairly good gravel road, just need to go slow 'cuz of the pot holes. Nearly single lane so a little hard to pass vehicles uphill. But the scenery was very nice. We looped through Buffalo and back to Tie Hack.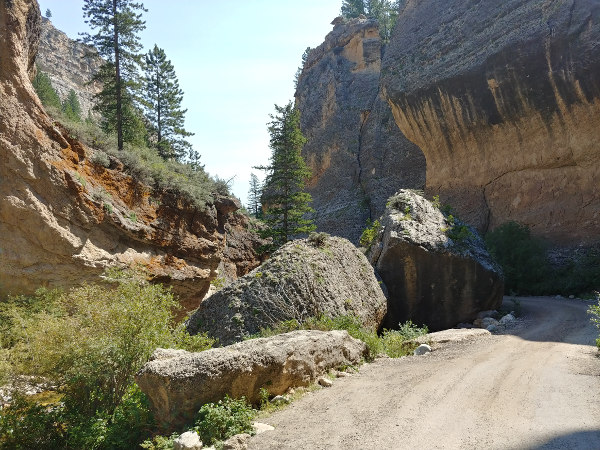 We drove around looking for boondocking sites to come back to later. There are a lot of them in the Bighorns. There seemed to be a dispersed area about a mile in on move secondary roads. Would not be hard to find a site. Good to know for next time.
The last day at Tie Hack we hiked a different direction from camp, downhill. We found a nice stream some 1/2 mile from the CG. Both Cooper and Ruby were very happy while we were at Tie Hack CG. They had a lot of off leash time which they love.
We had a good relaxing two weeks also. We really like the Bighorns and will return.
We left August 13 and moved back to Rapid City. The plan is to get our mail and hopefully have all the parts to finish up our tasks in South Dakota. If it all works we'll likely head for the Medicine Bow NF in southern Wyoming.
Life is good.