Escaped Doodles
Oct. 25, 2018 - Bullhead City, AZ | Valley of Fire, NV
We made it to Davis Camp at Bullhead City, AZ. This is a county park/campground right on the Colorado River. We've used it several times as a stop over on the way to and from Arizona. The water/electric sites have good access to the water and a nice feel. We signed up for a week.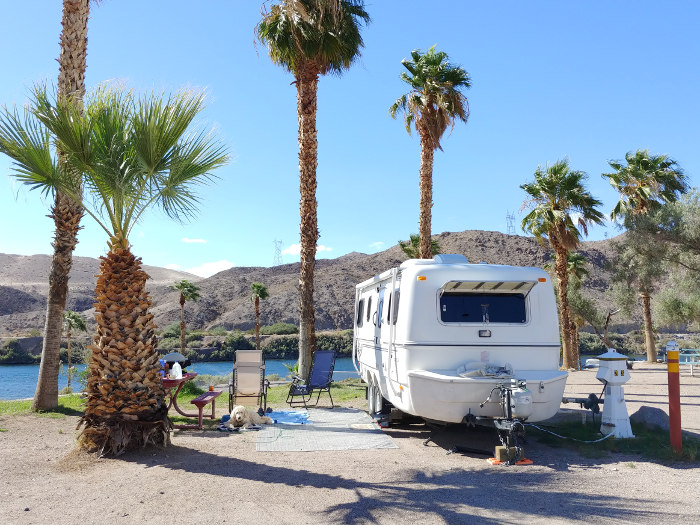 As stated in the last installment, we came here chasing the weather. And it was good. Highs were in the eighties and lows in the upper fifties while we were there. The first day a storm went through with some serious rain. Unusual for the desert, but not unheard of. It was also windy off and on, which is the norm for Bullhead City. We didn't do much but rest. Took the kids swimming a lot. Denise threw a palm frond for Cooper which was caught by the wind. Went way out into the heavy current. He ended up swimming upstream against the current and losing the battle. She doesn't swim, but a stranger was there who swam out, took the "stick" away from him convincing him to swim to shore. Once he started swimming across the current to shore he was OK.
Saw these fellas from our campsite. A buzzard and a roadrunner.
After a week we were ready to move. We decided to make a short jump to Valley of Fire, NV. This is a Nevada State Park 50 miles northeast of Las Vegas. It has some of the most amazing red rock outcroppings in the world. We spent almost two weeks here.
We scored a premier campsite in Arch Rock CG. This is the second CG, past Atlatl Rock CG, which we like best. Showers at Atlatl but Arch Rock is cozier with better up close scenery. The showers are a very short drive away. Out site was the last one on the back loop.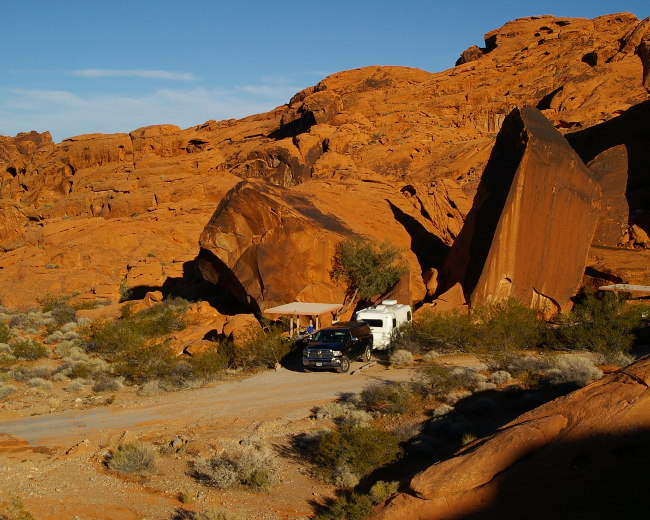 We had two days, or nights, of serious rain. Could hear water flowing in the "dry" creek bed some 50' from camp. We heard this over the rain beating on the roof which tends to be very noisy. The first washed out the "scenic loop road" outside the CG and both moved sand and rock over the roads at washes. Could have seen a flash flood, very small one, if it hadn't been dark and we didn't want to get instantly wet. So still wanting to see that big flash flood FROM ABOVE.
More lazy times with a few short walk/hikes. We did see bighorn at the park entrance, at least two but got one on camera.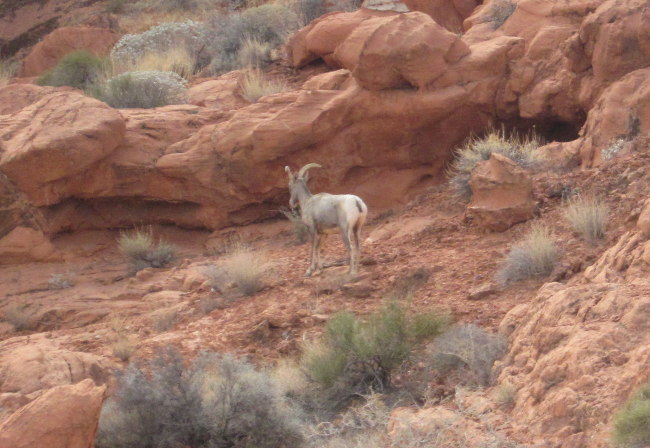 On a past trip through Arizona we learned that scorpions glow if in a black light. Wow! We've had fun with this over the last several years, hunting scorpions at night. Amazing how many there are some places (like Gilbert Ray and Picachoo SP). But this was the first time we tried to get a picture of one and he showed up pretty good.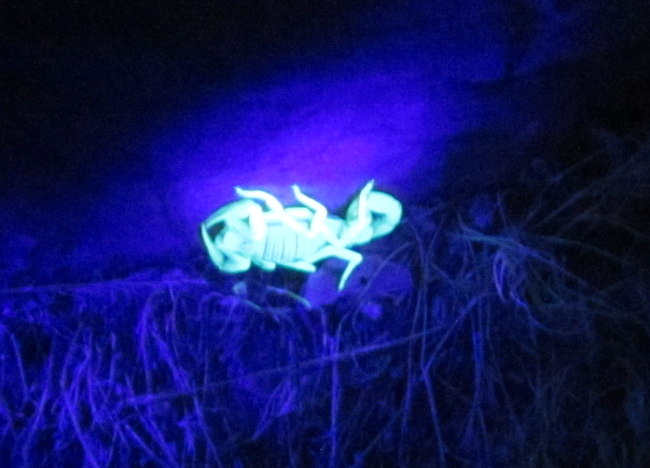 This was the only one we found at Valley of Fire though.
It's been a great relaxing time here. We're in a weak holding pattern as we have to be back in Oregon the first full week of November for doctors appointments, etc. Trying to stay south and warm till we have to dash north. We planned to hit Death Valley for about a week then north. But the weather there is a little too hot just now. So our alternate plan is to stay about a week at Cathedral Gorge SP in Eastern Nevada. Time will tell if we've guessed right or not.
Denise has taken up making petroglyph art on the side, in addition to rock collecting. We figure we'll super glue some to rocks around the southwest and really confuse the archologists :-) .