Escaped Doodles
Oct. 24, 2022 - Rapid City to Prescott Valley
We finished all our business in Rapid City and headed out for a slow trip south. Turns out we'll likely be here in June 2023, so on the way out we checked out a National Forest CG in the Black Hills. It is Sheridan Lake, west and a touch south of Rapid City. It's a very nice camp and wasn't crowded this time of year. We planned to stay one night but extended it to two.
We got ready to leave the third day, I mean in the truck, and the truck wouldn't start. It had all the symptoms of a dead battery. Actually two batteries as Larry uses two. We talked the neighbors into a jump but no immediate luck. They brought a pickup and tried to jump with that, no immediate luck. Finally left the cables on for 15 minutes or so to change the batteries a little and this worked. So it is the batteries. Back to Rapid City for replacements. No luck at Batteries+ but ORiley's had them. Back on the road. We decided to go back to Sheridan Lake one more night.
Over the weekend we more carefully checked the weather and found the forecast turning very cold. So we accelerated our move south. One night at Riverside Park in Douglas WY. This is a city park with free camping right on the Platte River. Ruby enjoyed the grass.
We stopped at Independence Rock. It's a giant rock with inscriptions from many early settlers and passers by, a major passage for several wagon trails. We thought it would be similar to Inscription Rock at El Morro National Monument in New Mexico, but the NM inscriptions were more interesting. Could have been due to the cold day though.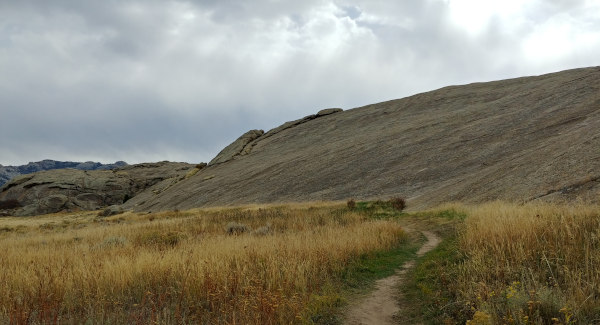 One night at the City CG in Saratoga WY. There's a great hot springs in Saratoga which we were initially headed to, but our pace south (and the cold) prevented us from indulging this trip. The drive west from Encampment was beautiful with the fall colors.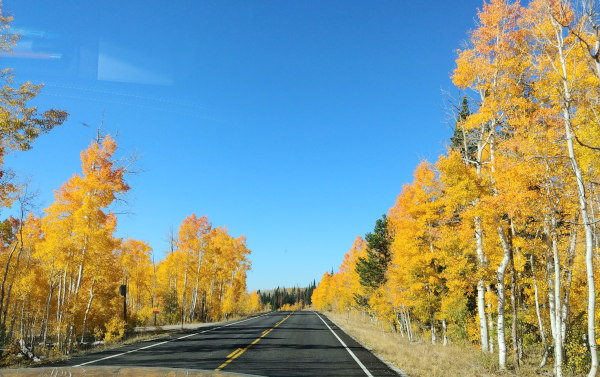 One night at the City Park in Meeker CO then on to Frutia (Grand Junction) CO. By Frutia it was nicer weather. The plan was to stay in the Colorado National Monument. It can't be too busy in October. But it was and the CG was full. We just drove in, found the CG full, and drove out. This area and drive is very scenic. I remember looking at a contour map and wondering how contour lines just disappeared, which was, as it turned out, due to large overhands. We went to our backup of James M. Robb SP in Frutia. By golly, it was also full. On a Thursday in the middle of October. We may have to change the way we travel. There are reported to be a few boondocking sites near the Utah border but we were tired and looking for them late in the day would be inviting disaster. So, we stayed at a generic private CG across the street from the SP. Otherwise the stay was uneventful.
Finally, we made it to Goblin Valley State Park in Utah. Well, not quite to the SP as we stayed in the Temple Mountain CG East. It's a free BLM CG ($15/day starting 2023) in the San Rafael Swell some 5 miles before reaching the SP. Only pit toilets for facilities (no water or trash pickup). We've been here before and expected a quiet isolated stay. We arrived early Friday and it was crowded. Not crowded enough to prevent our stay but a surprise. It now seems to be an off-roading destination. Here's a pic of the CG after the weekend when most of the campers had left. We stayed five nights for rest and adventure. The second pic below is as small canyon just outside the CG.
Another day we started from the trail head for Crack Canyon, a slot canyon a few miles south of the CG. The Behind the Reef Road travels south from the CG on the west side of the San Rafael Swell and the trail head is off this. Rough road but we wouldn't classify it as a jeep road. We walked up the canyon rather than down into the slot. Likely not as amazing but no other hikers.
A few days later we hiked into a real slot canyon, Little Wild Horse. It's reported to be the premier slot in the area although there are several others. The trail head is very near Goblin State Park. It starts as a wash. This tree was interesting, surviving in the middle of the wash. The first obstacle we ran into was this sandstone rise but were able to coax the dogs up. The canyons split soon after this into Little Wild Horse and Bell. We went right for Little Wild Horse.
Soon after the canyon narrows into a slot. The pic on the left shows the entrance. It's hard to take good pics of a slot canyon, hard to capture the 360deg experience.
The usual suspects.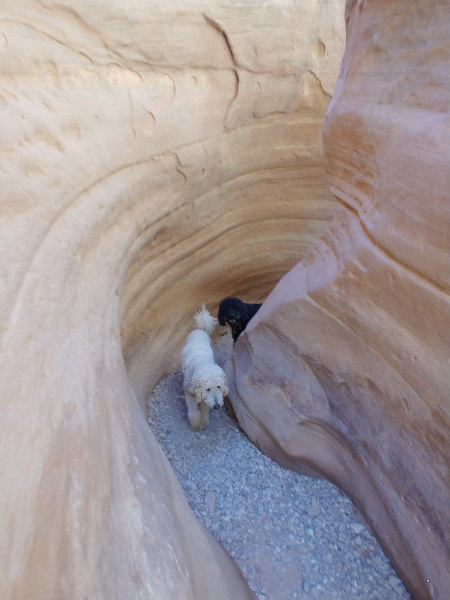 After some distance the slot opens up. Then after 50 yards or so it continues as a slot. Very shortly after entering this section we were stymied by a rock fall. We likely could have scrambled over but not the dogs. So, after a great adventure, we re-tracked our steps.
This is what happens when you give the dog a bowl of water, and then throw a rock for him to chase in the sand. At least he's smiling.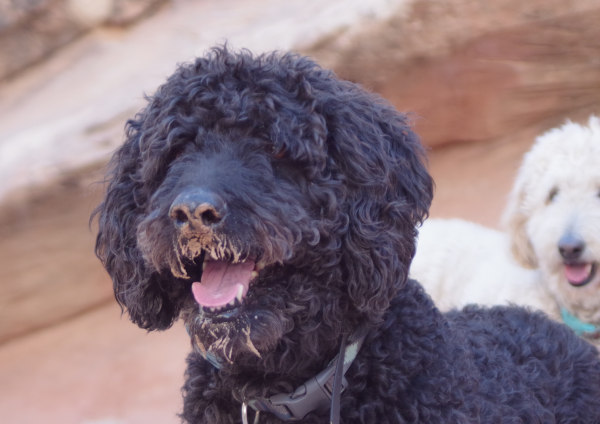 After Goblin Valley we stayed over one night in Hanksville UT. Only one RV park in town and it has improved since our last visit some 5 years ago. From there is was on to Valley of the Gods UT. The drive from Hanksville to Valley of the Gods, through Glen Canyon Rec., is fantastic if you like desert country. We will definitely be back to this country for some exploring. We only have a few pictures taken from the Hite Overlook.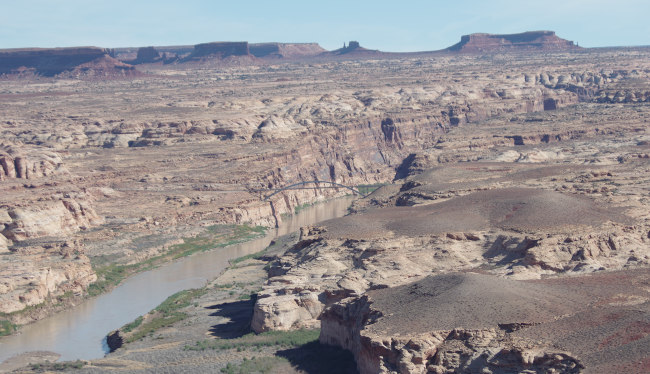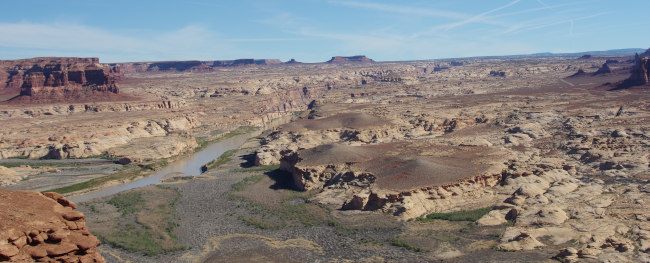 The boat launch at Hite is high and dry. We could not see Lake Powell from this overlook, the lake has receded out of sight.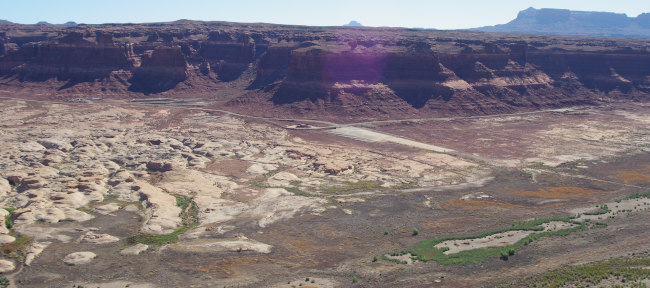 We'd heard of a Goosenecks CG near Valley of the Gods and were able to find it. Stayed two nights. It's a fantastic view where the San Juan river looks like a folded ribbon. Although a wonderful view there isn't much to do at the SP, or places to hike. We'd suggest a day visit while boondocking in Valley of the Gods. But the view is worth a visit.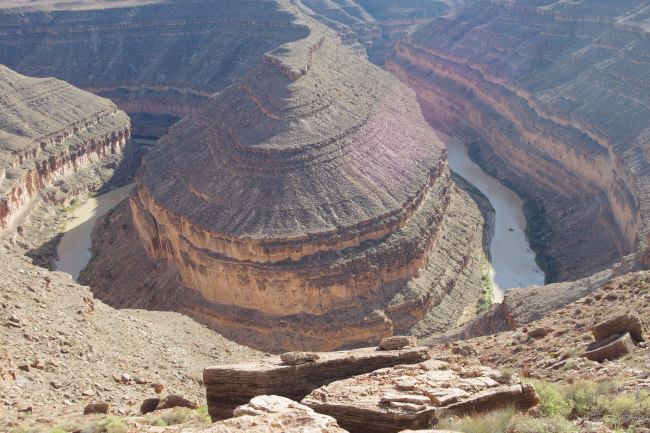 Again we carefully checked the weather and found it turning cold. It had been nice since leaving Futia, but the reports indicate a change with possible freezing. We made a reservation at Homalovi SP in AZ for Sunday but the weather pushed us that far south a day early. Stupid us, we made a reservation for Sunday but just waltzed in on Saturday looking for a site. No such luck. We ended up at McHood CG which is owned and maintained by the city of Winslow, although 5-10 miles outside town. It was better than just standing of the corner. Then Sunday back to Homalovi. The winds were bad driving to Winslow on Saturday. On Sunday it was cold and rained with a serious wind.
Monday morning it was around freezing when we left. A day drive to Prescott Valley where it's a little warmer. We'll be here for a week or two before heading for our winter digs in Brenda AZ.
Y'All have a great winter. We hope to be traveling again in the spring.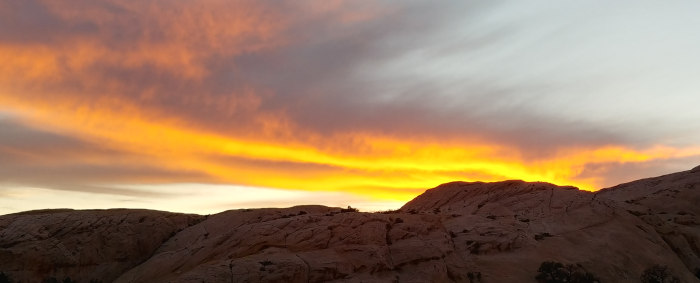 Safe Travels