Escaped Doodles
March 7, 2019 - Brenda, AZ : Yep, Again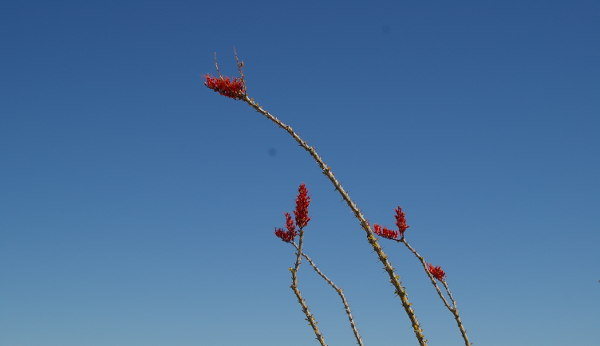 We had great hope for February being warmer and drier than December and January. Our hopes were dashed. It was, for southern Arizona, cold and wet all, or at least most, of the month. Everyone agrees this is one of the coldest winters in many many years.
We did get away to a Fiberglass Trailer Rally at Dome Rock Feb. 7-10. There were 212 trailers, a large gathering. Tried to go last year but Hugh was sick that week. Here's a pic from a ways away.
Quite a site to see all the eggs, but we're used to rallies with more interaction. The Vintage Trailer rallies, and Oregon Fiberglass rallies, we've been to seemed to have more going on. Those all had set times for an open house where you could wander around and see what others had done to their trailers. Here it was less formal. The cool weather didn't help at all. I suspect it's not a good match for us as we're dyed in the wool loners. No fault of the rally at all, more our fault. The rally was a Dome Rock, just west of Quartzsite.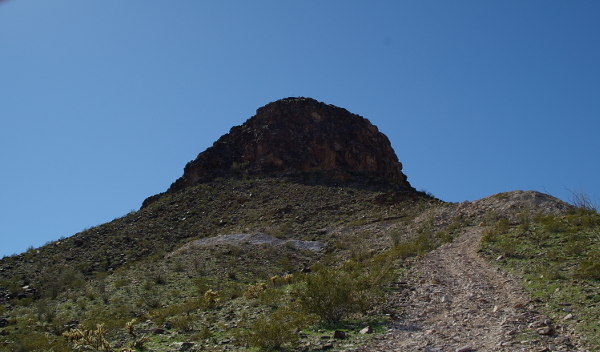 Hugh's been playing pool. He used to play when in college but that was some 45 years ago. However, there are free pool tables here with biweekly, not too formal, tournaments. He's gotten better but still finds it a challenge (frustration). Good activity for cold cloudy/rainy days.
Denise has been giving a few massages, only four per week. She enjoys using her skills and it helps the people she sees. She is booked until we leave the end of March.
We've had a few outings with Brutus (our newish four places side by side ATV). It is a challenge with the dogs, particularly Cooper. He gets so excited and noisy when we go out that everyone on the street knows we're going. A bark collar for Cooper and ear protection for us helps a lot. Worse though is his habit of reaching out the window and grabbing passing bushes. Bad enough by itself but the majority of bushes in Arizona have thorns or needles. He's so excited he doesn't notice the pain. Hugh took him out one day and on returning Brutus looked like a CSI crime scene. Blood everywhere as he cut his mouth or tongue. We're now trying to come up with window screens to keep he and Ruby safely in the back seat. We sent a template to PRP Seats, who make webbed barriers and are waiting for a quote to make some for us. These are what you think of as window coverings on stock cars, crossed webbing covering the window. We also built a deck to replace the rear seats while the dogs are onboard.
We are working through the difficulties of taking VERY enthusiastic dogs out four wheeling. This and the cold has prevented us from taking as many outings as we'd like, yet.
One day we left the dogs behind and went south from Desert Gold RV. Wandered around looking for a deposit of quartz crystals. Didn't find it but had a good outing.
The Teryx is going to be a great addition. It is faster, more comfortable and goes places a 4x4, like a jeep or XTerra, can't (or at least shouldn't). Just need to work out the bugs stated above.
Not much activity this month but will have more in March, and on into summer. Hope all is well with you. Thanks for coming along.