Escaped Doodles
Nov. 15, 2019 - Back to Brenda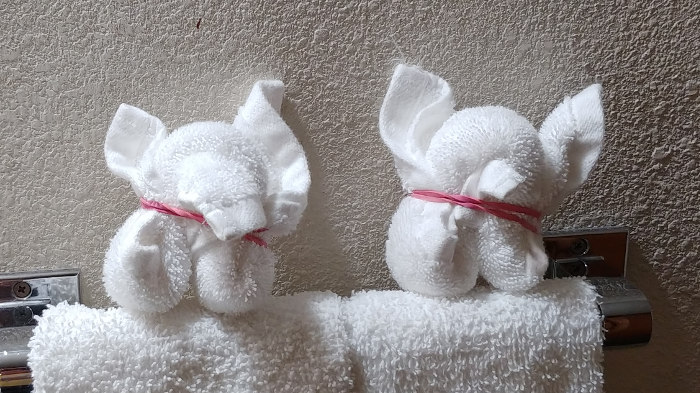 We returned to Brenda and Desert Gold RV October 30. A few days to get oriented before the new shed shows up.
The shed did arrive Saturday as promised. It showed up on a large flat bed trailer with another shed being delivered.
First step was to drop it off the trailer into the street.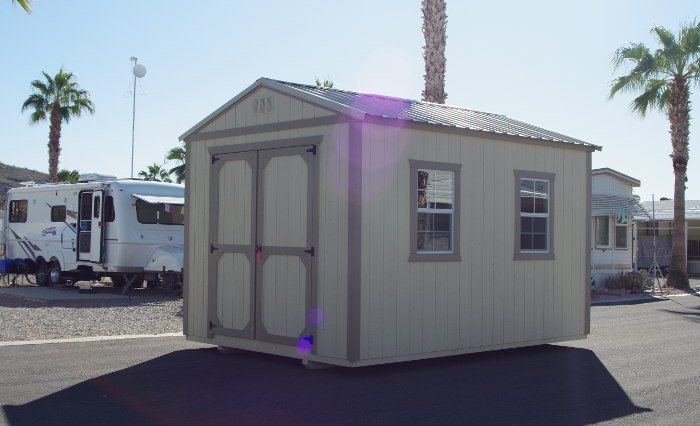 A small purpose built fork lift was used to move the shed around. This machine sat under one end while a set of wheels lifted the other end.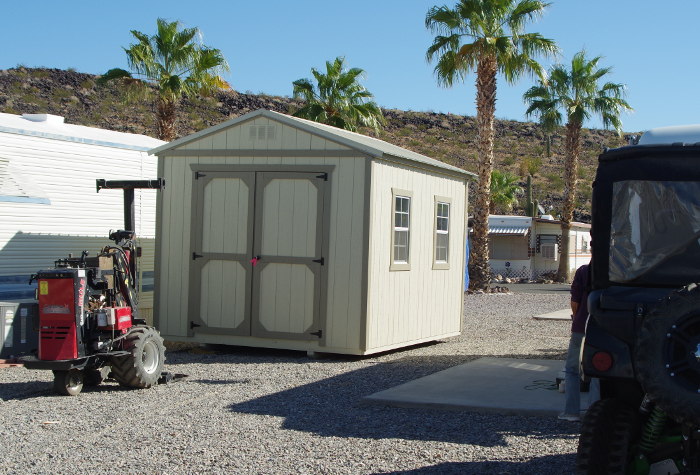 Ruben, who moved it around was very good. Within some 30 minutes he had it where we wanted it, had it leveled and was driving away. Cool. We have a 10'x14' shed for hobbies and storage. Also a place to keep Brutus (Teryx) over the summer. Now we have to wire it for electric, insulate, probably dry wall, and a ramp or steps. Good to finally have it.
Sunday morning Hugh started driving north for Oregon. The mission, to load up the new (to us) lapidary equipment, a basic set of wood working tools, and camping gear. Overnight in Tonapah then to Klamath Falls on the way up. Two days to load up the equipment. Then three days driving back, Fernley, Beatty and on to Brenda. He stayed in our storage unit while in Klamath, just couldn't bring himself to spend $60-$90 on motels there. The storage unit has geothermal heat so the temps weren't too bad. Not real used to sleeping on the ground though. (Well, with a backpacking cot and Exped mattress.) He also bought the electrical components for the shed, less expensive there with no sales tax.
The motel in Beatty, the Atomic Inn, put a rubber band around washcloths to make cute little aliens, or are they elephants. Pics at the top of the page.
He took a side trip to Rhyolite, a ghost town just outside Beatty. The tailings from recent mining are so piled up he had to see if Rhyolite was still there. Different than Anasazi ruins, a lot newer being from the early 1900s.
There were wild burros in Beatty, in the streets, similar to Oatman, AZ. They were very loud at night. These two were seen in Rhyolite.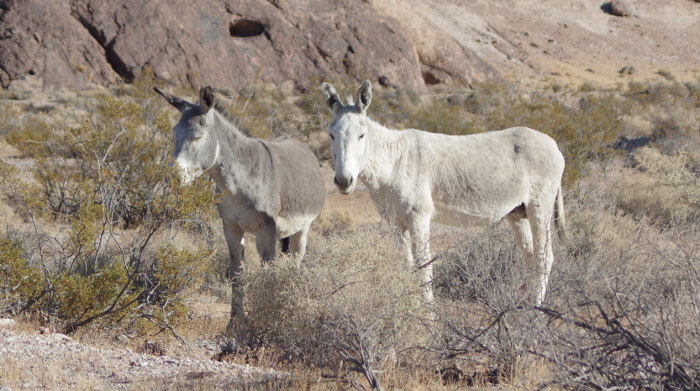 Hugh has been working off and on with Sassy's furnace. Has almost tried everything he can think of. A few more tests and then likely pull it out. That's the only way we can see to clean the innards. If we still can't get it going we'll likely take it to a service center in Quartzsite. If it's out of the trailer we don't have to give up our home to take it in.
So we're settled in Brenda for the winter. Likely take a few short trips but mostly fix up the shed, set up Sassy, and ride Brutus (Kawasaki Teryx).
Life is still good.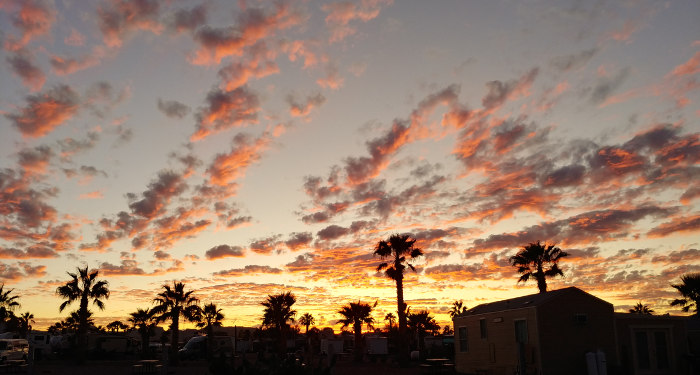 8645