Escaped Doodles
July 15, 2018 - Box Elder, South Dakota

We made it to Box Elder, South Dakota on July 1. Quite a few things we need to get done here to set up domicile. We went into the Dept. of Public Safety office on Tuesday, July 3 for drivers licenses. They are closed on Mondays so this was the soonest we could. Obtaining SD drivers licenses was simple, about 20 minutes in and out. So we are now SD residents.
I considered having Americas Mailbox transfer our vehicle registration to SD. They offer this service for about $30/vehicle. They do all the paperwork and stand in line for ya. However, after talking with them, both our vehicles had some roadblocks. I decided it was better to talk directly since I know the history. So off to Pennington County Treasury Office since the county does vehicle registration in SD. There was some "discussion" in registering our Escape trailer. They didn't seem to care about valuation but did about empty weight. Escape Trailers is so small they don't show up in the NADA books (blue book type document). They finally agreed to take our 2011 Escape flier along with current Escape '19 web specifications. We were able to register Dora. It's under 3000lb dry weight so we get a tiny license plate, about the size of a motorcycle plate.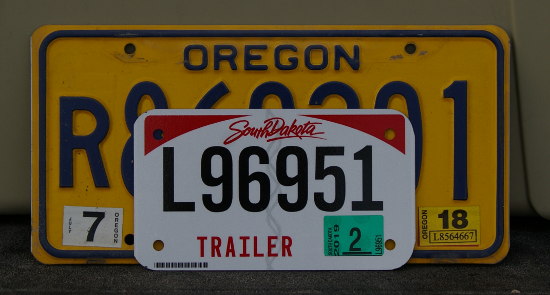 We're having trouble getting title and registration for our new RAM from Oregon. We bought the truck May 15. Oregon DMV says they mailed both June 25 and can do nothing yet, blamed the USPS. We have to wait till July 25 to request a replacement. But the documents we have showing purchase price and sales tax paid to Oregon are OK, just need the title. We may be in the area into August or let Americas Mailbox do the registration for us. The problem with staying is that Sturgis Bike Week runs August 3-12. During that it's real crowded here and the campgrounds are all full. It'll work out though.
We already transferred our health insurances to our new Box Elder address, but we're still working on setting up mail order pharmacies. Have spent some time moving those auto withdrawls to US Bank. I sent forms to Oregon PERS (retirement) declaring I'm no longer an Oregon resident. Also sent forms to cash out two life insurance policies. Finally we have a lawyer working on wills (actually a revocable trust for estate reasons), advanced directives, etc. So we're getting close to the finish line. Should be finished, except for Larry (the RAM Laramie) by the end of July.
When we got to SD we found all the stuff we've ordered over the last month or so. One item is a new foot for our awning. If you remember some idiot backed Dora into a tree and damaged this. It was here and the broken one wasn't much trouble to replace.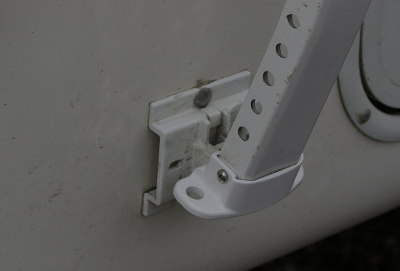 The RV Park at Americas Mailbox isn't ideal. The site we have for the first half of July is the corner of a parking lot with electric. Below you can see our set-up. The road in the background is a service road for I90. I90 is just beyond this. We're right at exit 61 which leads to trucks jake braking to exit and motorcycle accelerating onto I90. Very noisy. The people at Americas Mailbox are nice and very accommodating though.

The weather is more mid-west than we really like. We've had a lot of rain and hot weather, read muggy. At least we have electric for the A/C. (The Flying J is right next door)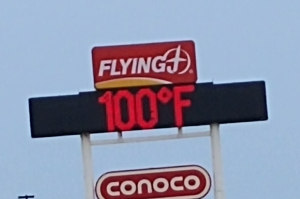 We've explore the area a little. One trip to the Badlands NP. A good bit of bad land but also a lot of green vegetation interspersed. It was a wet spring. We just drove through but may be nice to go back and hike some.
Also a couple of trips into the Black Hills, the premier draw of western SD. Tried to go to Rushmore but the dogs could barely get out of the car. So we U-turned and left. The top pic is from down the road where you can see only Washington, but a good view. We did stop at Crazy Horse. More expensive but the dogs could wander around with us. A very ambitious project with a lot of work yet to do.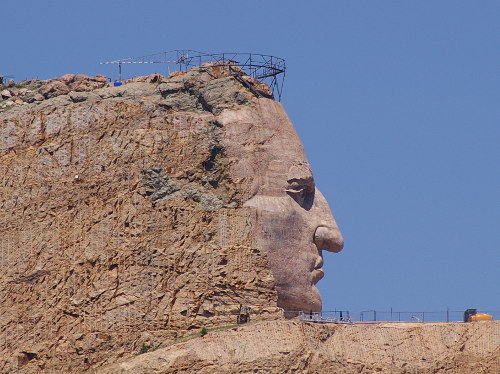 We'll make more trips into the Black Hills, maybe camp for a week or two on the way west. But for now the kids are very very bored.